The first episode of "Mad Men" featured a brilliant narrative turn: After 40 minutes of watching Don Draper smoke, drink, wow and philander, we discovered that he had a wife and two kids at home. It became a template for countless pilots since.
The Season 6 premiere of Matthew Weiner's series — airing Sunday — features a twist that may top that one. I won't say when it's coming or which characters it involves, and will instead urge you to pay close attention, indulging in every moment.
As if you wouldn't anyway. "Mad Men" is more beautiful than ever. It wears its legacy as well as Draper (Jon Hamm) wears a suit, or his false identity. He is a man cloaked in death, having stolen the name of someone who died alongside him at war. In Sunday's episode, there are many reminders of death, and of the fabricated life Don fills.
The episode begins with a brutal reminder of mortality, and then takes us to paradise, or, more specifically, Hawaii. I'm keeping spoilers to an absolute minimum here, but consider this one fair game since you've probably seen photos of Hamm and Jessica Pare, who plays Megan Draper, lying on the white-sand beach.
To keep some mystery intact, we won't say if the Hawaii trip takes place in real life or a dream — and it wouldn't help if we did. Everything in "Mad Men" occupies a gorgeous purgatory between life and a heaven just beyond reach.
Or at least, some kind of afterlife: Don's beach reading is Dante's "Inferno." The episode finds him — and everyone — once again at the crux of heavenly domestic bliss and the fear that once you settle down, there's nothing to do but die.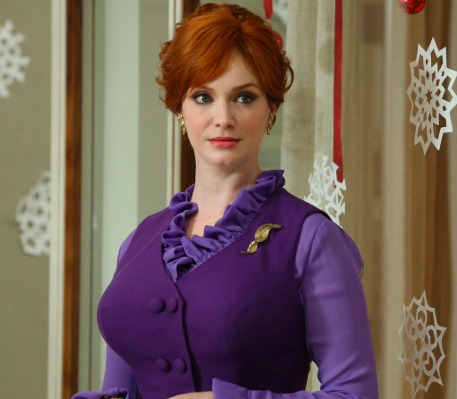 Many of the men of "Mad Men" have tried to straddle adulthood and youth — life and impending death — by keeping their women in the country and girls in the city. Sometimes it even works, and they're able to tell themselves that their affairs keep them young, even as they're aged by the lies.
Nearly every male character, from Roger Sterling (John Slattery) to Pete Campbell (Vincent Kartheiser), has made this play at eternal youth. So we know that the moments when couples seem happy are almost always just breaks until the next backslide.
It seems impossible to these men that they might build something and keep building on it — or, horror of horrors — be content with what they have. Their lifeblood, advertising, demands that people always want more.
The women have gotten in on the game. Joan Holloway (Christina Hendricks, pictured) once lead secretary, is now a partner with the lead men. And Peggy Olsen (Elisabeth Moss) now delivers Draperisms from her new position at a rival firm. We root for them to attain the same respect and financial success as the men, even as we realize the whole enterprise is madness.