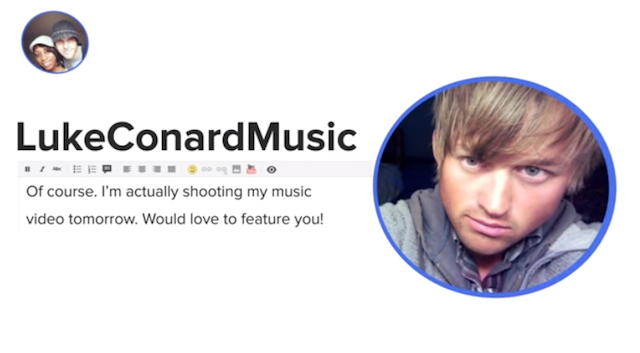 Fullscreen, the second largest YouTube network in the United States, has launched a new service offering the thousands of artists in its network several tools to build their audience and make more money from the world's largest online video site.
The Creator Platform, as Fullscreen has named it, offers a series of apps that enable artists to plan when their videos will post to YouTube hours in advance, profit from talking up products or covering songs and push videos out on social networks like Facebook.
It will also offer a rash of data to inform artists like violinist Lindsey Stirling and singer Sam Tsui, who can now see when is the best time to publish their videos and just how much money they are making every day (or hour).
Also read: YouTube's Biggest Partners: Show Me the Money (Video)
"If you believe the future of video is on the internet and creation is happening all around us, those creators need tools to let them grow their audience and help them make more money," Fullscreen CEO George Strompolos told TheWrap. "The Fullscreen Creators Platform will be the hub where all that takes place."
Strompolos, who helped create YouTube's partner program before founding Fullscreen in 2011, described his platform as the "culmination of everything we've learned over the last few years." In that time, Fullscreen has grown to a network with more than 15,000 channels that boast more than 200 million subscribers.
Many prominent YouTube networks have complained in recent months that they have not been able to make enough money off of YouTube, but Fullscreen has been absent from that conversation. The artists in his network had privately expressed a need for various tools to help them.
This platform is its answer.
For example, artists in transit want to be able to time one of their videos to post in six hours — when they will be on a plane. And when the video posts, they want to be able to post it on Facebook with the click of a button. They can now do that with apps on the platform, which is also available as an app for owners of Apple devices.
The platform is also available to Fullscreen's brand partners, which include Fox, NBC, McDonald's and Ryan Seacrest Productions.
Also read: Why YouTube Cover Sensation Sam Tsui Turned Down Record Labels for His Debut Album
The Creator Platform launches with 15 apps and is available only to artists who belong to Fullscreen's network. Here's an image of the data any artists can access about their earnings:
Strompolos argued that such the platform was vital because artists now have an opportunity to become their own media companies. That is a "tremendous opportunity" that remains very difficult.
"We see it as our job to be their partner in creating a media company, whether around a personal brand or show or character they play," Strompolos said. "A media company needs to be operated and managed somewhere."
Here's the company's video announcing the Creator Platform: