How do you make a low-budget movie in a no-budget era?
"Eliminate as many people with go-karts and Walkie-Talkies as possible," Drake Doremus, director of "Like Crazy" — which won the Grand Jury Dramatic Prize at the 2011 Sundance Film Festival — said during a panel at TheGrill@Tribeca, TheWrap's inaugural conference on independent filmmaking.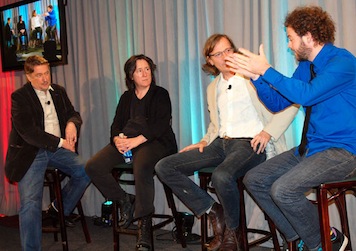 Moderated by Geoff Gilmore, chief creative officer of Tribeca Enterprises, the panel also included Christine Vachon, producer and founder of the indie studio Killer Films, and Chris Paine — whose "Revenge of the Electric Car," the follow-up to "Who Killed the Electric Car," is screening at the 2011 Tribeca Film Festival.
(From left: Gilmore, Vachon, Paine and Doremus; photographs by Susan May Tell)
Doremus, who produced "Like Crazy" for well under $1 million before selling it to Paramount, said the budget is one the first things he thinks about when making his films.
"The idea was to invest ourselves, make it for as little as possible, and make money when we sell it," Doremus said. "It's not about feeling like a filmmaker, it's about being a filmmaker. The cheaper you can make it for the better without sacrificing the vision."
Also read: Indie Film Streamers: Netflix Gives Us an Opening
"There's something exciting about creating something out of nothing, that's probably going to fail, but hoping to make it work," he said. "We were hoping to sell it to IFC for 20 bucks or something. To sell it to Paramount after a bidding war was surreal."
Vachon reminded attendees of an old adage to "let your budget be your aesthetic."
"We want to keep making movies," Vachon said, noting that her small studio has produced 65. "If you make it for the right price, and give the people who invest in them a reasonable return, you can."
Also read: Harvey Weinstein: We Have to Build a Model That's Beyond Oscar
Paine said he improvises his documentaries — which helps him anticipate costs. "During the recession, we thought we were shooting 'Curse of the Electric Car,'" Paine said. "When things turned around, we had a better second act."
The panelists acknowledged that digital technology has led to higher quality independent films, blurring the "low budget" lines. "You can make a $500,000 movie now that would've cost $5 million 15 years ago," Doremus said. "Now, those movies look the same. No one can tell what your budget is."
Doremus said his next, untitled film, shooting later this year, has a slightly bigger production budget — $5 million — but "the approach is the same."
With one exception. "Maybe I'll pay some actors," he said.
Earlier during Friday's conference, Jay Burnley (above right) presented ItsontheGrid.com, TheWrap's newly relaunched database for the film industry. The Grid currently features more than 7,000 projects — released movies going back to 1988 plus every project currently in development in Hollywood, spec scripts since the beginning of 2009 and hundreds of studio open writing and directing assignments.
TheGrill@Tribeca:
Harvey Weinstein: We Have to Build a Model That's Beyond Oscar
Indie Film Streamers: Neflix's Turn to TV Leaves Us an Opening
Step 1 to Making a Low-Budget Film: Eliminate People With Walkie Talkies
Transmedia: The Future of Storytelling — and End of Lame Movie Tie-Ins
The Indie Movie Business Is Still a Good Business … If