In the middle of the Egyptian revolution in 2011, Indian filmmaker Ritesh Batra (below) decided to
venture into the excitement and chaos of Cairo.
"It was inspiring to me to be there," he explained to TheWrap. "It was a heady time, there was a lot of hope. (President Hosni) Mubarak had stepped down three months before that."
He met a young Egyptian actor (Alaa Ezzat) and a female novelist (Mai Abozeed) and they made a short about sex, set in a café in Cairo, which won the Industry Prize in TheWrap's online ShortList Festival on Thursday. The jury praised "Cafe Regular Cairo" for "touching the heart of human experience," and TheWrap spoke to Batra, who got the news Thursday in Telluride, where he was debuting his first feature film, "The Lunchbox."
The awards were given Thursday in Santa Monica.
Also read: 'Café Regular, Cairo,' 'Voice Over,' Win Top Prizes at ShortList Film Festival
Batra said Cairo was in a dream state when he was there. "There were a lot of filmmakers there, trying to figure out what happened, why it happened," Batra said. "I wanted to make something not about the revolution but to understand the fabric of society, and how close the society is to India in the way it works."
The film was written in English, but evolved its way into colloquial Arabic. And the short cost exactly "nothing," he said, save the cost of travel to Egypt.
In accepting the award, he said that the situation had changed drastically since 2011. He said: "Things are not as ideal in Cairo as when I was making this short. This goes out to all my friends in Cairo, hoping they stay safe and making art.
TheWrap's ShortList Festival, now in its second year, showcased 12 of the best short films from the previous year. They streamed online from August 19-29, in partnership with MTV.
Also read: TheWrap's ShortList Film Festival Audience Award: Meet 'Voice Over' Director Martín Rosete
TheWrap and MTV's audiences voted online and by a wide margin chose Martin Rosete's visually-stunning "Voice Over" as the winner of the Audience Prize.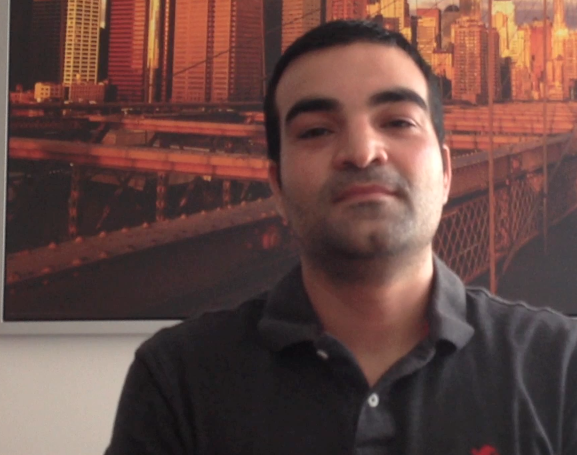 The Academy Award-nominated live-action short weaves together three fantastic stories about life and death into one narrative held together by (you guessed it) a voice over.
"The good thing about not having a lot of money is that you have to do most of the things for real," Rosete (left) told TheWrap. (Read the rest of his interview here.)
Produced on a $92,000 budget — which was trimmed from the original $264,000 — "Voice Over" follows an astronaut navigating a strange alien planet, an injured soldier completing a dangerous mission and a drowning sailor trying to escape the depths of the ocean with his life intact. The latter may be the most impressive of the three scenes. Not only does it effectively capture the terror of drowning, it was shot in the middle of the ocean, not against a green screen.
"Voice Over" is Rosete's most ambitious endeavor yet, and it has paid off. On top of international recognition, the film earned him an agent at William Morris Endeavor and has led to his first English-language feature-length film — a thriller being shot early next year in the Canary Islands.
Among the prizes given to the winning filmmakers were a first-look deal with Cinedigm, the independent movie distributor, an airing on an MTV channel and a pitch meeting at the multi-channel network Break Media.
Before the awards were announced, a panel of industry experts who were also on the Industry Jury discussed the value of shorts in building a film career.
See Photos: TheWrap's Shortlist Film Festival 2013
"Movies are over," declared Richard Potter, EVP of production and development at Relativity
Media. "Start thinking about making content. On the creative side of studio executives, we do understand what is changing in the film world. The problem is the businesss side does not know how to make money in this new world."
He added: "The thing the industry finance side does not understand is that instead of the business trying to read the audience the business side needs to pay attention to watch the audience is actually doing."
"I do think there is a financial benefit to making short," said producer Jonathan Schwartz ("Like Crazy," "Smashed," pictured above). "I think that most people who want to write and direct movies have to be able to show people that they can write and direct movies. One way to showcase your talents if you want to be a director, is pick up a camera and go make a short."
Other jury members included UTA agent Bec Smith and San Francisco Film Festival director Ted Hope and writer/director Liz Garcia ("The Lifeguard," pictured) and Destin Daniel Cretton ("Short
Term 12").
The jury gave Honorable Mention to "Magnesium," the story of a driven young gymnast facing a fateful personal choice; a short from The Netherlands that was directed by Sam de Jong. The jury praised the power of the story and acting, "which make the audience truly feel the impact of the subject matter."
Additionally, "What Do We Have in Our Pockets," a whimsical animated short directed by Goran Dukic from Israel was also awarded an Honorable Mention, as the jury recognized the "playful inventive style of filmmaking" that used an unexpected animation style.
Batra said that "Café Regular Cairo" was a turning point in his filmmaking career.
"I wrote the first draft of 'Lunchbox' in Cairo, after I shot this short. And here I am in Telluride — with 'The Lunchbox.'"
Watch both winners here:
Café Regular, Cairo from Ritesh Batra on Vimeo.
VOICE OVER (English subtitles) from Kamel Films on Vimeo.
Greg Gilman contributed to this report.