"The Man Beyond the Bridge," a drama about the relationship between a widowed forest ranger and a strange woman he finds alone in the woods, took home top honors on Monday at the eighth annual Indian Film Festival of Los Angeles, which drew more than 7,000 moviegoers to the Arclight Cinemas in Hollywood.
Laxmikant Shetgaonkar's film (photo below), which was shot in the rarely-used language of Konkani, took home the Grand Jury Prize for Best Narrative Feature. "At My Doorstep," Nisha Jain's look at the people who work in her apartment building, was named Best Documentary Feature, while Ritesh Bhatia's "Nero's Guests" won for Best Short Film.
Honorable mention in the narrative feature, documentary feature and short categories went to "Cooking with Stella," "Nero's Guests" and "Wahid's Mobile Bookstore," respectively.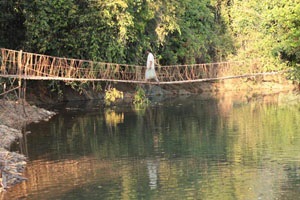 The audience awards went to the narrative feature "Harishchandrachi Factory," India's official entry in the 2009 foreign-language category at the Oscars; the documentary "The Sun Behind the Clouds: Tibet's Struggle for Freedom"; and the short "Kunjo."
The six-day festival, which IFFLA executive director Christina Marouda called "an important annual event through which one can chart the evolution of the convergence of the Hollywood and Indian entertainment industries," presented 33 films from five countries. Four were world premieres, while seven were U.S. premieres.
It also hosted panels about alternative distribution panels, new technology and global talent representation, as well as performances by the TAAL Dance Collective and "So You Think You Can Dance" choreographers Nakul Dev Mahajan and Luther Brown.
IFFLA Industry Leadership Awards were given to Sanford Panitch, the president of Fox International Productions, and Uday Shankar, the CEO of Star India.
The awards:
Grand Jury Awards:
Best Narrative Feature: "The Man Beyond the Bridge" ("Paltadacho Munis")
Director: Laxmikant Shetgaonkar
Honorable Mention: "Cooking with Stella"
Director: Dilip Mehta
Best Documentary Feature: "At My Doorstep"
Director: Nishta Jain
Honorable Mention: "Nero's Guests"
Director: Deepa Bhatia
Best Short Film: "Gareeb Nawaz's Taxi"
Director: Ritesh Batra
Honorable Mention: "Wahid's Mobile Bookstore"
Director: Anjoo Khosla
Audience Awards:
Narrative: "Harishchandrachi Factory"
Director: Paresh Mokashi
Documentary: "The Sun Behind the Clouds: Tibet's Struggle for Freedom"
Director: Ritu Sarin and Tenzing Sonam
Short: "Kunjo"
Director: Terrie Samundra