"Mapplethorpe," the narrative debut of documentary filmmaker Ondi Timoner, is one of the 11 projects to receive funding grants through the ninth annual Tribeca All Access program, the Tribeca Film Institute announced on Thursday.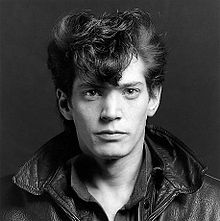 The film, which is written, directed and co-prooduced by "We Live in Public" director Timoner, is based on the life of the photographer Robert Mapplethorpe and will star James Franco in the title role.
In addition, four other narrative films and five documentaries will also receive $15,000 grants from TAA, as well as the opportunity to participate in an extensive program offering year-round support and resources to help finish the films.
An 11th film, Jeff Barnaby's "Rhymes for Young Ghouls," will participate in the program through the Canadian Film Centre.
The projects will be presented at a career-development program taking place from April 22 to April 26, during the Tribeca Film Festival. At the end of that time, two additional $10,000 grants will be awarded to one narrative feature and one documentary.
Almost 700 projects were submitted to Tribeca by filmmakers throughout the country.
Here are descriptions of the films selected, from the Tribeca Film Institute press release:
Documentaries:
Untitled Ramin Bahrani Gold Documentary, Directed and produced by Ramin Bahrani, produced by Jason Orans — Set in today's global recession, which has catapulted gold prices to historic highs, Untitled Ramin Bahrani Gold Documentaryexplores our centuries-old obsession with gold, and what – if anything – is its intrinsic value. This will be Bahrani's first documentary project.
Burn (One Year on the Frontlines of the Battle to Save Detroit), Directed and produced by Brenna Sanchez and Tom Putnam — Burnis an action-packed documentary about Detroit, told through the eyes of its firefighters, the men and women charged with the thankless task of saving a city that many have written off as dead.
Two Children Of The Red Mosque, Directed and produced by Hemal Trivedi, co-directed by Mohammad Naqvi, produced by Whitney Dow and Jonathan Goodman Levitt — Amid suicide bombings and U.S. drone attacks in Northwestern Pakistan, twelve-year-olds Zarina and Talha are pursuing different dreams. After attending madrassahs of the Red Mosque – they make different choices that promise to define their adult lives. Zarina recently escaped the madrassah, and her struggle to attend secular school and avoid marriage stands opposed to Talha's journey over the next two years. Their stories personalize the hard choices facing modern Pakistanis living in rural areas, where ongoing ideological battles between fundamentalist and moderate Muslims are shaping Pakistan's future.
Desert Stars, Directed and produced by Raouf Zaki, produced by Frank McDonnell — Desert Stars documents the journey of a man who abandons the world and its desires to seek a relationship with God alone as a monk in the desert, but, in order to save his monastery, he must confront the world again in the midst of the bloody Egyptian revolution.
The New Black, Directed by Yoruba Richen, produced by Yvonne Whelbon and Angela Tucker — The New Blackis a documentary that uncovers the complicated histories of the African-American and LGBT civil-rights movements.
Narrative features:
Abigail Harm, Directed by Lee Isaac Chung, Written and Produced by Samuel Gray Anderson -Abigail Harm stars legendary actress Amanda Plummer as a woman living in a fictionalized New York City, who, after being granted a wish by a heavenly visitor, asks for love and learns of a spirit who might provide it. Inspired by the Korean folktale "The Woodcutter and the Nymph."
Bypass, Written and Directed by Liliana Greenfield-Sanders, Produced by Amy Basil and Rowen Riley – 20 year-old Katie is popular, high-achieving and obese, but all of this is about to change when she undergoes a series of radical gastric and plastic surgeries. BYPASS is a modern day twist on Frankenstein in which the protagonist is herself both creator and monster.
I Believe In Unicorns, Written and Directed by Leah Meyerhoff, Executive Produced by Allison Anders, Produced by Heather Rae and Mark G. Mathis, and Co-Produced by Kwesi Collisson – A troubled teenage girl runs away with an older boy only to discover that their new life together is even more dysfunctional than the home she left behind.
Manchild, Written and Directed by Ryan Koo- A talented basketball player at a small Christian school gets nationally ranked and must choose between schools, coaches, and faiths—all at the age of 13.
Mapplethorpe, Written, Directed and Co-Produced by Ondi Timoner and Co-Produced by Nate Dushku, Miles Levy, and Eliza Dushku -A narrative film based on the extraordinary life and complex character of controversial photographer Robert Mapplethorpe, from his rise to fame in the 1970s, to his untimely death from AIDS in 1989. James Franco is attached to star as Robert Mapplethorpe. This will be Ondi's breakout transition from Documentary to Narrative Feature film.
Narrative project from the Canadian Film Centre:
Rhymes For Young Ghouls, Written and Directed by Jeff Barnaby, Produced by John Christou & Aisling Chin-Yee – A raucous coming of age tale about Aila, a young Mi'gMaq girl embroiled in the family drug trade who is coping with the suicide of her mother and the recent release of her imprisoned father.