If Marco Rubio runs for president in 2016, Americans may come to know the Florida senator for many things: for being the son of Cuban immigrants, for his calls for fiscal restraint, for his efforts to bring Hispanic voters back to the Republican party.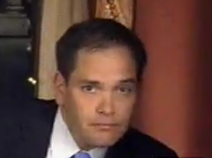 But for now, many know him as a guy who took a very ill-timed drink of water.
Rubio delivered the Republican response Tuesday to President Obama's State of the Union speech, an opportunity often given to rising stars in the party to raise their national profile. But sometimes, they botch it, as did Louisiana Gov. Bobby Jindal in 2009. Jindal, another potential Republican presidential candidate in 2016, is still enduring comparisons to "30 Rock" character Kenneth the page.
Rubio's inopportune drink of water, harmless as it was, became an instant meme — and will likely be his first exposure to many who don't follow politics.
It doesn't hurt him the way Jindal's Kindergarten teacher delivery did, but there's something very funny about Rubio going for that glass — so, so far away — as if he just might be able to pull it off without anyone noticing. And then there's the frank look at the end, as he stares straight into the camera as if to say: "You saw that, didn't you?"
Rubio fielded a question about the water during a "Good Morning America" interview Wednesday.
""I needed water, what am I going to do?" he said to George Stephanopoulos. "God has a funny way of reminding us we're human."
Meet your very thirsty potential president: