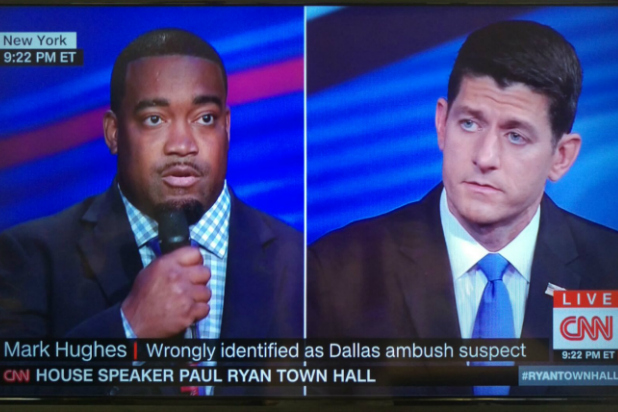 CNN's Jake Tapper had a surprise guest in his town hall with House Speaker Paul Ryan: Mark Hughes, the man who was misidentified as a suspect in the Dallas police shootings until he turned himself in and police cleared his name.
Dallas Police wrongly identified Hughes, who had been wearing a camouflage T-shirt and holding a gun during the peaceful rally, as a shooting suspect. He quickly turned himself in, and police concluded that he was not involved.
During Tuesday's town hall, Tapper displayed the image that police tweeted of Hughes last week, and explained: "Some of you might recognize Mark… He was at the rally in Dallas last Thursday night exercising his right as a Texas resident to carry his rifle in public. Police identified him as a suspect, falsely, incorrectly, they tweeted his photograph, he turned himself in, he was released. He of course had nothing to do with the attack. He is a Democrat, and he has a question for you about gun rights."
Also Read: Watch President Obama and George W Bush Speak Together on Dallas Shootings (Livestream)
With that, Hughes asked his question.
"Here recently a lone gunman, a U.S. vet, pulled off one of the most horrific attacks on police on American soil in U.S. history," he said. "He possibly suffered from PSD, or some type of mental illness. What are you going to do to ensure that guns do not fall into the hands of individuals with some type of mental disorder? And what is your plan for vets that come back that have a potential disease or mental illness?"
Ryan called it a "very good question." He did not acknowledge Hughes' being falsely accused, and did not express any interest in changing gun laws. But he said there was "common ground to be had here" on the issue of mental health laws.
Also Read: Former Miss Alabama Calls Dallas Sniper 'Martyr,' Suspended From TV Gig (Video)
"And mental illness is what we have found in these mass shootings is one of the sources of these problems," he said.
Ryan said the House just passed a law on mental illness, and that lawmakers are also working to revamp the Veterans Administration.
"We've got to clean up the VA," he said, adding that the VA had concealed its long waiting lists for treatment and services.
"It's not lack of money. We always give the VA more money than they even ask for for veterans health care. It's bureaucracy. It is mismanagement," he said.