College kids, Buzz Lightyear wants you!
Pixar is going after the same kids who 15 years ago saw the original "Toy Story," apparently hoping to prove that Woody and Buzz's tricks are not just for kids
Special "cliffhanger" screenings of the first hour of "Toy Story 3" will show on almost 100 college campuses around the country between mid April and early May, well in advance of its June 18 release date.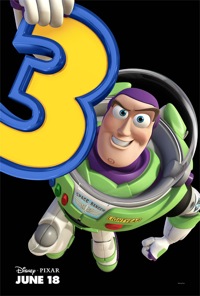 But Pixar and director Lee Unkrich won't be showing the entire film – instead, they're screening its first 65 minutes, in what is billed as the "Special Cliffhanger Edition" of the movie.
Going several steps further than the 20-to-30-minute presentations that have been held for films like "300" and "Avatar," the company will withhold only the ending, hoping the kids go back into regular theaters to see how it all comes out.
Of course, if the first 65 minutes aren't engaging enough, the strategy could backfire – although when the entire (if slightly unfinished) film was shown at the ShoWest convention recently, it drew almost unanimous raves.
Pixar declined to comment about the strategy of targeting a specific demographic that's older than the usual audience for animated features, citing a policy at parent company Disney not to talk about issues related to marketing.
But Doug Ward, the academic administrator of the M.F.A. animation program at UCLA, one of the colleges that will be holding a cliffhanger screening, says the company knows what it's doing in targeting moviegoers who have a history with the "Toy Story" franchise — and, just as crucially, ones who know how to spread the word via social media.
"It's very smart to get it out to college students and build up word-of-mouth with that audience, which will spread it on Facebook and Twitter" says Ward, whose undergraduate animation classes have seen sizeable jumps in attendance in recent years, to where he routinely turns away numerous students each quarter.
"There's always been a perception that animation is for kids, and that is really not true," he says. "And it's especially not true with Pixar, who are the new Disney when it comes to quality. They aren't the gold standard, they're the platinum standard."
Andrew Hall, a UCLA student who runs the on-campus Melnitz Movies film program, says that this school year's approximately 40 presentations have included one animated feature, "9," and a second program of the Oscar-nominated animated and live-action shorts.
"Those were our only two animated screenings, but they both sold out and had lines around the building," he says. "Those were two of our six sellouts from the 40 screenings – so that's a pretty good sign that college students are interested in animation."
The first "Toy Story" came out in 1995, which means that most of today's college students were between three and seven years old when it was released – the prime age for the movie, and its accompanying Buzz Lightyear and Woody toys, to make a powerful impression.
In fact, "Toy Story 3" recognizes the passage of time, and makes the owner of all the toys, Andy, a college student himself. The plot is set in motion when he leaves for school, and his old toys are donated to a child-care center.
Unkrich recently spoke to Jeanne Sager for the momlogic.com blog, and mentioned how important the college-age audience is to him.
"[T]here's a huge segment of the audience who were kids when 'Toy Story' and 'Toy Story 2' came out," he said. "And for them, there's this enormous nostalgia. They're excited to sort of touch base with their childhoods again."
The list of "Toy Story 3" college cliffhanger screenings is at a Facebook page here.
CORRECTION: The initial version of this story stated that Doug Ward is the head of UCLA's animation program. He is the academic administrator.