When "The Marvelous Mrs. Maisel" emerged in 2017 as a pilot for Amazon's Prime Video, I wrote it was a look at "neurosis, nutty family dynamics, comedy laced with heartache — my new favorite show. I would binge watch the series right now — but there's only the pilot!"
Now, as we welcome the show's fifth and final season, which premieres Friday, April 14, I'm carrying a lot of baggage, all matched and color-coordinated.
What can you say about Rachel Brosnahan's breakout standup Miriam "Midge" Maisel and creator Amy Sherman-Palladino? They got it right — and then some, with 20 Emmys and 66 nominations to back up their success.
Midge has evolved from the hyper, heartbroken Upper West Side Jewish mama of two who side-stepped into the standup comedy spotlight, bolstered by her downtown manager manque Susie Myerson (Alex Borstein). Ultimately achieving the self-expression and fame that they so fiercely sought together, the pair became an odd-couple case study in self-actualization against the conventional tide. They believed. They did crazy, unconventional things. They got arrested. They mobbed up and broke some hearts themselves. They put on their big-girl pants and triumphed.
In a series that celebrates friendship and collaboration, it turns out that Midge and Susie are the central couple.
In a narrative set-up that echoes "Daisy Jones & the Six," much of the final season whipsaws in time. This device allows the mature Midge to be a talking head in a fictional present, reminiscing over the many incidents fans remember — and revealing the connective tissue between the decades. This gives the season's nine episodes the ability to hop between eras, a strategy that allows the knitting of many loose ends, but that can also be confusing and a bit exhausting.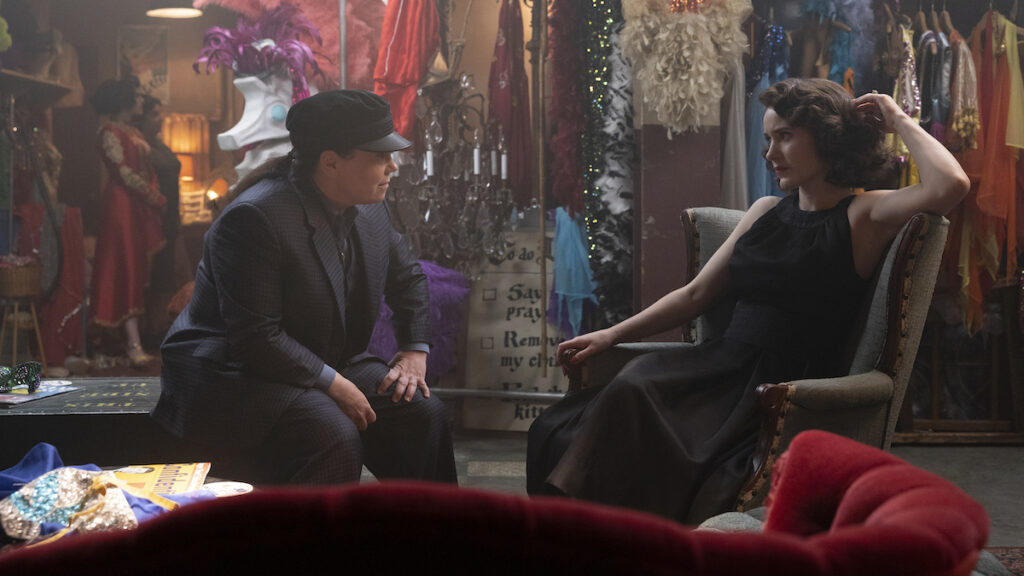 One of the season's central set pieces charts the career shift that ultimately lands Mrs. Maisel in the big time (and on the small screen), even if at first it seems like a step backward and away from the spotlight. After being stymied in her stand-up career, Midge lands a job as the only woman in a TV writer's room. The setting is "The Gordon Ford Show," a fictional nightly talk show in the Johnny Carson vein.
Ford (Reid Scott), the show's charming and autocratic host, both appreciates and objectifies Midge; meanwhile, in a less expected twist, his stunning wife (knockout Nina Arianda) has a history with Susie. For me, these sequences echoed the joys and sorrows of comedy laid out in Carl Reiner's 60s classic "The Dick Van Dyke Show." Extra added bonus: Brosnahan's real-life husband Jason Ralph (tortured heartthrob Quentin in "The Magicians") joins the supporting cast as a rising NBC exec.
Midge's romantic partners continue to pile up: her ex, Joel (Michael Zegen), gets his own heartbreaking comeuppance (karma's a bitch). It's a testimony to the show that while he cheated on Midge in Season 1, he's still very much a part of her and their kids lives in Season 5. (As are his parents, played to irritating perfection by Kevin Pollak and Caroline Aaron.)
The big love that got away, Luke Kirby's Lenny Bruce, gets his final curtain. While much of the show has perceived the controversial comic with rose-colored glasses, bolstered by the mad chemistry between Brosnahan and Kirby, the shades ultimately come off. The fictional Bruce follows the downward spiral into heroin-addiction that dispatched the groundbreaker to an early grave in real life.
There are so many high points from Season 5. I'm partial to a scene late in the season where Tony Shalhoub's Papa Abe Weissman attends an intimate wine-soaked dinner at what appears to be Manhattan's famed, now-shuttered 21 Club with his "Village Voice" colleagues. Midge's father — always intelligent, rarely self-aware — has a remarkable epiphany where he finally understands what Midge has accomplished, and how late he is to the party.
Brosnahan grabbed the microphone in 2017 and hasn't let go since. We've shared Mrs. Maisel's precipitous highs and mortifying lows. As the actress bids goodbye to the character she originated, moving on to Broadway opposite Oscar Isaac in "The Sign in Sidney Brustein's Window," we can say we knew her when.
The final season, like its central character, is a little scatterbrained but compensates with charm, chutzpah and an ability to spin emotional truths into comic gold. To the end, Mrs. Maisel rocks one amazing costume after the next, as the marvelous series sashays into the sunset with one last killer set in the spotlight. Midge came, she saw, she slayed.
"The Marvelous Mrs. Maisel" Season 5 premieres Friday, April 14 on Prime Video with the first three episodes, followed by one new episode weekly.