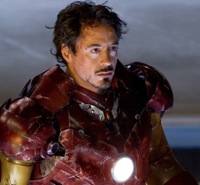 "IRON MAN 2"
Date: May 7, 2010
Tony Stark originally came onto the scene in 1963 when Marvel Comics creative team Stan Lee, Larry Lieber, Don Heck and Jack Kirby placed the fictional playboy/engineering genius in their work "Tale of Suspense #39."
"THOR"
Release date: May 20, 2011
Created by Larry Lieber, Stan Lee and Jack Kirby, Thor inherited his identity from the mythological Norse god of the same name and first appeared in the company's 1962 book "Journey into Mystery."
"THE FIRST AVENGER: CAPTAIN AMERICA"
Release Date: July 22, 2011
Jack Kirby and Joe Simon built combination feeble young man/patriotic hero Captain America in Marvel Comics' 1941 "Captain America Comics #1."
"THE AVENGERS"
Release date: May 4, 2012
Also springing from the minds and pens of Stan Lee and Jack Kirby, superhero team The Avengers made their first appearance in Marvel Comics 1963 leaflet The Avengers #1.