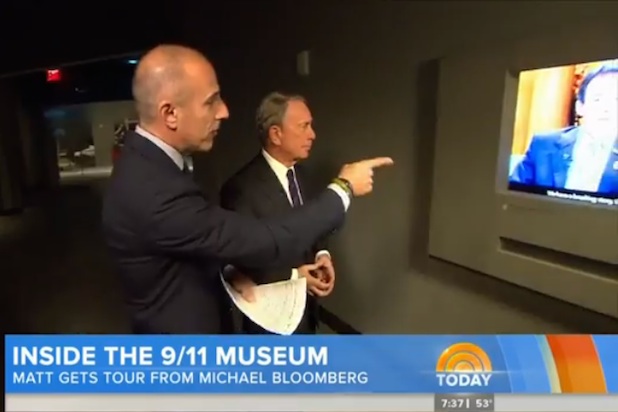 Matt Lauer got an exclusive sneak peek inside the new 9/11 Museum in downtown Manhattan, which opens to the public next week after many years of planning. Former New York City Mayor Michael Bloomberg gave the "Today" show host a tour of the site.
"Three thousand people died on this very spot," Bloomberg acknowledged to Lauer.
See video: Matt Lauer, Al Roker Get Spanked During Rubdowns in Russian Bathhouse
"How do you attract people to come to this place and learn the lessons when it's an event they'd rather forget?" Lauer asked.
"I don't know that it will ever get out of their consciousness, at least not of our generation, and our job is to make sure it doesn't get out of the consciousness of future generations," Bloomberg said.
Also read: AT&T, Marriott Issue Apologies for Tacky 9/11 Tributes (Photos)
Eerily, Lauer faced down a broadcast of himself from that day nearly thirteen years ago.
"This is the moment that we were given the news in the studio that the first plane had hit the south tower," Lauer observed. "Where were you?"
Bloomberg said he was in his office when the plane had first hit the tower.
Also read: Mark Wahlberg Apologizes for Saying He Would Have Rescued the 9/11 Plane
"It's a spectacular and moving place," Lauer told his colleagues.
"An amazing feat of preservation," co-host Savannah Guthrie noted.
Watch the video: