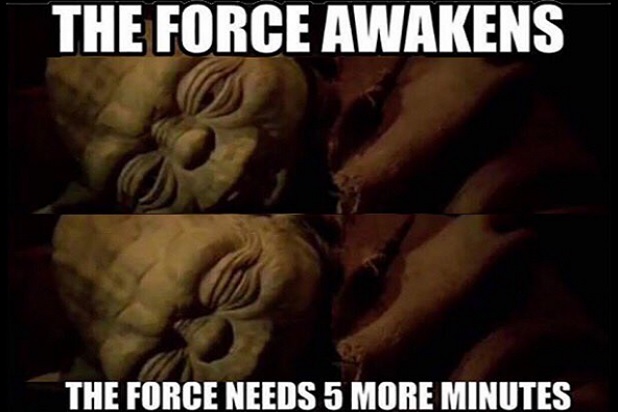 May the 4th be with you! If you're going to invent a holiday, you could do worse than combining "Star Wars" references and puns. Today is May 4, and Mark Hamill has prepared all week on Twitter in order to avoid getting inundated with mentions, but we know it's a trap! So, take the high ground and stand by, red leader, because if you think we haven't found some of the best the internet has to offer today, then we find your lack of faith disturbing.
Now if only Ryan Gosling were in "Star Wars" instead of Oscar Isaac:
Happy #StarWarsDay! #MayThe4thBeWithYou. How are you celebrating today? Tweet us photos of your #MayThe4th cosplay, parties, food, and more! pic.twitter.com/VfSNS6mRoi

— Nerdist (@nerdist) May 4, 2018
Here's a famous motivational poster from one of the galaxy's greatest minds:
Some #Chewbacca wisdom on #StarWarsDay.#StarWars #MayTheFourthBeWithYou #MayThe4thBeWithYou #MayTheForceBeWithYou pic.twitter.com/tTIIniPhks

— Chris Dixon (@cdixon25) May 4, 2018
Also Read: Final 'Solo: A Star Wars Story' Trailer Lands With a Bang: 'Assume Everyone Will Betray You' (Video)
Catholics love "Star Wars" too:
In a galaxy
Far far away…
At a time of oppression & gaslighting
The force is strong in our rebel alliance
Our Jedi resistance will triumph
May the force be with you#StarWarsDay#MayThe4thBeWithYou#MayTheFourthBeWithYou#MayTheForceBeWithYou pic.twitter.com/lIwTGzZtjg

— ????Ɠҽɱ™???????? (@Lady_Star_Gem) May 4, 2018
Don't forget this classic "This is SportsCenter" commercial featuring Vader, Chewie, C-3PO and R2D2 at the newsdesk.
A classic #ThisIsSportsCenter from the archives to celebrate #StarWarsDay pic.twitter.com/yStqBt2NUL

— SportsCenter (@SportsCenter) May 4, 2018
A remixed season of "Arrested Development" is back on Netflix, so we can't forget about Lucille Bluth telling young Annyong to check out the movie:
Go see a Star War #MayTheForceBeWithYou #StarWarsDay pic.twitter.com/OLcmCAEl30

— Arrested Development (@bluthquotes) May 4, 2018
Also Read: Watch 'Star Wars' Mashed Up With 'Arrested Development' Narrated by 'Solo' Director Ron Howard (Video)
Here's a play on Chirrut Îmwe's line from "Rogue One," although it's starting to sound like a fraction or math equation when he says it:
I am one with the fourth, the fourth is with me
I am one with the fourth, the fourth is with me
I am one with the fourth, the fourth is with me
I am one with the fourth, the fourth is with me#MayTheFourthBeWithYou #MayTheFourth

— John Fugelsang (@JohnFugelsang) May 4, 2018
It's hard to get a mane with this much shine:
#MayThe4thBeWithYou …because you're worth it.#StarWarsDay pic.twitter.com/6dNsL0mrsn

— Greg Hogben (@MyDaughtersArmy) May 4, 2018
The Pittsburgh Penguins have a new mascot just in time for their Stanley Cup run:
MAY THE PORGS BE WITH YOU#StarWarsDay #MayThe4thBeWithYou pic.twitter.com/HWAmptYND5

— NHL on NBC (@NHLonNBCSports) May 4, 2018
GIFs like this are the reason why we're glad "Star Wars" is now part of the Mouse House:
Everything about this gif is a blessing. ???? Happy Star Wars Day! #MayThe4thBeWithYou pic.twitter.com/O3pTf3BIgE

— Victoria Justice (@VictoriaJustice) May 4, 2018
Sadly, not everyone is a fan of the new movies, just ask Brad Pitt's version of Oakland A's GM Billy Beane:
Destroyed By The Last Jedi#StarWarsInFiveWordsOrLess pic.twitter.com/NiTNntfchf

— Kyle Wilson (@KyleWil95265956) May 4, 2018
You have to give this one a hand for creativity:
Happy Star Wars Day! As a special treat, here's an outtake from my PERFECT movie and clearly the best Star Wars episode yet, The Last Jedi.
To sum up in 5 words: Haters are mysoginist Nazi manbabies.#MayThe4thBeWithYou #maythe4th #starwars #StarWarsInFiveWordsOrLess pic.twitter.com/qqvquvCPwc

— Ruin Johnson (@RuinTheManbaby) May 4, 2018
We give this good boy who went over to the dark side a 12/10:
Happy Star Wars Day from Ti! #starwarsday #MayTheFourthBeWithYou #goldenretriever #starwarsdog #maytheforcebewithyou #maythe4thbewithyou #jedi Visit our shop at https://t.co/Tyb9lA4Ouo #dog #parody #usetheforce pic.twitter.com/XdPMHfkJPQ

— AugieDoggy.com (@AugieDoggyPage) May 4, 2018