The documentary "Revelations of the Mayans 2012 and Beyond" has descended into disarray, with its executive producer accused of fleeing with two dozen hard drives and 10 computer towers containing the film's footage, according to documents obtained by TheWrap.
The documents allege that San Francisco-based philanthropist and author Elisabeth Thieriot (below) filmed without a valid permit on federal ground in Mexico and fled with the footage.
The docu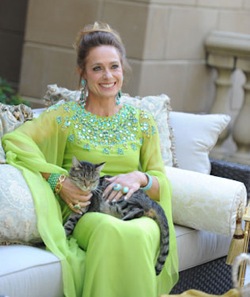 ments are based on complaints filed by the film's producer, Raul Julia-Levy, who also accused three others, Eduardo Vertiz Mascarenas, Emiliano Chaparro Martinez and Eduardo de la Cerda, of stealing footage and equipment.
"She ran away with the footage," Julia-Levy told TheWrap. "She was informed not to leave the country, but she did. We are extremely sad and disappointed that Mrs. Thieriot did this, and we will pursue this with all the arms of the law."
A story that was already bizarre — with claims of classified archeological discoveries, dire predictions and extraterrestrial contact — has also grown to include allegations of fraud and a producer/director some allege is not a celebrity's son but a con man.
Also read: Mayan Documentary to Warn Human Race of Impending Catastrophe
Julia-Levy himself appears to have lost control of the project he launched. Others still involved with the film now suggest that he is not, as he claims to be, the son of actor Raul Julia — a charge Julia-Levy said is both false and irrelevant to his complaints about Thieriot.
Another of the film's producers, Sheila McCarthy, referred TheWrap to a 2007 Los Angeles Times article casting doubt on Julia-Levy's identity and deflected inquiries to an attorney who would not speak on the record.
Thieriot, the Polish-born wife of former newspaper publisher Charles Thieriot, did not respond to emails sent to her through her website and her Facebook page.
Julia-Levy declined to discuss the recent events in detail, but claimed that potential losses could reach into "hundreds of millions of dollars" if the film is not released.
Among the documents obtained by TheWrap are a letter from the attorney general in the Mexican state of Campeche that orders Thieriot and two others to appear and turn over the hard drives and towers.
That letter appears to be in response to complaints made by Julia-Levy who, according to a subsequent letter, appeared in the city of San Francisco de Campeche in April to swear out complaints against Thieriot and three others.
Also read: Mayan Secrets to Be Revealed by Mexican Government in '2012' Doc
Another letter, from Ramon Carrasco Vargas of Mexico's National Institute of Anthropology and History, a government entity, is addressed to Thieriot and details a list of violations and warnings:
"The use of all footage in both the archeological zones in Calakmul and in the Island of Jaina is unauthorized … cannot be used and is to be returned immediately."
"Filming permits granted by the National Institution of Anthropology and History were given to C. Raul Julia-Levy, which means that the filming performed on the Island of Jaina invaded federal ground."
"Revelations of the Mayans 2012 and Beyond" was shot earlier this year in the Mexican state of Campeche and in Guatemala. The film promised to uncover previously unseen Mayan artifacts from the sites of Calakmul in Mexico and El Mirador in Guatemala.
In a series of interviews with TheWrap over the past year, Julia-Levy said that the film would prove that the Mayans had been contacted by extraterrestrials who had left messages that will be vital to humanity during an upcoming period of upheaval.
But the true identity of Julia-Levy has been in dispute for years. He claims to be the son of Raul Julia and a woman named Margaret Levy. Raul Julia died in 1994; his widow, Merel Julia, who married the actor several years after Raul Julia-Levy's birth, has called Julia-Levy an impostor whose real name is Salvador Fuentes.
In 2005, the New York Times wrote about the dispute; two years later, Julia-Levy (right) was scheduled to be a defense witness in the Phil Spector murder trial before further questions were raised about his identity.
Julia-Levy supplied TheWrap with birth and baptismal certificates. He said Salvador Fuentes is "a name that I used when I was younger so that I could do crazy shit."
The birth certificate, dated March 2006, identifies the birth of Raul Julia Levy on July 10, 1971, and lists his parents as Raul Julia and Margaret Levy Baroug. Julia-Levy claims he did not know Raul Julia as a child but met him as a teenager.
"Revelations of the Mayans 2012 and Beyond" has already had a rocky history. It was originally scheduled to be directed by Juan Carlos Rulfo, who left the project before production began.
The film was originally planned for a late 2012 release, before the end of a cycle in the Mayan calendar on Dec. 21.