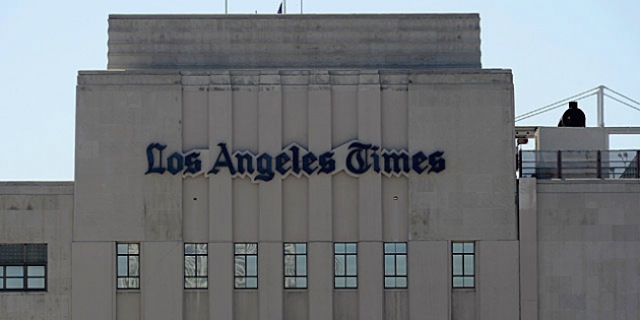 Stand down, anti-Koch protestors who mobilized in the face of rumors that the ultra-conservative brothers wanted to buy the Tribune's newspaper properties, including the LA Times! They aren't buying.
But it might not have been the Kochs' choice. An executive close to the situation told TheWrap that Tribune stepped away from the idea of selling to the Koch brothers two months ago. Chairman of the board Bruce Karsh balked at the sale after widespread outcry, which included loud protests in front of his Beverly Hills house, the executive said.
Also read: Hartford Votes Against Koch Tribune Purchase
In July, Tribune announced plans to spin off the newspaper unit, which effectively signalled the Tribune's decision not to pursue a sale.
A spokeswoman for Koch Industries told TheWrap that a story on the conservative website The Daily Caller about their withdrawing was correct. "Koch continues to have an interest in the media business and we're exploring a broad range of opportunities where we think we can add value. In terms of the Tribune, the Daily Caller story is accurate."
Thursday's article on the Daily Caller cited "sources" who claimed it was Charles and David Koch who backed away from the negotiating table after deciding that purchase would not be "economically viable."
A Tribune spokesman declined to comment on TheWrap's information.
Also read: Coalition Protests Tribune Sale to 'Radical Right Wing' Koch Brothers
The Tribune company owns eight newspapers, including the Los Angeles Times, the Chicago Tribune, the Baltimore Sun, and the Hartford Courant.
When rumors swirled that the Kochs were interested in purchasing those papers, organizations and even communities organized against the conservative billionaires. The city council of Hartford, Conn., for example, passed a resolution opposing the purchase of the Hartford Courant by interests with an "outside, extreme, partisan and sensational national corporate agenda."
Rupert Murdoch and Aaron Kushner have also been rumored to be interested in one or more of the Tribune Co.'s newspapers, though the Tribune may no longer be interested in selling them. In July, the Tribune announced plans to spin-off its publishing arm into a separate company over the next year.