Mel Brooks doesn't sound like a man in his twilight years.
The comic genius who ushered in a whole new level of cinematic crudity with such classics as "Young Frankenstein" and "The Producers" may be 86 years old, but he isn't interested in retiring.
When he's not busy picking up honors, such as the American Film Institute's Lifetime Achievement Award, which he will accept this June, he's toying with turning another one of his films into a Broadway play, as he has done to multiple Tonys and big box office in the past. He may even try his hand at directing a slasher film, for a dramatic change of pace.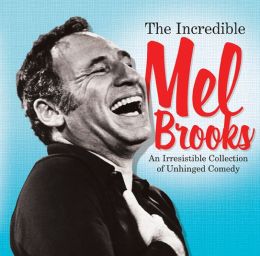 Brooks spoke with TheWrap recently about his fondness for Subway, his gastrointestinal habits (he did after all set the high water mark for fart jokes with "Blazing Saddles") and his experiences mining his catalog of talk show appearances and comedy routines for a special box set.
Also read: Shout! Factory Rides Nostalgia to Profits Even As DVD Market Slumps
Titled "Mel Brooks: An Irresistible Collection of Unhinged Comedy," the newly released five-disc collection includes interviews with Brooks and rare archival footage. It was culled together by Shout! Factory, which has built a reputation as something of a one-stop shop for fans of the funny, by providing comprehensive collections of material by iconic comics like Steve Martin and classic shows like SCTV.
It may be more than four decades since "The Producers" had audiences humming along to "Springtime for Hitler," but Brooks still has the ability to land a punchline.
How are you feeling?
I vacillate between diarrhea and constipation, but I'm living a good life. I've got 20/20 vision and my hearing is pretty good. I go to my desk every day, and I wear a sweater like Bob Cratchit at work, even though it's L.A.
What's your secret?
I have a good appetite. I go to Subway every day for a turkey sub with the fixings, you know olives and lettuce, and maybe a piece of ham (but don't print that last part). I get chips, but only the Baked Lays.
I still read. I've always got a book. I'm reading "Dead Souls" by Gogol. I strongly recommend it.
After the success of "The Producers" and "Young Frankenstein" would you consider turning another one of your movies into a musical?
Well "Blazing Saddles" is almost there. I get the feeling that if I could find the time to write three or four more songs, it could be a bold and crazy musical.
Are you working on any new movies?
I'm working on a horror film; it's kind of a traditional slasher film called "Pizza Man." It reminds me of those Hammer Films from the 1950s. So who knows — I might direct it, but I need to polish it and rewrite it.
I've got Cary Elwes playing the lead and Stacy Keach is interested in being the villain. I've got to get the distribution though. I would be happy to go raise the money, but I won't do that without distribution. That's the mistake many of these people make, because they raise the money and then they can't get a decent DVD deal because they don't have distribution in place.
How did you first become involved with Shout! Factory?
It was years ago. I didn't know who the hell they were, and [Shout! founders] the Foos brothers and Bob Emmer came to me and said we would like to do "The 2000 Year Old Man" as a collection. They were Rhino Records at the time. And they did it with this beautiful book and pictures. They later sold that company to Warner Brothers, but they bought one thing back and that was "2,000 Year Old Man." I was really touched by it, but I hope they don't have buyers remorse, because it must have cost them a fortune.
Are you planning to do another box set with them?
I'd be very interested in doing one on Brooksfilms, which was the production company I set up. We made movies like "The Elephant Man," "My Favorite Year" and "The Fly," a lot of near-masterpieces. They're movies that people don't know I'm connected with. I'd love to issue the films with a lot of commentary and interviews and really look at the serious aspect of my career. I feel like I've neglected it, and I think my kids and grandkids would be proud to find out I was connected with these movies.
What do you think distinguishes Shout! Factory from other companies you've worked with?
They are so disciplined when it comes to getting stuff done and making sure they do their due diligence. They're not just going to fling something to the winds like a lot of companies do. They take great care in deciding what to make. They never abandon it. They watch their child grow.
The layout of the box set, the way the DVDs are put into their particular sleeves, it's kind of a gem. It's a visual treasure really.
I'm very conscious of what it means to have a company behind you. When Alan Ladd Jr. ran Fox, I was always automatically greenlit, and I think Shout! Factory is a lot like the Camelot days at Fox when if I have an idea, l don't even think of going anywhere else with it.