It's officially summer, the sun is shining and a three-day weekend awaits. Perfect time to shut the drapes, grab some junk food and settle down in front of a big screen.
But with packed TV schedules and endless Video-on-Demand and streaming options, the weight of choosing what to watch can be daunting.
Below TheWrap gives you 11 options, from major sporting events to shows you need to catch up on before their new seasons premiere to the networks' Memorial Day-specific programming.
Also Read: 45 First Looks of New TV Shows From the 2015-2016 Season

"Outlander" (Starz)
The Season 1 finale of Starz's hit adaptation of the bestselling time-traveling romance airs on Saturday, May 30, so now's the perfect time to binge and catch up on the adventures of Claire and Jamie — or see them fall in over again in a re-watch — before their freshman season ends.
Indy 500 (ESPN)
The Indianapolis 500 is the biggest open-wheel race in the country. Plus, this weekend sees the 99th running — so that's kind of cool (though not as cool as next year's 100th, of course — like, one less cool.) See who drives away with the checkered flag Sunday around noon on ESPN. Pre- and post-race coverage promises plenty for those who like to see cars drive in circles for 200 laps.
"Showrunners: The Art of Running a TV Show" (Netflix)
For any young industry professionals who aspire to run a TV show one day, this must-see documentary streaming on Netflix may make you think twice. Showrunners from TV hits including "Bones," "House of Lies" and "Spartacus" get in front of the camera to reveal just how hard the job is, while also sharing candid stories about creative struggles with network executives and how how they ascended the career ladder.
TNT
NBA Playoffs (TNT/ESPN)
When was the last time the NBA Playoffs had four watchable teams in the Conference Finals? Both the Eastern and Western rounds are still interesting, with the dream scenario championship match-up being Steph Curry and the Golden State Warriors taking on LeBron James and the Cleveland Cavaliers for the real thing. This weekend's roundball will bring us a little closer to seeing if that is in the cards. Look up your own schedules for these games. Ball nights!
Fox
"Wayward Pines" (Fox Now)
"Wayward Pines" is only two episodes in, but the beginning has the makings of a solid TV thriller. "Wayward" had a tough start last Thursday, debuting against ABC's ShondaLand-Thursday season finales. But then it picked up steam after three days of delayed viewing, rising in the ratings by 90 percent in Nielsen's Live 3 Day metric. Last night's sophomore episode was up 20 percent from the actual premiere, so don't be the one lost in the woods if this miniseries catches on. Check it out via the Fox Now app.
"Three Kings," "Black Hawk Down," "The Longest Day" etc. (Netflix)
Netflix offers a broad spectrum of war-themed movies to choose from if you want to immerse yourself in honor of the nation's fallen military servicemen and women.

"Nurse Jackie," "HAPPYish" and "Penny Dreadful" (Showtime)
Showtime isn't taking a holiday — the cable network will be hard at work airing original episodes of "Nurse Jackie," HAPPYish" and "Penny Dreadful" per usual.
"Daredevil" (Netflix)
If you still haven't watched one of the best superhero shows (not) on TV, now's the time to finally catch Charlie Cox as Matt Murdoch, the blind Marvel crime fighter.
"Game of Thrones," "Veep" and "Silicon Valley," (HBO)
Get yourself a healthy dose of comedy and beheadings with HBO's Sunday-night lineup. "Game of Thrones" fans are still reeling from the last episode's shocking conclusion. Meanwhile, get your fill of belly laughs with Julia Louis-Dreyfus as the leader of the free world on "Veep" and the nerds we love on "Silicon Valley."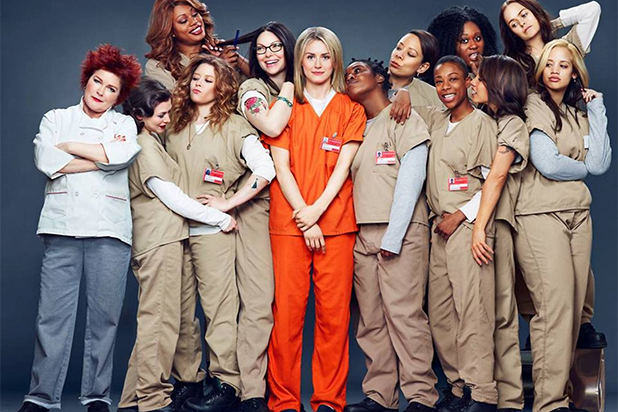 "Orange Is the New Black," "Pretty Little Liars," "Hannibal" etc.
The summer TV season can't quite be described as the doldrums anymore — new episodes of addictive, quality series return to screens soon. Take this last long weekend to catch up before the new seasons kick off. We recommend shows that come back within the next couple of weeks: "Pretty Little Liars" (ABC Family, June 2), "Hannibal" (NBC, June 4) and "Orange Is the New Black" (Netflix, June 12).

"The Homefront" (PBS)
Why should you stay home and watch "The Homefront" this weekend? Well, shore traffic sucks, for one. Secondly, it's PBS, which means you probably paid for it anyway. (Congratulations, you're kind of a producer now!) But really, it couldn't be a more poignant documentary for a weekend where everyone should be raising a flag along with a cold one. "The Homefront," which airs Monday at 9 p.m. ET, tells the stories of the more than 2 million men and women who serve in America's all-volunteer military force.