For over four decades, director James Ivory and producer Ismail Merchant of Merchant Ivory Productions endured as one of the most respected and fruitful collaborations in cinema. In fact, their acclaimed adaptations of such novels as "A Room With a View," "Maurice," "Howard's End" and 'The Remains of the Day" virtually established a whole genre of filmmaking — "the Merchant Ivory film."
Merchant died in 2005, but "The City of Your Final Destination," which opens Friday, is his 24th collaboration with two-time Oscar winning screenwriter Ruth Prawer.
The film stars Omar Metwally as a young screenwriter who attempts to persuade the reluctant heirs of a celebrated Uruguayan novelist — including his gay brother (Anthony Hopkins), widow (Laura Linney) and young mistress (Charlotte Gainsbourg) — to allow him to write an authorized biography of the writer.
Miramax and the Weinstein brothers are the big news right now. You made a film, "Mr. and Mrs. Bridge," with them. There were rumors of a big fight.
I'll tell you exactly what happened. It was very tricky. They never bothered us while we were making the film — the problems began later.
When we first screened the film for them, both Bob and Harvey got up during the screening and left, and missed the last third entirely. Later on, they told us they'd had a family emergency, and then they told us the film wasn't quite what they'd expected and that the ending was a letdown. So they were unhappy.
Were they right?
We also felt that the ending wasn't quite right, and ultimately we reordered the final scenes and it worked much better. But they wanted a focus group, and some of the questions on the cards were extraordinarily stupid, and then they wanted a big meeting with us to discuss the results.
So Ismail and I went to their Tribeca office, which had this huge glass wall, and they immediately started in about the cards and how this was a highly educated, Upper East Side crowd, and that we should respect their opinions as they were our audience. But I'd studied the cards very carefully beforehand, and I said, "Their penmanship doesn't look like that of educated people," and Harvey went ballistic! He jumped up and began screaming, "Penmanship? Godammit, I'll give you f—ing penmanship!" Then Ismail jumped up and said, "We're taking the film back! We don't want you to distribute it!"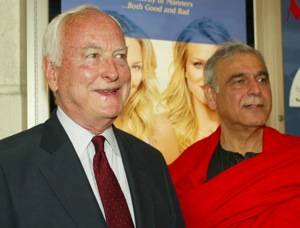 Did they actually fight?
They were going to, and Ismail picked up his briefcase and slammed it against the glass wall, which shattered. Then they went down to the street, and I stayed back. But the fight actually never happened, but it was all very dramatic.
Then they said they wouldn't pay us unless we agreed to change the film.
Did you?
Well, meanwhile we'd shown it to the stars, Paul Newman and Joanne Woodward, who loved it, and we explained to him that Harvey was trying to blackmail us over the money, and Paul said, "But I like the film the way it is – I don't want him to change it."
He must have told Harvey something along the lines of, "That's the film I'll do the publicity for and I don't want it changed," because he was well aware of Harvey's reputation.
So I think if Paul hadn't been so behind the film, they would have tried even harder to push us. In fairness, Harvey made one very useful suggestion about the ending, which I carried out.
Did you make up eventually?

We didn't speak for years, but then we patched things up over "The Golden Bowl." But that, too, had a terrible denouement, with them trying to recut it and pulling all kinds of tricks at Cannes. We bought the rights back from Miramax for the U.S. and sold them instead to Lionsgate.
You had a big deal with Disney for a while …
When I stop and think about it like that, it's one of the more unlikely alliances. But then you never know what's going to happen in Hollywood when you have to finance your films.
From their point of view, it wasn't all that successful, but I felt it was a great experience for us. We had bigger budgets and more freedom because we had a very good distributor. Having their marketing was also a big advantage. The trailer for "Jefferson in Paris" was shown at over 1,500 theaters several weeks before its release — which would never have happened otherwise.
So, how do you feel about the state of indie film?
People say it's getting harder and harder to raise money, but it's always been hard for us. I can't ever remember a time when it wasn't. Yes, once we'd made "A Room With a View," all the studios thought we had some magical formula that they could just tap into, but of course there's no secret, no magical formula.
When people say "Merchant Ivory," they think of these serious period dramas, but "City of Your Final Destination" is very modern — and very funny.
Yes, we even have cellphones in it! (Laughs) I always felt that it was basically a comedy, and a story about romance. But when we've screened it abroad, the audiences didn't seem to know whether to laugh. It's got serious themes, but it's definitely a comedy.
What was the budget?
Around $8 million, which isn't very much these days.
How tough was it raising the financing? With your long track record, it can't have been too difficult?
(Laughs) I wish! It was actually very, very hard, and it was only after Ismail died that I realized just how much work he put into raising financing.
What happened was, we finally raised enough money to shoot the whole film in Argentina, and then when we got back to the States we were going to go off to Colorado to get the other scenes we needed, but we ran out of money and could only go for one day. Then we had a long hiatus as we lost the money we thought we were going to have, so another year went by.
Nothing went smoothly in that regard.
How was it reuniting with Tony Hopkins?
I felt very lucky that he read the script and immediately wanted to do it. And he brought a wonderful light touch to his character. I also felt very lucky with the rest of the cast – Omar, Charlotte, Laura — the only problem we ran into was with the little girl, played by Ambar Mallman. It took her a while to develop and relax, she was a little shy at the start, but once she did it was fine.
The only other problem was that everyone was going back and forth to work on other projects. Charlotte was always going off to Paris, [Hiroyuki Sanada] was doing something else, the same with the others — but that's the nature of the business.
How do you feel about the current state of Hollywood?
I think it's fairly healthy. They're always complaining about the state of the business, but a lot of movies are making a lot of money, and now 3D films are huge.
I think it'd be nice if Hollywood deflated things a bit and went back to making films of a normal size, but that's probably wishful thinking, as people probably don't want that. They want the huge spectacles.
But I loved "Avatar." I saw it in 3D and thought it was visually spectacular – and I thought the blue aliens were very sexy.