Michael Bay has a message for all of the "Teenage Mutant Ninja Turtles" loyalists who've been hyperventilating about his upcoming "TMNT" film: Just relax.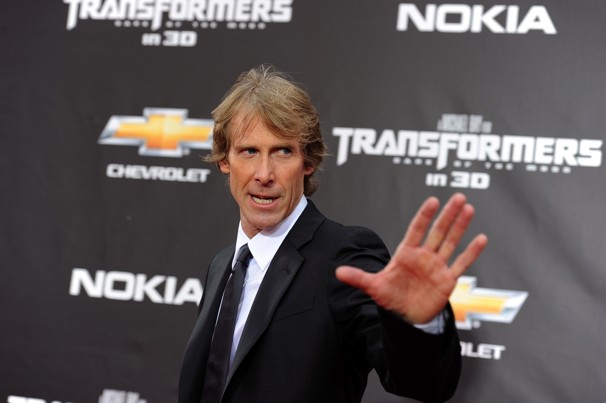 Also read: Michael Bay on Megan Fox's "Transformers" Axing: Spielberg Ordered the Hit
The internet was set ablaze with outrage Monday when the "Transformers" director suggested that he would be changing the back story of beloved nunchuck-wielding shell-dwellers Leonardo, Raphael, Michaelangelo and Donatello.
Also read: Michael Bay Directing Next "Transformers" Film
"These turtles are from an alien race," Bay declared at the Nickelodeon upfront presentation in New York. "And they're going to be tough, edgy, funny and completely loveable."
Bay's comment sparked online conniption fits among Ninja Turtles fans who had grown up believing that the turtles were, in fact, mutants and ninjas, not aliens.
"This is terrible!" one fan lamented. "I wonder what else he will do to them."
"Ever since it was announced Michael Bay had a hand in the film relaunch, I knew something bad would come of it!" another complaint read.
Former "TMNT" voice actor Robbie Rist, meanwhile, went so far as to claim that Bay is "sodomizing" the franchise.
"You probably don't know me but I did some voice work on the first set of movies that you are starting to talk about sodomizing," Rist wrote in a message to Bay, according to TMZ. "I know believing in mutated talking turtles is kinda silly to begin with but am I supposed to be led to believe there are ninjas from another planet? The rape of our childhood memories continues…"
Bay penned his own response late Monday, writing on a forum page that his detractors should "chill."
"Fans need to take a breath, and chill. They have not read the script. Our team is working closely with one of the original creators of Ninja Turtles to help expand and give a more complex back story," Bay wrote. "Relax, we are including everything that made you become fans in the first place. We are just building a richer world."
The latest "Teenage Mutant Ninja Turtles" film is slated for a Christmas 2013 release.