Mick Jagger and Keith Richards are no strangers to Top 10 lists, but now they're poised to expand their knowledge of them beyond the music charts.
Rolling Stones leaders Jagger and Richards will appear on "Late Show With David Letterman" on Tuesday to deliver the Top Ten list for the night, CBS said Friday.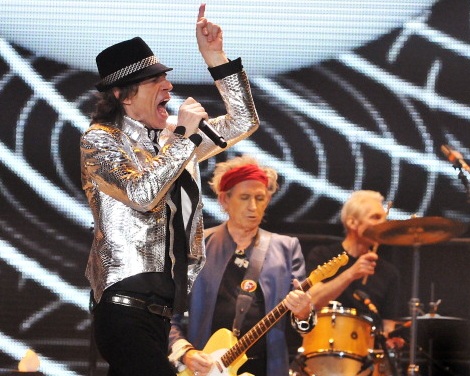 Also read: Keith Richards Regrets Savaging Mick Jagger in His Memoir
Though this will mark the first time that Jagger and Richards have appeared on "Letterman," they've appeared on the stage of the Ed Sullivan Theater — where "Late Show" is taped — before. The Stones made numerous appearances on "The Ed Sullivan Show," starting with their maiden performance on Oct. 25, 1964.
The group is currently celebrating its 50th anniversary and recently released the greatest-hits anthology "GRRR!" They be in the area to play the Barclays Center in Brooklyn on Saturday, and at Newark's Prudential Center on Thursday.
Also read: Mick Jagger Wants to Test Drug Legalization on an Island
The group will also perform at the Hurricane Sandy benefit concert 12.12.12 — The Concert for Sandy Relief, which takes place Wednesday at Madison Square Garden. Other performers at the benefit will include Paul McCartney, the Who, Bruce Springsteen & the E Street Band, Billy Joel and Eric Clapton, among others.
Letterman has been rubbing shoulders with rock royalty lately — earlier this week, he was joined on his show by the surviving members of Led Zeppelin. Last weekend, Letterman and the group received Kennedy Center Honors.