Miley Cyrus is quite the popular young woman these days.
The singer's racy performance of "We Can't Stop" at Sunday's MTV Video Music Awards, where she shared the stage and her foam appendage with Robin Thicke, has drawn strong reaction from both viewers and the media.
Love or hate the performance, it has resonated hugely across the social media landscape, and has even bolstered Cyrus' album, single and video sales.
Also read: Miley Cyrus, Katy Perry, Lady Gaga See MTV VMA Sales, Social Spike
As TheWrap previously reported, Cyrus' twerking fueled a Twitter record with an unprecedented 306,100 tweets-per-minute, according to MTV. By VMAs-end, Cyrus had been referenced 4.5 million times on the social site.
According to a chart created on Topsy.com by TheWrap (below), "Miley" was tweeted a total of 9.4 million times between Sunday and Monday. "Cyrus" also saw a significant increase, as did mentions of her twitter handle, @mileycyrus.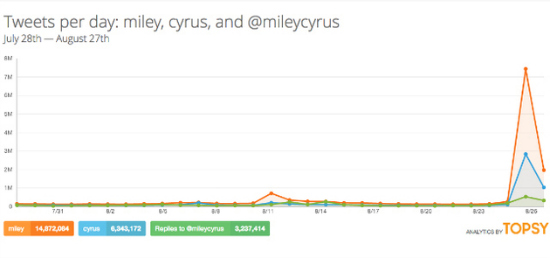 See photos: The Evolution of Miley Cyrus: From Clean and Chipper to Controversial Stripper
According to the network, Cyrus' album, "Bangerz," shot to No. 5 on iTunes album sales chart following the MTV tongue-wagging, butt-slapping, and teddy bear-filled performance.
The former "Hannah Montana" star's prior albums have sold 12 million copies, along with 20 million individual tracks in the United States alone. It is obviously too early to know how many copies of "Bangerz" will move.
However, her current single, "We Can't Stop" is currently No. 6 on iTunes. Its music video is sitting in fourth place.
See video: Miley Cyrus' VMAs Performance: 'Breaking Bad's' Hank and Marie Schrader Are Disgusted
It's unclear at this point what the effect of sales, positive or negative, on Cyrus's older, non-music related endeavors, such as the aforementioned "Hannah Montana" or the animated movie "Bolt" will be.
It is likely that the impact on those materials will be negligible enough that information via stores such as iTunes and Amazon will not even clearly track a correlation.
The long term implications remain to be seen, but for now, if her goal was awareness and sales, Cyrus can consider her performance a rousing success. If it was public approval, not so much.