MoviePass parent company Helios + Matheson plans to raise $1.2 billion to keep their struggling movie theater ticket subscription service going.
Stock, debt, warrants, units and/or subscription rights may be offered "from time to time in amounts, at prices and on other terms to be determined at the time of the offering," the company wrote in a Monday filing with the SEC.
Helios said that it intends to use the proceeds "for general corporate purposes of Helios and its subsidiaries and/or to support MoviePass and MoviePass Ventures operations."
Also Read: Can MoviePass Owner Avoid Bankruptcy as Stock Hits Record Low?
Helios owns 91.8 percent of MoviePass, which is a U.S. movie theater subscription service that provides subscribers the ability to view up to one new movie title per day for one monthly subscription price.
Shares of Helios + Matheson have had a rough go — and today's news doesn't change any of that. See below for a look at the stock's performance over the last year, which is followed by a five-day snapshot best illustrating this morning's decline.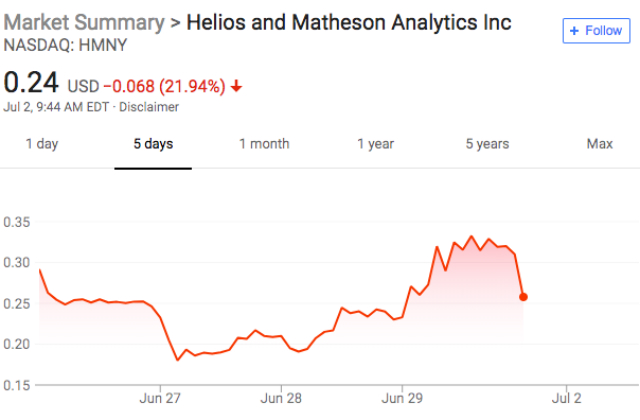 Also Read: MoviePass to Charge $2 Extra for Major New Movies - and Add 3D, IMAX Screenings
Helios + Matheson has poured tens of millions of dollars into the $10-a-month subscription moviegoing service, fueling its growth to 3 million-plus users.
But that subscriber growth has proven costly: The company reported $40 million in MoviePass losses in May and anticipated that to grow to $45 million in June — with just $18.5 million cash on hand as of May 31.
In an April filing with the Securities and Exchange Commission, Helios + Matheson reported losses of $150 million in 2017 thanks to MoviePass and the lower subscription price launched last August.
Also Read: AMC Theatres Announces MoviePass Killer: 12 Movies Per Month for $19.95
Last month, Helios + Matheson announced plans to raise $164 million through a bond issuance in an effort to help buoy the business and boost the company's sinking stock price. Two days prior to that announcement, Helios + Matheson proposed a number of measures to bolster its stock, including a reverse stock split and a quadrupling of shares, to 2 billion from 500 million shares.
Unfortunately, June also brought along some new competition. Two weeks ago, AMC, the world's largest movie theater owner, launched a $20-a-month service, dubbed AMC Stubs A-list, allowing users to see up to three movies per week and receive discounts on concessions.
And those aren't the only two options for box office buffs: Cinemark offers a Movie Club service where members get one ticket every month and 20 percent off concessions for $9 monthly fee.