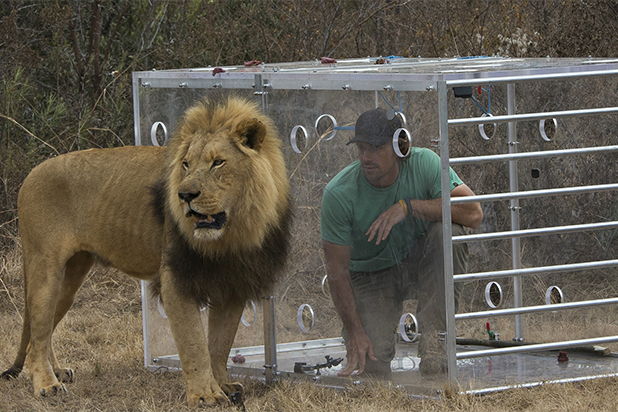 For the fifth year, Nat Geo Wild is bringing back its popular "Big Cat Week" event, with new specials chronicling the lives of lions, tigers, lynx and leopards premiering in November.
Kicking off the week this year is big cat tracker Boone Smith, who is put to the ultimate test in "Dinner with Big Cats," in which he will be placed inside an enclosed box in the middle of a lion feast. Cameras will follow as Boone watches a pride of lions go to town on fresh meat to learn more about their feasting habits.
With the help of National Geographic's conservation scientist, Luke Dollar, the special will seek to reveal how strong a lion's jaw is, how much weight it can pull and how high it can jump. "One way to build awareness is to actually demonstrate and measure the lion's skill set. Getting close enough to do this safely is the challenge and this I hope is one of the solutions," said Boone.
Also read: Nat Geo Wild Goes Ape With New Jane Goodall Special
Other specials set to air during the week include "Future Cats," which will explore the progression of this species to get a glimpse into how cats might look and behave in a future menaced by global warming, flooding, depletion of food and overpopulation; "Fishing Leopards," which follows a mother leopard and her cubs' coming-of-age; "Tiger's Revenge," tracking the rivalry between two tiger sisters in India; and "Leap of the Lynx," showcasing the rare Iberian lynx in its habitat — the most stunning and wildest landscapes of southern Spain — and show how the European Union has begun to reintroduce the species into the wild.
Nat Geo Wild's "Big Cat Week" is an extension of the Big Cats Initiative, a long-term commitment by the National Geographic Society to stop poaching, save habitat and sound the call that big steps are needed to save big cats around the world.