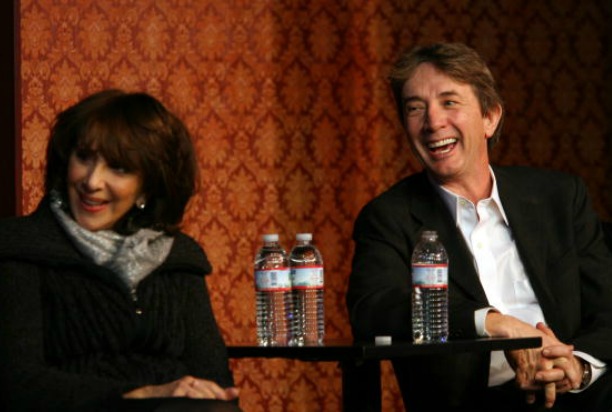 NBC is co-producing 12 episodes of the comedy "Working the Engels" in its first collaboration with a Canadian partner. The series will star "SCTV" vet Andrea Martin.
The network has entered a deal to co-produce the half-hour singlecam comedy from producers Halfire-CORE Entertainment in partnership with Shaw Media.
Also read: Andy Kaufman Still Alive, Still Posing as Sacha Baron Cohen
The series, created and written by Katie Ford and Jane Ford, focuses on a family who come together when their father passes away, leaving them a mountain of debt. They band together to take over their father's law firm, even though only one family member — daughter Jenna — is around to practice law.
Two-time Emmy Award winner Martin (pictured at an SCTV retrospective with Martin Short) will play Ceil, the overly confident family matriarch. Kacey Rohl ("Hannibal"), Azura Skye ("American Horror Story") and Benjamin Arthur ("Less Than Kind") will also star.
Also read: 'Last Comic Standing' Returning to NBC, Wanda Sykes to EP
Katie Ford, Jane Ford, Howard Busgang, Tom Nursall and Noreen Halpern serve as executive producers.
"We're over the moon thrilled to work with NBC and Shaw Media on this series," said Noreen Halpern, president of Halfire-CORE Entertainment. "Katie and Jane Ford have created a laugh-out-loud show and we're delighted to have a comedic legend in Andrea Martin, complemented by a trio of rising stars."