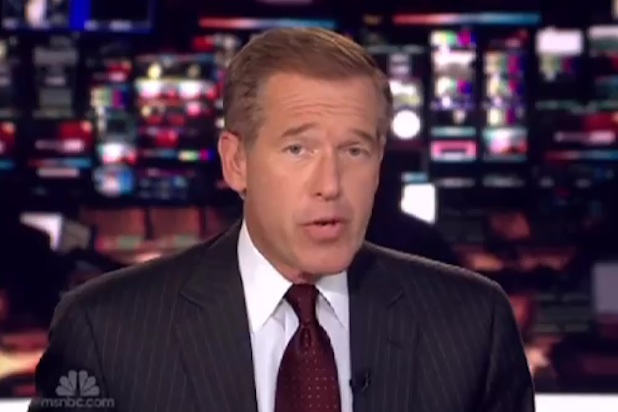 This just came across our desk: "NBC Nightly News" hit its lowest ratings in key news demo since at least 1991 — when Nielsen's electronic records began.
"ABC World News With Diane Sawyer" won the week beginning June 30 in the 25-54 demographic (1.6 rating/7 share and 1.883 million viewers), topping "NBC Nightly News" (1.4/6, 1.726 million viewers) by its highest audience-size margin in six years. That same qualifier can be said for viewers 18-49.
It's been a back and forth battle battle between the two networks primetime news offerings lately, with ABC winning seven of the past 13 weeks among those 25-54.
Also read: Nielsen Touts Mobile Ratings Ready in the Fall, Implementation Ball Is in Clients' Court
Now, there are some asterisks to last week that NBC will surely remind readers of, and so will we. The July 4th holiday eliminated Friday from the ratings week in this case, and Brian Williams was off Wednesday and Thursday.
Also, there may have been some sample viewing on ABC. For "World News," Diane Sawyer's coming replacement, David Muir, was in the big chair Monday through Thursday. Muir officially starts on Sept. 2, but is subbing for Sawyer periodically until then.
And according to an NBC News insider, severe weather impacted several markets on both of those nights, which led to exclusions. Plus, NBC News likes to tout its more affluent viewer-base, suggestive that some of its regular viewers may have been away on vacation for the holiday week.
Of course, an ABC insider told TheWrap the following about that first point: "The claim that weather impacted several markets last week does not hold up. 'World News' and 'Nightly News' had the same amount of coverage last week, which is on par with season-to-date averages. The weather preemptions in select markets were not large enough to impact national ratings."
Also read: Cable News Ratings: Everyone's Down and No One Is Happy
Anyway, in total viewers, NBC's show was still top dog (7.506 million) — for its 251st week in a row — but the viewer-gap between No. 1 and No. 2 was the narrowest its been since Sept. 2012, with a difference of just 68,000 viewers. "Nightly News" has been best in total viewers 298 out of the past 299 weeks.
"World News" had 7.438 million total viewers; third place "CBS Evening News" got 5.746 million last week.