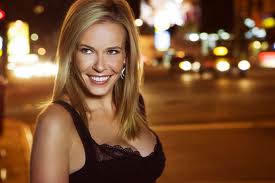 NBC ordered four pilots Wednesday, including one based on Chelsea Handler's book, "Are You There Vodka? It's Me, Chelsea."
Though she'll executive produce, the host of E!'s "Chelsea Lately" isn't currently attached to star — raising the possibility that someone else could play a character inspired by her and her misadventures.
The four comedies include an untitled series starring, written, and co-executive produced by comedian Whitney Cummings; "Brave New World," about a historical re-enactment theme park, Pilgrim Village, written and executive produced by "Rescue Me" co-creator Petr Tolan; and "My Life as an Experiment," based on A.J. Jacobs' book about his life as a writer who immerses himself in strange situations, like attempting a year of "living Biblically."
Also Read: 'Bosom Buddies' Redux? ABC Picks Up Cross-Dressing Pilot
On Tuesday, NBC ordered "S.I.L.A.," a pilot from "Traffic" writer Stephen Gaghan. On the same day, ABC ordered two dramas and two comedies, one of them about salesmen who pretend to be women.
Handler's show, which shares a name with the book, is executive produced by Handler, Tom Werner, Mike Clements and Tom Brunelle. Julie Larson and Dottie Dartland Zicklin will executive produce and write.
Cummings' pilot is executive produced by Scott Stuber, Quan Phung, Barry Katz, and "Brave New World" is executive produced by Michael Wimer.
"My Life as an Experiment" is executive produced and written by Cathy Yuspa and Josh Goldsmith, and executive produced by Jack Black, Carolyn Bernstein, Howard Owens, Ben Cooley and Priyanka Mattoo.