A tentpole of the Hollywood social calendar is off to the races.
Neon Carnival — hospitality and nightlife czar Brent Bolthouse's celebrity-stocked overnight party — is moving to the HITS Desert Horse Park in Thermal, California, The Party Report has learned.
The invite-only bash that comes around like a comet once a year, whipping up a frenzy as an unaffiliated side party during Coachella's opening weekend, is set for Saturday night, April 14.
For the past 10 years, it's been the post-festival stop of choice for Leonardo DiCaprio, Clint Eastwood (above), Drake and Rihanna — all enjoying ferris wheels, bumper cars and outdoor bottle service. The oddball location just adds to the mystique.
Also Read: Coachella 2018 Lineup: 15 Surprises and Snubs
Populated by the go-getters of young Hollywood — talent, agents, managers, publicists, and producers — it's a night of dancing under the stars that until now, has consumed the tarmac of a private airport in the middle of nowhere.
"We're staying in the same neighborhood," Bolthouse told The Party Report this week. "We've entered into what we believe is a long term relationship with HITS, which is right next door to the airfield."
The park is more frequently used as a show grounds for million-dollar equestrian events. It hosts a circuit of  show jumping competitions from January to March each year and is justifiably engineered for large crowds.
"We have more room at HITS than we ever did at the airport," Bolthouse added.
About the Size of West Hollywood
At 239 acres, let's put this into perspective for Angelenos: If we overlayed the new home of Neon Carnival across West Hollywood,  the swath would encompass the Beverly Center on the west and extend down every block between Beverly Boulevard and Third Street moving east through and including the CBS lot, the Farmer's Market, and the Grove, 1.3 miles east. It's a huge footprint.
"It gives us the ability to ebb and flow as years come down the pike," Bolthouse said.
8,000 Invite-Only Guests
As the event has swelled from a few hundred L.A. insiders winding down in a hangar to an event with its own illuminated traffic control signs, corporate sponsors, and a fraudulent secondary ticket market, it has remained a tough invite — even for those on the upper rungs of the celebrity food chain. For one of the choice 30 VIP tables amongst an already elite crowd, the real estate is scarce.
Also Read: Hollywood Hits Coachella 2017: Odell Beckham Jr., Alessandra Ambrosio, Hailee Steinfeld (Updating Photos)
"The thing about Neon Carnival is, Leo doesn't come with one friend. He comes with a big crew of people," Bolthouse explained. "They need three or four tables. When people like that are taking three or four tables, you can imagine how 30 tables disappear pretty fast."
In this picture below from 2017, Drake (left) arrived after performing on the Coachella main stage with Future earlier in the night. Check out Diddy just casually floating in the crowd (frame right).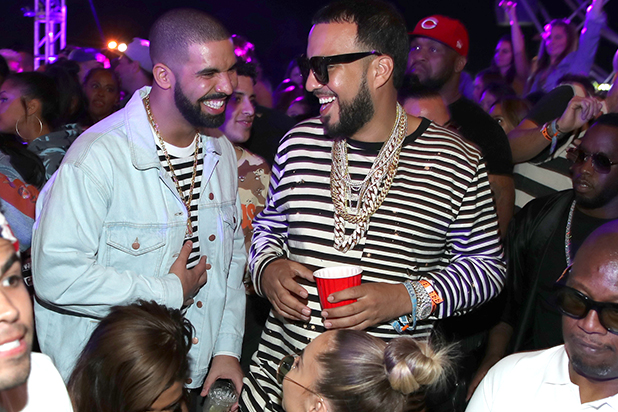 "Puffy doesn't come with two people," Bolthouse continued.  "On a normal night, he is with 10 people. At Coachella he's with 25 people. Everything seems to be bigger and more groups of people coming together."
Also Read: Coachella Scene and Heard: Leo Dicaprio, Lauryn Hill, The Weeknd and Lady Gaga (Updating Photos)
You Can't Buy Your Way In
Bolthouse's team sets up multiple days of advance check-in and wristband distribution in Los Angeles.  This eases VIP congestion on the night. It's also spawned some unauthorized Craigslist entrepreneurship.
"We've got new wristbands this year that are impossible to get off your wrist," Bolthouse warns.  "It's going to be harder for people to slip them off and sell them."
Despite new wristbands and a new home, some familiar guideposts return. From London, the criminally underexposed Kayper returns. She's a scratch DJ (not like Alesso or Zedd, who were in the crowd as guests last year). Fellow Neon residents DJ Ruckus, DJ Politik, and Jesse Marco will split shifts between 10 p.m. and the stated 4 a.m. finish.
Levi's and Tequila Don Julio both return as the flagship sponsors with activations throughout the space. Wynn Nightlife (the Vegas engine behind clubs XS, Intrigue, and similar weekly outdoor bacchanalia at Encore Beach Club) is also onboard. Rembrandt Flores and EFG continue to helm the event publicity.
"We try to create something that you don't see at the festival," Bolthouse said. "This should feel more like a party and not like a concert. You get that when you book great nightclub DJs."
And if Beyonce wanted to make this her Saturday night concert after party?
Bolthouse has a plan: "We would welcome her with open arms"
Editors' Note: The Neon Carnival has no affiliation with and is not endorsed by Coachella or Goldenvoice. Neon Carnival takes place Saturday night, April 14 at the HITS Desert Horse Park in Thermal, California, not the Jacqueline Cochran Regional Airport. Admittance is by invitation only and neither wristbands nor tables are for sale anywhere. The writer of this post has no access or control over invitations. He just interviews the event's creative ensemble.