Almost 20 months ago, the week he was elected president of the Academy of Motion Picture Arts and Sciences, Tom Sherak admitted to TheWrap that while he may have the title of president, somebody else really ran the place.
"The buck stops," he said, at the desk of Bruce Davis, the organization's longtime executive director.
But soon, the buck – and the tens of millions of bucks brought in by the Oscar show – will have a new place, or two, at which to stop.
Davis will leave the job he's held for two decades in favor of retirement, driving away from the Wilshire Boulevard office in a Prius that shows just how deeply tied he is to the organization: "AMPAS," his license plates read.
His longtime executive administrator Ric Robertson (left) will land a new title and presumably more money, but a familiar spot in the pecking order: second place.
Also Read: New AMPAS COO Ric Robertson Says He's 'Absolutely' Sticking Around
Incoming Film Independent chief Dawn Hudson (below) will have a bigger awards show to look after, a more powerful board of directors to contend with, and a shorter trip to her favorite lunch joint.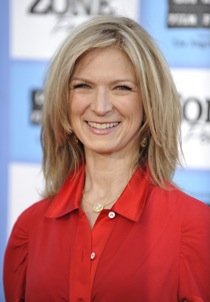 And the Academy will trade in its executive director slot for two new positions, CEO (Hudson) and COO (Robertson).
In a way, the restructuring fits with an Academy trend of late, in which the organization has brought in two people to do a job that used to be done by one. From 1960 through 2008, for example, the Oscar telecast was produced by a single person for 45 of the 49 ceremonies – but for the last three years in a row, AMPAS chose two-person teams to handle the chores: Bill Condon and Lawrence Mark in 2009, Bill Mechanic and Adam Shankman the following year, and Bruce Cohen and Don Mischer this year.
To emcee the show, meanwhile, the Academy departed from a 20-year stretch of solo hosts to name a pair of co-hosts in 2010 (Steve Martin and Alec Baldwin) and 2011 (Anne Hathaway and James Franco).
The latest AMPAS pair will assume their new positions at a time when the organization is at what Davis admitted is something of a crisis point: the recession curtailed some of its projects; the Oscar show is struggling with declining ratings and negative reviews; and a proposal to move the show earlier in the year was tabled for next year's awards, but continues to be under study.
"We need to be feeling our way very carefully to see if there's still a way to run an operation this complex and this worthwhile in a new kind of environment," Davis told TheWrap.
The desire for change in an organization long on stability and tradition clearly led to a search that went well outside the Academy. In the past, say those who've been involved with AMPAS over the years, Robertson likely would have moved into the executive director position without any need for a six-month search.
Assuming he is willing to report to Hudson and remain in the number two position – an assumption that some Academy-watchers question, but which Robertson insists is correct – the new CEO and COO are a study in contrasts.
Robertson is wry and softspoken to outsiders, while Hudson is gregarious and bubbly. Although many who've dealt with him say they find him friendly and agreeable, Robertson also has acquired a reputation as an enforcer of sorts, particularly as he dealt with campaign violations and trademark protection; Hudson is a consensus-builder whose persona is, for the most part, far sunnier than that of Robertson or the professorial and sometimes autocratic Davis.
Within the Academy, Robertson is the known quantity, Hudson the outsider. But as she helped the Independent Spirit Awards grow into the looser, more irreverent indie Oscars, the two shows more and more often began to honor the same films.
Particularly over the last decade, the Academy has come to embrace the kind of movie that would have once been the exclusive province of the Indie Spirits. This year's Best Feature nominees at the Spirit Awards – "The Kids Are All Right," "Winter's Bone," "127 Hours" and the winner, "Black Swan" – were all Oscar Best Picture nominees as well; the Academy's entire Best Actress slate was also nominated for Spirit Awards.
The big Oscar winner, "The King's Speech," was only eligible in one Spirit Awards category, Best Foreign Film. It won.
Hudson always celebrated the fact that the Academy recognized the same independent films as FIND, though she also loved to point to films like "Daddy Longlegs" and "Tiny Furniture," which didn't receive attention from AMPAS.
Her background does have one factor that the Academy likes: longevity. She joined the staff of Film Independent in 1991, after working as a freelance magazine journalist and the editor of St. Louis magazine, and has worked there ever since.
She's used to dealing with a board of directors full of creative types – including current FIND board president Bill Condon, the producer whose Oscar show (which he supervised with Lawrence Mark) was by far the best-received in recent years.
But the FIND board is much smaller than the AMPAS board, with 25 members to 43 for the Academy. While it includes actors (Laura Dern, Forest Whitaker) and directors (Condon, Mary Sweeney), it is nowhere near as high-powered as the AMPAS board, which includes actors Tom Hanks and Annette Bening, directors Kathryn Bigelow and Michael Moore, writer James L. Brooks and Pixar chief John Lasseter.
"If you're going to run the place, you have to be able to stand up to that board," one Academy member told TheWrap. "Bruce was good at it, but it's not easy."
Still, if Hudson runs into problems at her new home, her comfort food won't be far away. The new CEO's favorite lunch spot is Kate Mantilini's, on Wilshire in Beverly Hills. The restaurant is only about two miles from the Film Independent offices near Century City – but she won't even have to get into her car to get there from the Academy headquarters, which are only two blocks away.