This isn't exactly the L.A. Film Festival's worst nightmare, but neither is it an outcome the festival was hoping to see.
This year's LAFF kicks off on Thursday night at 7:30 with a gala and presumably star-studded screening of "The Kids Are All Right," a well-received Lisa Cholodenko film starring Annette Bening, Julianne Moore and Mark Ruffalo. That's an hour and a half after the beginning of the deciding game seven in the Los Angeles Lakers/Boston Celtics NBA championship series.
The screening, and subsequent party, will be held in the premiere theater of the Regal Cinemas complex, and then on the roof of an adjacent parking garage, at L.A. Live in downtown Los Angeles.
The game will take place at Staples Center, one block south and one block east of the theaters.
It'll be a night of lots of fans, lots of police, lots of traffic and lots of noise, a collision between sports and entertainment at a downtown center designed to accommodate both.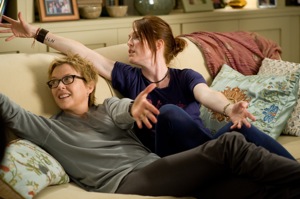 So when Bening settles into her seat at the Regal, hubby Warren Beatty's old pal Jack Nicholson will be cheering on the Lakers in the second quarter of the crucial game.
And when 800 LAFF patrons exit the theater after the film, they may well be walking into a raucous Lakers victory celebration, or an angry reaction to a Celtics win.
LAFF organizers say they were hoping for the Lakers to win in six games, not seven, but that they're not overly worried. And L.A. Live says it can handle the crowds without any problems.
But festivalgoers need to be aware that it's going to be harder to get into, and out of, the L.A. Live area tonight. Chick Hearn Court (the stretch of 11th Street where it passes Staples Center) will be closed between Albany and Figueroa Sts. beginning in the first quarter; that's where one of the main entrances is to the parking garage that sits closest to the Regal Cinemas and also serves as the festival village and the site of the post-show party.
LAFF patrons will have to reach the west garage via Georgia Street instead, and will encounter a checkpoint along the way.
At halftime, which should come shortly after "The Kids Are All Right" begins screening, other streets around L.A. Live – Figueroa, Cherry and 12th Sts. – will be closed as well. And in the fourth quarter, the Figueroa closing will be extended and stretches of Pico and Flower will shut down.
The idea is to prevent celebrants who don't have tickets from coming into the Staples Center area – though those with reason to be there, as LAFF patrons are, should endure some inconvenience and delay but not be kept out.
And once patrons get in, they should expect to see a very strong police presence. Determined to avoid the rowdiness and sporadic vandalism that erupted around Staples after the Lakers' victory last year (though the team clinched the victory in Orlando, not L.A.), the LAPD will deploy four to five times as many officers in the area as usual, said chief Charlie Beck during a Wednesday news conference with L.A. mayor Antonio Villaraigosa.
Police will be patrolling the area in cars and on motorcycles, bicycles and horseback, employing what Beck said will be "different types of policing and strategies" from previous years.
And according to a Los Angeles Times article, nearly a dozen law enforcement agencies prepared for game seven by arresting at least 31 members of a tagging crew believed to be responsible for extensive property damage during last year's celebration.
Members of the Los Angeles County Sheriff's Department and other agencies used search warrants and probation searches to make the arrests in the early morning hours on Wednesday, in an attempt to get members of the OCP (or "Out Causing Panic") tagging crew off the streets by Thursday night.
It should make for a colorful backdrop to LAFF's opening night – and, if the Lakers give fans a reason to celebrate peacefully, an entertaining tableau for partygoers as the festival kicks off.
And hey, Jack: once you're done celebrating your Lakers' victory, come on over and join the LAFF party.