Producing powerhouse Harvey Weinstein joined TheWrap editor-in-chief Sharon Waxman on Tuesday to discuss his latest Oscar hopeful, the Rob Marshall-directed musical "Nine."
The Weinstein Company's co-chairman kicked off TheWrap's post-screening Q&A by joking about how he makes sure to get to P.F. Chang's when he's on the West Coast, since they don't have them in New York.
An audience member shouted out that there's one in White Plains, New York, which he was glad to hear.
"I'm going to get Nora Ephron to make a movie about them," he joked. "'P.F. and Chang.'"
Asked if there would be a part for "Nine's" Penelope Cruz, he deadpanned, "She's gonna play Chang."
Getting down to business, Weinstein admitted, "I never really liked musicals until I saw how cynical Bob Fosse was" with "Chicago," which the producer said he saw "as a kid, in 1970-something, "and I said, 'Wow, if you can do a musical with this kind of attitude, this is the kind of thing I want to do.'"
Weinstein first collaborated with Marshall on the movie version of "Chicago," which won six Oscars.
"After Rob did 'Memoirs of a Geisha,'" Weinstein continued, "I wanted to do another musical with him. I kept getting offered different things, like 'Rent,' all sorts of things, but I didn't want to do anything without Rob, because I wanted to try to challenge both of us.
"Rob and I talked about doing 'Kiss of the Spider Woman,' which was a musical Kander & Ebb did. We met with Arthur Laurents to maybe remake 'Gypsy.' We talked to him, told him our ideas — he said he didn't like any of them. It was great to sit there with Rob Marshall after he'd won the Oscar and have Arthur Laurents tell us that we were absolutely wrong about everything. It's a good humbling experience, trust me.
"And then we both said, 'Let's do "Nine,"' because it was Italian, it was about our industry. But it's just something that's a different kind of musical, I hope it's a different kind of musical."
Asked how the film was able to attract its big-name cast, Weinstein said simply, "First of all, when you say Rob Marshall is making a musical, a lot of people are interested. Everybody in the world really came out and auditioned for the film."
And he really meant auditioned — including Oscar winners Cruz and "La Vie en Rose's" Marion Cotillard.
"I introduced Marion, who I had known before she did Piaf, to Rob. And at one point she was going to do the Judi Dench part. That was originally written as a French producer, so we were going to make it younger and have Marion do that," he said. "But there was just something so indescribably amazing about her, so we asked her to audition for Luisa.
"And Penelope Cruz, I've known her since her first movie, 'All the Pretty Horses,' which we did. I knew she was a dancer and her dream was to do musicals, so I introduced her to Rob and we asked her to audition.
"And then the rest is Rob.
"Every time Rob and I do a movie, I always try to further the culture, like we went with Queen Latifah in 'Chicago,'" Weinstein added. "Originally we were thinking about a major actress, but it wasn't Queen Latifah. And I really pushed. I have my own music background and my own music love. And that's how I felt with Fergie. I just felt she could knock it out of the ballpark. And there was somebody from Broadway who's a big Tony Award-winning actress, who some people wanted to do it, but then Fergie came in and, like in the movie, blew us away. She was the right choice.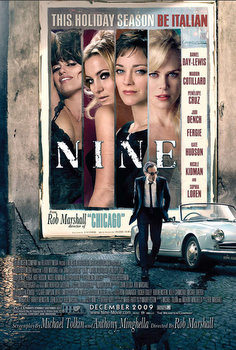 "And, in the case of Daniel Day-Lewis, what can't he do?" he added.
The production had the luxury of three months of rehearsal at London's Shepperton Studios, which was turned into "Rob Marshall University, where Penelope, Judi, all the actors would sing and dance, in separate rooms, with voice coaches, and John De Luca, who's Rob's partner in life and also in work, rehearsing, choreographing," Weinstein explained. They then shot for five months at Shepperton and for five weeks in Rome, Anzio and the Amalfi coast. "We had to have people who were dedicated, who were totally committed to the idea of the movie, because that's the way Rob works."
Asked which of the actors couldn't dance before attending Rob Marshall University, Weinstein demurred. "I think they all could pretty much move. Penelope obviously had a great background in dancing. Marion learned a lot more but she could always sing.
"Kate Hudson was the dancer of the group. Rob said, 'Kate's my treat to me.'"
Weinstein recollected working in Italy previously with Day-Lewis on "Gangs of New York," a scheduled four-month shoot that ballooned to nine months. "Every journalist had a great time with [that movie] because it went so over budget," he said. "Every mistake you could make – what a disaster. Everything in Italy was wrong, we couldn't get it right to save our lives.
"But the greatest thing was, like 'Be Italian' in 'Nine,' after a while you surrender to Italy. You realize the crew is not coming in at 6 a.m., they're coming in when they feel like it. The dinner break is not gonna be when you want it, it's gonna be when they want it. And the restaurant down the street that closes at 11 hears that you're shooting until 4 in the morning and they stay open for you. So it just became, as we spiraled out of control, it became one of the most joyous times of my life."
Coincidentally, "Gangs" shot at Cinecitta's Stage 5, "which was Fellini's stage, because ["Gangs" director Martin] Scorsese is the great student of Fellini," and "Nine" "takes place on Stage 5," Weinstein pointed out. "I got to see through Marty a lot of Fellini movies, not the Fellini movies we all know, but Fellini was a writer before he was a director. And he used to write what were called Sicilian westerns, so Marty had like 12 of them, and he would show them to me and the rest of the crew at Cinecitta."
The "Nine" shoot wasn't immune to the "charms" of Italy, the producer said. The first day on location in Anzio, where the spa is located in the film, "We're shooting 'Quando, Quando,' where Daniel is dancing with Marion, and all of a sudden it goes dark. I look at Daniel and I go, 'No no, this can't be happening again!' It's the first night!
"And sure enough, the lights went out, they were defective, whatever. And on every picture you always have a backup generator. So I said to the Italian crew, 'Let's put the backup generator on.' And the guy said, 'Oh, I forgot, I left it in Rome.' And Daniel and I just started laughing, because that's what happened to us every day on 'Gangs of New York,' there was always something incredibly insane. This is a two-and-a-half-hour journey to Anzio. So we just took a break, and sooner or later there came the generator."
Asked if there had been any changes to the ending of the film, or any major tweaks, Weinstein said, "There hasn't been anything like that. What it was was we were just late, at the end of the day, and we just wanted to show the movie, because now, during Academy season, you want to get the movie out there in front of SAG, the Broadcast Critics, there are so many early awards situations that you want your movie to be eligible for.
"So we showed an early cut of the film that didn't have a proper mix and it was also what's called a D-5 [a professional digital video format]. We sort of had temp music in there, we didn't have all the finished music. And then also we didn't show a print, what we showed was a video.
"Wednesday in England was the first time we saw the print, so you all saw the print tonight and we saw the print tonight," he concluded.