He's still there.
Amid a frenzy of media reports suggesting the Egyptian president would step down, a defiant Hosni Mubarak appeared on state television on Thursday night refusing to resign, saying instead there would be a transfer of power to his vice president between now and September.
Early in the day, media coverage of Egypt's almost-revolution kicked into overdrive on Thursday as expectations of Mubarak's pending resignation spread across the world via cable news, the Web and Twitter. An enormous crowd gathered in Tahrir Square in anticipation of Mubarak's resignation, and news outlets tried to balance conflicting reports that he would resign with a brisk denial from the Egyptian government.
Also read: After Rampant Resignation Predictions on Cable News, Mubarak Stays
"We are witnessing history unfold," President Barack Obama said during a previously scheduled speech in Michigan on Thursday. "It's been young people who've been at the forefront — a new generation who want their voices be heard."
But what Mubarak heard was apparently different than the rest of the world.
As Mubarak spoke, the euphoria in Tahrir Square quickly turned to rage.
Here's a network-by-network rundown of the day's coverage:
Al Jazeera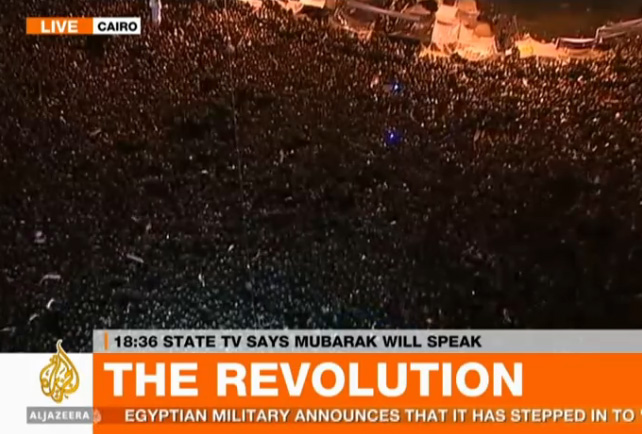 No network was more disappointed in Mubarak's speech than Al Jazeera. The Qatar-based network, which had its Cairo bureau shut down last week, has become ground zero for up-to-the-minute news about the uprising — even if it's been delivered in mostly anti-government, pro-revolution swabs.
Earlier in the day, Al Jazeera's on-air graphics included a big "THE REVOLUTION" lower-third banner and renamed Tahrir Square "Liberation Square" during its live broadcast.
Mubarak's vice president went on state television after Mubarak, urging Egyptians to not listen to media "satellite" outlets like Al Jazeera and CNN.
Nile TV
It was an erratic day for Egypt's state-run Nile TV television.
First, in a remarkable shift, the network — which throughout uprising had been reluctant to show video of chaos and violence between protesters and the government — ran a promo that showed protesters shaking hands with the military, saying "Egypt is Changing." It even carried President Obama's remarks live on Thursday. "It's a sign of the end of the regime," Wolf Blitzer noted on CNN.
But after Mubarak's speech, the network did not show the angry crowd in Tahrir Square — a sign that the change Egyptians were promised has not fully taken shape.
Fox News, MSNBC, CNN
Fox News, MSNBC and CNN all cited sources Thursday morning who said, wrongly, that Mubarak's resignation was imminent. But skepticism crept in as they waited hours for Mubarak to speak.
Fox News reported early on that one of its sources said Mubarak would cede power to a military tribunal. Anchor Megyn Kelly described what was expected to be Mubarak's resignation as a victory for democracy, saying, ""the opposition forces pushing for democracy appear about to prevail."
Fox also focused heavily on comments by National Intelligence chief James Clapper, who said that Egyptian opposition group the Muslim Brotherhood was "largely secular." He later said he realized the group is "not a secular organization."
After CNN reported, hours before Mubarak's speech, that Egypt's information minister said he would not step down, Wolf Blitzer added a skeptical note to the network's coverage.
He said Mubarak "may or may not announce" plans to step down, adding, "I guess we're just going to have to wait and see."
MSNBC was less reserved. Minutes after Blitzer's words of caution, Andrea Mitchell and Chris Matthews compared the events to the fall of the Berlin Wall. Reporter Richard Engel, reporting from Cairo, referred to "the initial shock that Mubarak is stepping down," and talked about whether his vice president would be a strong replacement.
Blitzer was on the air at noon (ET) — about five hours earlier than he normally is — anchoring CNN's coverage of the situation in Egypt with an assist from CNN International.
Notably, Anderson Cooper, who became part of the story in Egypt last week after he and his crew — along with a slew of other journalists — were attacked by pro-government demonstrators, came on the air around 2:15 p.m. from CNN Headquarters in New York to give his perspective. (Cooper returned from Cairo over the weekend and has been back in New York all week; he talked about his experience in Cairo as a guest on Wednesday's "Late Show With David Letterman.")
"What we heard were the same lies we've heard for more than two weeks," Cooper said after Mubarak's speech. "We've heard a man who clearly believes he is Egypt."
Fareed Zakaria added: "He didn't seem to understand that the crowd's anger was directed at him."
ABC, CBS, NBC
The major networks broke into their regular morning programming on the East Coast to relay reports of Mubarak's possible resignation, though they were a few minutes behind their cable news counterparts. ABC's Christiane Amanpour anchored a special report from New York (with "Nightline" co-anchor Terry Moran live on the phone from Tahrir Square). CBS News Jim Axelrod broke in with a special report a few minutes later; NBC, with Ann Curry at the anchor chair, did so as well.
ABC, CBS and NBC (and Fox, which relies on Fox News for its coverage) carried special reports after Mubarak's speech. The three networks led their evening newscasts with Egypt. And all of the nightly news anchors — including CBS' Katie Couric and NBC's Brian Williams, who had been in Cairo last week — did so from New York.
The Huffington Post
The soon-to-be-AOL-owned Huffington Post had, like others, Mubarak stepping down, but soon hedged its bets, declaring "MUBARAK MAY STEP DOWN TONIGHT" across its homepage.
That was followed by a lengthy subhead: "RUMORS OF MILITARY COUP… MUBARAK TO SPEAK… Obama: 'Moment Of Transformation' … 'Witnessing History' … CIA Director: 'Strong Likelihood' Mubarak Will Resign … LIVE VIDEO … LATEST NEWS … AL JAZEERA"
After Mubarak's speech dashed that likelihood, HuffPo changed its homepage, to "MUBARAK REFUSES TO STEP DOWN."
The Drudge Report
Like the Huffington Post, the Drudge Report initially hedged its bet, going with the simple "WILL HE?" headline on its homepage. Then, "DOES NOT STEP DOWN; TELLS THE WORLD TO BACK OFF." Later, Drudge linked to an MSNBC report that said a march to Mubarak's presidential palace was being organized.
The New York Times
The Times' reports on the uprising in Egypt were splashed across its homepage. But the best part about the Gray Lady's Cairo coverage continues to be its enormous photo gallery, which now boasts close to 300 images from the revolution.
The Times also added a link to a live video feed from Cairo's Tahrir Square, a live blog and a link to CBS News' live video of Mubarak's speech.
The Daily
The Daily, Rupert Murdoch's week-old iPad newspaper, took some flak for not updating its cover last week as events in Cairo unfolded. But on Thursday it did – posting a fresh Mubarak cover for users, replete with a headline worthy of its corporate cousin, the New York Post.
A headline that proved to be wrong.
[Screengrabs via TheWrap and TVNewser]