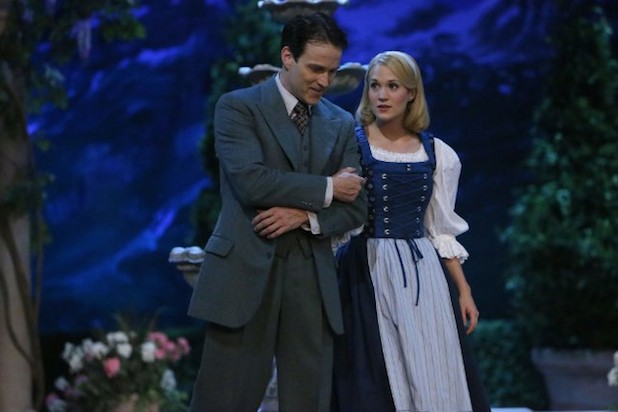 NBC aired a three-hour live performance of "The Sound of Music" on Thursday and audiences absolutely loved tuning in to talk about it, even if it wasn't all that good — as more than a few television critics declared.
The adaptation of the classic Rodgers and Hammerstein musical following a woman's journey from Austrian convent to governess was produced by  Neil Meron and Craig Zadan, and starred singer Carrie Underwood as Maria Rainer and Stephen Moyer ("True Blood") as Captain Von Trapp.
While director Robert Wise's 1965 film adaptation of the 1959 Broadway spectacular won five Oscars, including Best Picture, this version probably won't be winning any Emmys. The biggest problems noted by critics seemed to be a number of technical glitches, and Underwood's acting.
Also read: Ratings: 'Sound of Music' Is NBC's Biggest Thursday Show Since 'ER' Finale
"The strength of the songs and of her own vocal talents pulled her through when she was singing. It was the speaking that did her in," USA Today's Robert Bianco wrote in his review. "The eyes went blank, the voice went flat, and Maria turned to wood. It left her unable to establish any chemistry with her Captain, Stephen Moyer, who was shaky himself. And without that, the romance that propels the story makes no sense."
Washington Post critic Hank Stuever agreed that "it's impossible not to notice that she can't act," but identified other, more experienced culprits participating in the production, as well.
"She wasn't alone — others who ostensibly have more acting experience, especially 'True Blood's' Stephen Moyer in the role of Captain von Trapp, struggled with a format that is all but alien to today's TV," Steuver wrote. "Even stage veterans — like Laura Benanti, as Frau Schrader, and Christian Borle as "Uncle" Max Detweiler — gave the production a sense of professionalism but not shine."
Also read: NBC's 'Sound of Music Live': Hollywood's Best Reactions
Critics made sure to note, however, that Underwood never really stood a chance at impressing them because she was facing inevitable comparisons to original Tony-award winning Broadway star Mary Martin, as well as Julie Andrews, who received an Oscar nomination for the same role.
"To say that Underwood was no Julie Andrews is one of life's greatest certainties, and maybe it's not fair to compare the two stars. But the truth is that millions of people tuned in Thursday night to do just that, compare Underwood to Andrews… and then throw her off an Alps cliff when she didn't measure up," Daily Beast critic Kevin Fallon wrote. "Underwood's performance, however, really just underlined what a tricky role Maria is to pull off, and how astounding it is that Andrews managed to do it."
Also read: 'Sound of Music Live': 5 Milestones It Hit for NBC
AP critic Mark Kennedy also piled on Underwood's lackluster performance before giving her "full credit" for having the courage to even try to compete with Martin and Andrews.
"The only real problem was the real reason most people tuned in: Carrie Underwood … sang well as Maria but her acting inexperience was laid bare. She had zero chemistry with her love interest and lacked any intensity or shading," Kennedy wrote. "Theater lovers mocked her on Twitter but the only reason we got to see this Rodgers and Hammerstein masterpiece on TV was Underwood. No one is about to build a live network musical around a Broadway star, alas.
Every critic was able to find at least one favorite moment — Audra McDonald singing "Climb Ev'ry Mountain" was a common highlight — but couldn't endorse NBC's overall attempt to mount a full-scale live musical for the first time in more than 50 years. People critic Tom Gliatto likened the holiday special to  "a snow globe with scarcely any flakes."
"You could turn it upside down and shake it, really shake it," Gliatto wrote. "But no magic ever swirled around that plastic Alpine scene."