Monday box-office update:
Final box-office numbers revealed Monday that "Michael Jackson's This Is It" actually took in $23.2 million over the three-day weekend period, a 9 percent increase over Sunday estimates, according to studio figures.
Boding well for the Sony-distributed concert film was the fact that Sunday produced the biggest domestic turnout of its five-day opening, yielding $8.3 million, an 11 percent uptick over its Wednesday premiere.
With the revised tally, the movie opened to $34.4 million over its first five days, slightly less than the low side of studio projections ($35 million-$40 million).
For Sony, the improvement in the domestic data comes amid huge international play for the movie, with "This Is It" taking in $68.5 million abroad over its first five days.
Sunday box-office update:
Turns out, that wasn't entirely "It," after all.
Sony has extended the initial two-week theatrical engagement for "This Is It" through Thanksgiving, despite a less-than-thrilling domestic box office return over the last five days. The longer run applies worldwide, and given that Jackson's global appeal seems to remain strong, that's a good thing for the studio.
Since its global opening Tuesday night, "This Is It" took in an estimated $68.5 million internationally, the fifth biggest worldwide opening of the year. Meanwhile, the box-office take in North America has been just $32.5 million domestically, falling short of even the low end of studio projections, which had it at about $35 million.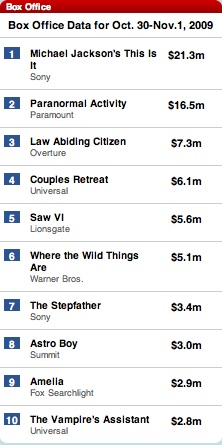 Global returns will put the studio in the black on a project it paid $60 million to concert promoter AEG Live to get off the ground. Sony also invested minimally to market the picture globally, and yet is calling it the highest-grossing concert film of all time worldwide.
"By the time they're done, they'll be profitable," noted one rival studio distribution executive. "Although it won't be the kind of windfall profits they were hoping for."
Indeed, returns won't come close to the publicly stated $250 million opening prediction of at least one AEG official, but Sony officials said they're more than pleased with the outcome, which occurred over a weekend that had its overall profitability disrupted by Halloween falling on Saturday.
Sony officials have said the DVD and Blu-ray release of the film will occur in the first quarter of next year.
In terms of the Halloween-dampened three-day box office, "This Is It" – which scored solid critical reviews and an "A" Cinemascore ranking among moviegoers now took in an estimated $21.3 million to lead all domestic entries.
Paramount's "Paranormal Activity" finished second, bringing in another $16.5 million at 2,404 locations, its first drop (21 percent) since embarking on its landmark run more than a month ago.
Now boasting a cumulative domestic total of $84.8 million, "Paranormal" can safely be called one of the most profitable films of all time, if not the most profitable, when its still-growing profits are compared to the minimal investment it took to get the project into theaters.
"Paranormal" was shot for $11,000-$15,000, according to various reports, with Paramount spending a relatively tiny amount of money to prepare the movie for theatrical release ($300,000, according to the studio) and to promote it (less than $15 million, also according to the studio, way below the average for a wide release).
Not only is the film still bringing in plenty of revenue domestically, its international ticket sales (Paramount doesn't enjoy those) remain pending, as are its DVD and TV sales.
Meanwhile, amid a three-day weekend box office that was as down overall as expected (28 percent), a number of previously released incumbents crept toward and into profitability.
Finishing in third place in its third week of release, Overture's Jamie Foxx/Gerard Butler thriller "Law Abiding Citizen" took in an estimated $7.3 million at 2,764 locations, putting the $50 million film's domestic total at $51.4 million.
In fourth place, Universal's "Couples Retreat," in its fourth week of release, made $6.1 million over the weekend and now has a cumulative total of $86.7 million. The ensemble comedy, written by and starring Vince Vaughn and Jon Favreau, had a reported production budget of $70 million. With a small amount of foreign sales beginning to trickle in — $5.4 million going into the weekend – "Couples Retreat" should easily surpass the $100 million mark globally.
Finishing in sixth place and much further away from the black, Warner's touchy-feely Maurice Sendak adaptation "Where the Wild Things Are" brought in another $5.1 million over the weekend, brining its three-week total to $61.8 million.
Warner reported the production budget for the film, directed by Spike Jonze and adapted from Sendak's beloved children's book by Jonze and Dave Eggers, to be between $70 million and $75 million. However, various reports have indicated Jonze ultimately spent around $100 million to make the movie.
Meanwhile, after Lionsgate's "Saw" franchise had its usually explosive profitability chopped to bits by "Paranormal" last weekend, "Saw VI" dropped 64 percent during Halloween weekend.
However, the film's modest $11 million production budget and minimal prints and advertising costs, when measured against its $22.8 million cumulative domestic box office, will keep its enigmatic serial killer Jigsaw in business for a 3D seventh installment.
Also looking to scare a few folks on Halloween, Sony's "The Stepfather" added $3.1 million to its domestic total. The Nelson McCormick-directed remake, shot for less than $20 million, has now taken in $22.8 million after three weeks.
Of course, the big story movie-wise over the weekend remained "This Is It," which going into the weekend had tracking estimates that domestically spanned a moonwalk chasm of somewhere between $30 million and $60 million.
In terms of audience composition, the audience was split evenly by gender (51 percent male, 49 percent female), with 62 percent of moviegoers over the age of 25.
Internationally, top-grossing territories included Japan, where it enjoyed the third biggest opening of 2009 with $10.4 million. Germany ($6.3 million), France ($5.8 million), Australia ($3.6 million) and China ($3.2 million) were also significant.
"In just five days, 'This Is It' has become the highest-grossing concert film of all time and we are elated by the response to this special film by fans, critics and moviegoers from all over the world," Sony marketing and distribution chairman Jeff Blake said in a statement. "With this kind of global response, it's clear that the motion picture deserves an extended run, and we are going to do everything we can to make the film available to everyone who wants to see (it) on the big screen."
Here are the top 10 films at the domestic box office during the three-day Halloween weekend:
Michael Jackson's This Is It ($21.3 million)
Paranormal Activity ($16.5 million)
Law Abiding Citizen ($7.3 million)
Couples Retreat ($6.1 million)
Saw VI ($5.6 million)
Where the Wild Things Are ($5.1 million)
The Stepfather ($3.4 million)
Astro Boy ($3.0 million)
Amelia ($2.9 million)
The Vampire's Assistant ($2.8 million)