This weekend's performance of "The Green Zone" was the kind of roadkill that makes a lot of us want to look in the other direction.
The Matt Damon thriller — positioned to look like the "Bourne" series but emphatically not that — took in only $15 million domestically its opening weekend.
On Monday it scraped together another million bucks.
The bad blood is flowing from this debacle that some insiders are telling me could end up losing the studio $40 to $50 million.
There's lots of blame to go around — and it is being spread around plenty.
Here's why: This is one of the first big releases under the new regime of Adam Fogelson and Donna Langley (right), and not the kind of signal of positive change that the struggling studio has desperately been seeking.
For another, this is a movie that already has strained relations in its past. It was one of the major points of tension between then-chairman Marc Shmuger and then production chief Langley.
At the time, the arguing was over a budget that had ballooned from $80 million to $130 million.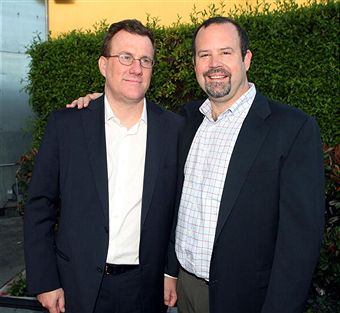 Now he's out, she's in — and the movie bombed. The studio went out of its way to tell reporters this weekend that the decision to make the movie belonged to the previous regime of Shmuger and David Linde (below, left).
Bad blood, indeed. But you can't blame the last regime for a marketing campaign that sank like a stone and confused the hell out of me, for one.
It's also not enough to say that audiences won't see movies about the Iraq war.
In this case, Universal tried to sell the film as a Bourne-like thriller. But the title betrayed the Iraq war angle, and the trailers just showed a series of muscular Damon action clips, with no clear idea of who he was shooting at, running from or jumping over.
For those who were fooled into going, they were probably annoyed to learn it wasn't pure escapist fare like Bourne.
I still don't really know what the story was, anyway. (Small irony for me personally, in that the movie is based on a book by my friend and former WashPost colleague Rajiv Chandrasekheran, drawn from his reporting in Iraq when I was there covering the war in summer 2003.) I gather it's probably about looking for WMDs.
Here's the other problem: The movie was too damn expensive.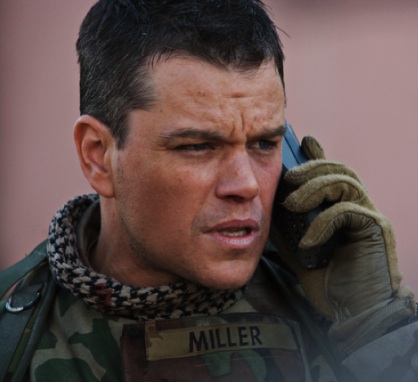 In case no one remembers, this was exactly the problem that had been plaguing Universal in the last year when the results were painful, and publicly so. Everyone in town had been pointing out the studio's penchant for overspending on adult-oriented movies — "State of Play," "Public Enemies" — that thus had no chance to hit major profitabiity.
And at one point I seem to remember all the film executives promising GE's Jeff Immelt that they'd gotten the message, and would be frugal as could be going forward.
Does that approach remain unchanged?
I'm not sure, since Universal declined to comment for this particular article.
So be it. They can blame this one all they want on the guys who've left the building. But pretty soon, someone's going to have to figure out how to make a hit.