A version of this story about "Notorious" first appeared in the print edition of TheWrap Magazine's Fall TV Issue.
ABC is making a big bet on its new fall drama "Notorious," breaking up its reliable Thursday night lineup to schedule the show between the Shondaland heavy-hitters "Grey's Anatomy" and "How to Get Away With Murder."
Based on the real-life relationship between "Larry King Live" producer Wendy Walker and civil defense attorney Mark Geragos, the drama follows the ethically questionable partnership between a seasoned cable news producer (Piper Perabo of "Covert Affairs") and a high-profile lawyer ("Graceland" alum Daniel Sunjata) who work together for their mutual benefit, occasionally with some friction.
Their only rule: "Never lie to each other."
Also Read: 'Pitch' Star Kylie Bunbury on Why a Woman in Major Leagues Isn't a Fantasy (Exclusive Video)
Perabo plays Julia George, executive producer of the fictional entertainment news show "Louise Herrick Live" — or as showrunner Josh Berman put it, "She's the boss."
Perabo describes her character as an "ambitious hustler," but it's clear that the actress, who self-identifies as a "news junkie," holds both the character and news producers in general in high esteem. To prepare for the role, she spent several days in the spring shadowing the news team at CNN headquarters in Atlanta.
"These are really smart people who are really well-versed in politics and world news that can work as an incredible team," she said, getting animated as she described the visit. "They had such little time to assemble such a huge amount of knowledge and get it to their anchors."
Also Read: 'Good Girls Revolt' Star Genevieve Angelson on Embracing Her Inner Hippie: 'I Never Wear a Bra' (Video)
Perabo brings the commitment she observed to her onscreen role. While shooting a scene that took place in the broadcast's control room, she never once looked up from the monitor before the show-within-a-show went to a commercial break, even though Sunjata's character, attorney Jake Gregorian, was trying to speak to her the entire time.
"I'm working," she later explained. "So I'm not thinking about him."
But when onscreen chemistry is as central to a show as it is to "Notorious," the way the two leads work together is even more important than how they work individually.
And that's not something anyone could predict before the first day of shooting the pilot.
"When you're going after big names like Daniel and Piper, they don't audition," Berman said. "You make the offer and you pray to God they have chemistry."
Also Read: 'Dr. Ken' Star Ken Jeong Admits He Can't Escape His Past Medical Career (Exclusive Video)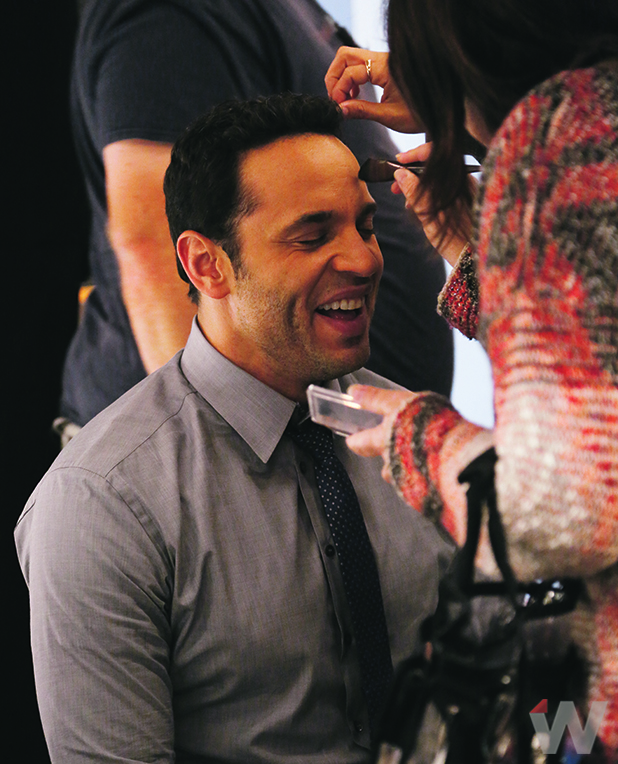 Perabo and Sunjata hadn't met before accepting their roles on the show, but Sunjata said his co-star's reputation preceded her.
"I've known of Piper for years," he said. "She is always prepared. Every time she has a question or a comment on set, it makes you think. She never just says something. It's always something that makes you think."
It wasn't an instant connection, though.
"We're still getting to know each other personally," Sunjata said. "I don't think that we necessarily work the same way. But I think that she and I can see that. We can see the things that are similar about our approach to the work and the things that are different … and we give each other space to do that."
Also Read: 'Luke Cage' Star Mahershala Ali on Getting Beyond Black Superheroes - and Villains (Video)
Luckily for "Notorious," it all seems to be working out so far. Sunjata recalled the first scene he shot with Perabo for the pilot, and the first scene their characters share in the series. In the scene, Jake casually strolled out of a fancy sports car while Julia pulled him into an elevator, racing to get him up to the studio in time for a segment. It's a critical scene that aims to establish the dynamic between the two characters with just a few lines of banter, and Sunjata said he came out of that elevator with a new confidence in the show.
"This is going to be good," he said.
"It was gold," Berman agreed. "There were literally grins all around the set."
"Notorious" premieres Sept. 22 on ABC.
See more of TheWrap Magazine's Fall TV Issue:
Save
Save
Save
Save
Save
Save
Save
Save
Save
Save
Save
Save
Save