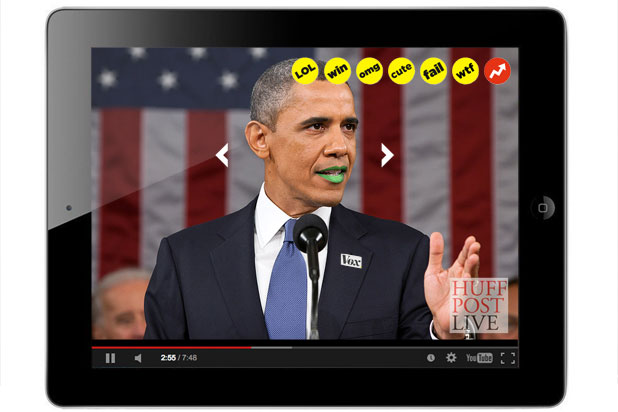 BuzzFeed, YouTube, InstaMeets — over the last few weeks, the politician who leapfrogged into the Oval Office seven years ago by capturing the mainstream media's adoration has all but abandoned it in favor of dancing to the digital drum.
Unburdened by having to win another election, President Barack Obama delivered a fiercely progressive State of the Union address in January, and instead of the traditional Steve Kroft "60 Minutes" follow-up interview or face time on the broadcast networks, the President spoke to YouTube stars with green lips and gracious grins.
Since then, Vox, BuzzFeed, Re/code and The Huffington Post have all booked time. On Tuesday, The White House further punctuated its emphasis on a digital media future, naming Silicon Valley veteran Jason Goldman the first-ever White House Chief Digital Officer. And two days prior, The White House hosted 20 Instagram users for an InstaMeet with the Mr. Obama's official photographer, Pete Souza.
Also Read: Obama's Digital Offensive Continues With Vox Interview (Video)
The President decided not only to pivot to digital media, but to have some fun doing it. And some of his interviews have run afoul of presidential precedent. In a video for BuzzFeed, Obama mimicked a goofy teenager, posing for selfies, sticking his tongue out in front of the mirror and stumbling while rehearsing his Obamacare stump speech.
The Presidential shenanigans worked and the video drew 50 million views on Facebook.
And then there was that series of interviews with YouTube stars, one of whom in particular noticeably departed from the typical legacy media banter with the .
"The guy puts 'dick' in dictatorship," green lipstick-wearing  GloZell Green said of Fidel Castro, drawing a laugh from Obama.
She then suffered a foot-in-mouth moment typically unseen by a seasoned reporter seated opposite the President: "I have green lipstick for your first wife — eh … oh … oh …" she said embarrassingly, instantly walking back her comments after realizing she'd stepped in it.
"My first wife?" Obama asked jokingly before Green cleaned up her comment. "For the First Lady and the first children … I'm so sorry," Green backpedaled.
The lighthearted conversation drew over 3.4 million YouTube views on the official White House channel — as well the ire of some more traditional media types.
Also Read: YouTube's GloZell Green Fires Back at Rob Lowe's Obama Comments: '#StayGoodLooking'
"I'm not some old-media curmudgeon saying Obama shouldn't go on 'Ellen,' or 'The View' or Colbert; he's got a good sense of humor — that's a political asset," host of Fox News' "#MediaBuzz" Howard Kurtz said. "But it just seemed beneath the dignity of the office to be hanging out with some of these YouTubers."
But, as Tubefilter founder Joshua Cohen told TheWrap, Obama's going where the people he's trying to reach hang out.
"When the average age of a CNN viewer is 58 years old, it's difficult for President Obama to reach a young adult demographic through traditional media," said Cohen, whose site covers the world of online video. "But those young adults are the target demo of all of these YouTube stars. And what's more is that those young adults aren't part of a passive experience when they watch their favorite YouTubers on screen; the nature of the online video medium has made it so those viewers are one half of a candid, personal conversation."
Also Read: Obama's 'Mean Tweets' Becomes Jimmy Kimmel's Most-Viewed in History of Series
By speaking to YouTube stars, Cohen suggests Obama has a much better chance of moving the needle: "That type of intimate relationship YouTube celebrities have and foster with their viewers leads to actionable audiences that sell out tours, donate millions to charity and, potentially, affect political change," he concluded.
In a political sense, the President's digital double down is an attempt to reach those most likely to support him, according to radio host Christopher Hahn, who formerly served as the top aide to New York Senator Chuck Schumer.
"President Obama has been very successful in his use of new media," Hahn told TheWrap. "I wouldn't say this is a rejection of traditional media, but rather an attempt to reach people more likely to support his proposals where they are. His proposals are very popular with people under the age of 35, but that demographic is hard to reach and even harder to motivate."
But is the President losing valuable eyeballs by turning to new media platforms instead of the 15-20 million viewers he'd get on "60 Minutes"?
"The average viewer of '60 minutes' is much older and also more likely to already have an opinion on POTUS and his programs," Hahn said, noting that it's not just about the quantity of viewers who hear the President's message, but reaching the type of viewer who might get off the couch and do something.
Co-founder of strategic advisory firm BraVe Ventures Jesse Redniss agrees, telling TheWrap that Obama's not losing, but gaining, by steering toward digital.
"The people that are watching ['60 Minutes'] are probably already well decided on their position and where they are going to vote," he told TheWrap. Redniss, who consults media and technology companies, predicts that casting a series of smaller, targeted nets will actually snare more viewers than the same old, same old.
Also Read: Jon Voight Blasts President Obama: 'America Has Not Been the Same Since His Presidency' (Video)
"It seems that he's diversifying and approaching the next generation on these new platforms in hopes to educate, inform, engage and activate them. In aggregate, I think he will hit more net new people with this progressive approach."
Democratic consultant and frequent cable news guest Tara Dowdell points out that Obama's strategy has already paid off.
"These new media outlets not only have large followings, but they also have an even larger reach," she told TheWrap. "BuzzFeed stories and YouTube videos commonly go viral and that is not lost on the Obama administration," Dowdell noted, observing that following the President's BuzzFeed video to promote Obamacare just prior to the enrollment deadline, enrollment increased.
Obama's efforts with popular and upstart digital sites to rally potential supporters around his policies — and brand — may influence the 2016 campaign as well. Republican candidates — and any Democrats up for the Hillary Clinton challenge — are sure to tap into all forms of digital, social and new technology to build their voter bases.
And as political pundits throw around the term "legacy" whenever Obama is mentioned, his digital offensive might also provide a preview of Obama 3.0 — after the presidency.
"Will he be launching a media effort?" Redniss asked. "Actively engaging with his long-term audience now helps pave the way for him to continue the dialog well beyond the White House."