"Kill Bill" and "Kung Fu" star David Carradine was found dead early Thurs in a Bangkok hotel room.
A maid at the Park Nai Lert Hotel found his body in a closet with a cord from the room's curtains around his neck and body. Despite early reports of suicide, no official cause of death has been announced.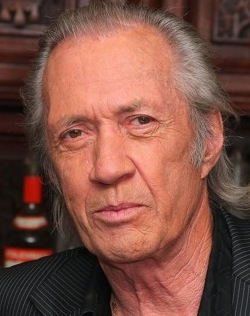 He had been dead about 12 hours, and there were apparently no signs of a struggle or assault, police said.
Carradine, 72, was in Bangkok while shooting a movie. When he didn't show up for dinner, a producer went to his room and discovered that he had died, his manager Chuck Binder, has confirmed.
Born in Hollywood, Carradine was part of a notable acting family. His father was legendary "Stagecoach" and "Grapes of Wrath" star John Carradine; his half-brothers were Keith and Robert Carradine.
Though most famous for his role as the title character in Quentin Tarantino's "Kill Bill" series and for TV's "Kung Fu," Carradine appeared in more than 100 feature films, including Martin Scorsese's "Boxcar Bertha," Ingmar Bergman's "The Serpent's Egg" and Hal Ashby's "Bound for Glory," in which he portrayed folksinger Woody Guthrie.
He received an Emmy nomination for "Kung Fu" and a Golden Globe nomination for "Bound for Glory."
He was married five times and had two daughters, Calista Miranda and Kansas. The last marriage, on Dec. 26, 2004, was to Annie Bierman, at the Malibu home of his friend, actor Michael Madsen.