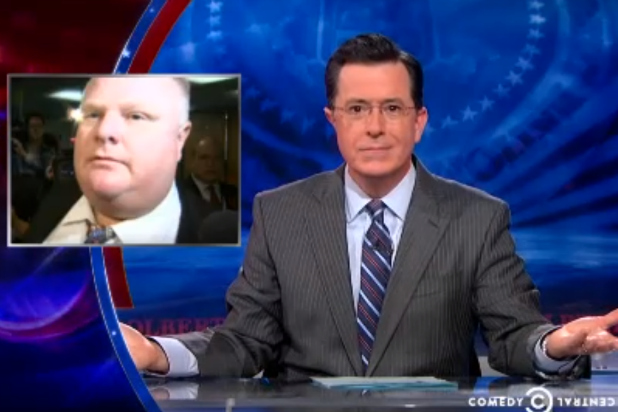 Jon Stewart and Stephen Colbert cover the same areas, so sometimes they'll make similar jokes — but usually not six months apart.
Tuesday night featured a rarity for the sharp-witted "Colbert Report." It retold a joke that Jon Stewart's "The Daily Show" told in May. It came at the expense of Rob Ford, Toronto's crack-smoking mayor.
Also read: Jon Stewart: Is Mayor Rob Ford Smoking Crack to Clean Up Toronto? (Video)
"Hey! Don't judge him," Stewart said on the May 21 "Daily Show." "Maybe he's cleaning up the city by smoking all the crack in it. You're next, prostitution rings!"
Colbert had the same idea Tuesday.
"On the bright side, he is personally taking crack off the streets of Toronto," said Colbert. "That's one less score for your kid."
Great minds think alike. Stewart and Colbert are obviously friends, so we assume the joke police will let Colbert off with a warning.
Watch the videos: