Oscar's most maligned category may end up in a real superstar duel next March, with Paul McCartney facing off against U2 or teen popster Miley Cyrus going up against bestselling tenor Andrea Bocelli.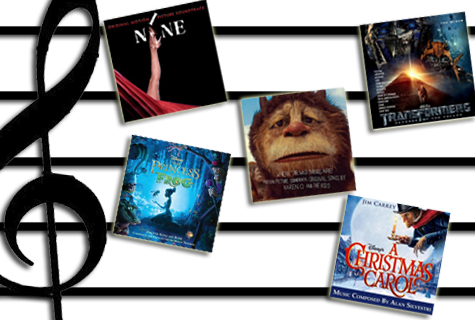 Or it could feature pop songstresses (Leona Lewis, Duffy), alternative rockers (They Might Be Giants, Karen O), rappers (Nas, Pitbull), celebrated songwriters (Jackson Browne, Randy Newman) and newcomers (Ryan Bingham, 15-year-old Clyde Lawrence).
The 63 songs eligible for the Academy Award offer all of those possibilities, and many more.
The best original song category can be infuriating, its rules maddening and its oversights inexplicable — but it also presents a wildly diverse slate from which to choose, good songs and bad songs and occasionally great songs that have been either smoothly integrated or awkwardly shoehorned into movies.
It took a few days of searching, but I've now heard all 63 of the eligible songs, from "All Is Love" to "You've Been a Friend to Me." (Full disclosure: I've heard 56 of them in their entirety, and portions of the final seven.)
So here's a rundown of the songs that from here will go through a strange process.
The producers of each film are required to submit a clip, no longer than three minutes, of the scene from the film in which the song appears. All 63 of those clips will be assembled, in random order, and then shown to members of the Academy's music branch, either at a screening or on DVD. Voters will score each song on a scale of 6 to 10, and the five highest-scoring songs (provided they have an average of at least 8.25) will be nominated.
The process usually works to the advantage of songs that are performed onscreen over songs that are simply heard in the background, and it's murder on songs that are only heard over the end credits.
Which means that the two eligible songs from Rob Marshall's musical "Nine" ought to have a leg up on the competition. And they probably do – particularly "Cinema Italiano," the brassy uptempo romp sung by Kate Hudson in one of the film's most delirious dance numbers. Will it hurt that the song is far longer on energy than melody, and that it doesn't really go anywhere? Probably not, I'm afraid.
The other song from "Nine," Marion Cotillard's showpiece scorned-wife ballad "Take It All," is more dramatically important and a better song; it also works better onscreen than on CD, where it's a bit overstated and undersung.
Another true musical is Disney's animated "The Princess and the Frog," which contains eight new Randy Newman songs, four of which were submitted to the Academy. I can't shake the feeling that Newman, a brilliant songwriter, was writing much of the movie on autopilot, although "Down in New Orleans" (sung by Dr. John) is an attractive scene-setter, and Anika Noni Rose gives the typical heroine's statement-of-purpose "Almost There" a brio that should play well with voters. The other two entries are the Cajun waltz "Ma Belle Evangeline," which plays like a genre exercise, and the nondescript soul tune "Never Knew I Needed You," sung by Ne-Yo.
You could say that "Hannah Montana The Movie" is a musical of sorts, too, but I doubt that any of its five submitted songs are substantial enough to entice Oscar voters. "Don't Walk Away" is midtempo pop-rock, "Butterfly Fly Away" a quiet (and sort of dull) ballad, "Hoedown Throwdown" a silly dance workout, and "You'll Always Find Your Way" (credited as a performance by Hannah Montana rather than Miley Cyrus) a stupidly catchy guitar-driven tune. And I don't expect the Academy to take any of them seriously, or do the same with the entry from Cyrus' dad, the nondescript country rocker "Back to Tennessee."
To my mind, the standout among music-centered films is clearly "Crazy Heart." The Jeff Bridges performance "Somebody Else" is an effective, rough, blues-derived tune driven by a nicely chugging riff – but the ballad "The Weary Kind (Theme from Crazy Heart)," written by Ryan Bingham and T Bone Burnett, is eloquent, graceful, moving, and head-and-shoulders above all other contenders.
Similar country-folk terrain is mined by Patterson Hood's "Depression Era," from "That Evening Sun"; it's a blunt, plainspoken lament, probably a touch too rural for voters, that won't be helped by its placement in the end credits.
If that song is too rural, what'll voters make of "Petey's Song" from "Fantastic Mr. Fox"? British rocker Jarvis Cocker turns out an old-timey, spirited, banjo-driven ditty that might sound awfully slight, though it'll be helped by the fact that an animated Cocker is shown performing the song. (But perhaps the submitted clip should be cut the instant the song ends, because as soon as it's over another character says, "that's just weak songwriting.")
Cocker's tune is far from the silliest entry, though. "Other Father Song," a They Might Be Giants song from "Coraline," gets a delightful onscreen performance but only lasts for 30 seconds, hardly enough time to register as a real song. "Ponyo on the Cliff by the Sea," from the Japanese animated film "Ponyo," is longer but even fluffier.
And two songs from "The Imaginarium of Dr. Parnassus," "We Are the Children of the World" and the twisted "We Love Violence," last less than 45 seconds and seem more like intros than proper songs.
Then there are a couple of outright jokes that provide highlights in their movies, but may not register as being substantial enough with voters: "Stu's Song" from "The Hangover," and "Dove of Peace" from "Bruno." In the case of the latter song, I almost feel as if the all-star performance of the song that ends Sacha Baron Cohen's film is such a hoot, and the song's parody of do-gooder rock 'n' rollers so on-target, that voters might give it a shot, ala "Blame Canada." But that's a longshot at best.
Two songs from the little-seen air drumming movie "Adventures of Power" also register more as parodies than anything else. "Impossible Dream" is all art-rock bombast, a Styx/Rush pastiche, while "New Jersey Nights" is a Springsteen clone full of ringing piano and sax lines, though the singer doesn't have the chops to pull it off.
Some of the Boss' pals, meanwhile, are in the race on their own. Old friends of "Brothers" director Jim Sheridan, U2 contributed the spare, moody "Winter"; the song feels undernourished at first and takes several listens to sink in, which won't help it in a format where voters listen once, then assign a score.
Jackson Browne, meanwhile, has an overlooked song, "Here," in an unsuccessful movie, "Shrink" – which is a shame, because the song is a graceful, introspective tune with a progression reminiscent of Browne's classic "For Everyman."
Similar introspection is on tap from Paul McCartney's "(I Want to) Come Home," a ballad from "Everybody's Fine" that aims for the grace and sweep of "Let It Be" but predictably falls short, though it does have a tired dignity of sorts.
If you go back to the days before McCartney and his pals changed the musical landscape, you'll find the setting for a couple of films with nicely-done musical tributes to an earlier era. "An Education" features two new songs, one of which, Beth Rowley's "You've Got Me Wrapped Around Your Little Finger," is classy lounge-pop that exudes an early '60s vibe. Duffy's "Smoke without Fire" is more dramatic but less true to the period, with an end-credits slot that won't be as favorable as Rowley's onscreen performance.
The significantly less-acclaimed Renee Zellweger vehicle "My One and Only" pulls off a similar trick, though it went virtually unnoticed. Of the two songs in that film, "Almost Over You" is a persuasive early '50s-style country-swing number, while the title track, written by Dillon O'Brian and performed by Holly Palmer, is a period-sounding torch song that artfully summons up a '50s vibe.
Traditional pop is otherwise in short supply on the list, except from the unlikely source of 15-year-old Clyde Lawrence, the son of the director of "Did You Hear About the Morgans?" Lawrence's song, "New York Is Where I Live," sung by Steve Tyrell, is a determinedly old-fashioned pop song, simple and pleasant but undistinguished. Tyrell also tackles the brassy "Trust Me," a sly and entertaining big-band tune from "The Informant!"
Of course, it wouldn't be the Oscars without some big ballads. Sinead O'Connor contributes "Only You," a fragile, plaintive love song from "The Young Victoria" that does a slow burn for five minutes, tricky when you've only got three minutes to showcase your wares. A likelier contender is Leona Lewis' "I See You," the grandiose (and for my money, overwrought) closing track to "Avatar."
And, of course, you can't get much more grandiose than the Andrea Bocelli performance of "God Bless Us Everyone" from "Disney's A Christmas Carol," which is so over-the-top it could almost become a guilty pleasure, if Bocelli weren't so clearly slumming.
Grandiose in a different way is "New Divide," the Linkin Park rocker as overstated as the movie from which it comes, "Transformers Revenge of the Fallen." When it comes to loud guitars, I much prefer the gritty "Fly Farm Blues," an abrasive little blues number that Jack White composed on the spot during the filming of "It Might Get Loud." It's probably way too rough for Oscar voters, but at least it's fresh and different.
Other alternative-rockers in the mix include Karen O, who co-wrote the score to "Where the Wild Things Are" and contributes two songs, the effervescent "All Is Love" and the moody "Hideaway." The former is catchier, but the latter has the advantage of playing during one of the film's loveliest scenes; I wouldn't complain if either one was nominated.
From the same neck of the woods, Lykke Li aims for a David Lynch/Angelo Badalamenti moodiness on "Possibility" (from "The Twilight Saga: New Moon") and doesn't get there, while Low Shoulder go bigger and more anthemic for "Through the Trees" from "Jennifer's Body," without reaching the kind of Arcade Fire vibe that would really sell the song.
Two of the coolest alt-rock entries are from mostly obscure movies. "No Time for Love," a deliciously bouncy song by Falullah featured in the movie "Simon & Malou," is reminiscent of the Raveonettes in the way it updates the girl group sound with rockabilly licks and a faux wall of sound. And in "Lymelife," the Spaceship Martini offer "Running Out of Empty," a droning alternative ballad that starts out stark and prickly and builds to an intriguing crescendo.
Jack Savoretti, meanwhile, heads for likeable but unspectacular Jack Johnson territory (easygoing, syncopated, acoustic guitar-driven pop) with "One Day" from "Post Grad." Violet Columbus also goes acoustic for the lilting, appealing "Forget Me" (from "I Love You, Beth Cooper"), while John Ondrasik and Joshua Radin offer wispy ballads with "Brothers in Arms" and "When You Find Me," from "Brothers at War" and "Adam," respectively.
On the poppier side, Bryan Adams' "You've Been a Friend to Me," from "Old Dogs," is a sprightly rock song, hooky but unoriginal. "Raining Sunshine," Miranda Cosgrove's song from "Cloudy with a Chance of Meatballs," is relentlessly catchy, and vaguely annoying. Bitter:Sweet's "Being Bad," from "Duplicity," is stylish, slinky and slight.
"The Word is Love," a Desmond Child song from "OyVey! My Son is Gay" is again catchy, with a rousing chorus – but again, it may well be too slight for these particular voters. And "If You're Wondering," a bouncy acoustic ballad by Zana Meshovic from "The Lightkeepers," is pleasant and bouncy and insubstantial.
And then there are the rap entries: Nas' "Legendary," from "Tyson," and Pitbull's "Blanco," from "Fast & Furious." With Eminem and "It's Hard Out Here for a Pimp" both winning Oscars, I suppose you can't rule them out. But while the former is a dense, cluttered songs that rides over a funk groove, it's also something of a hagiography. And while the latter is a terrific, propulsive song, it's hardly from the type of film to gain Academy respect.
Several international entries round out the category. AR Rahman, who won last year for "Jai Ho" from "Slumdog Millionaire," returns with "Na Na"; the song is may be a lively Carribean-style romp, but it won't be helped by the fact it comes from "Couples Retreat," a film that clearly won't be contending for any other Oscars.
The Chilean film "The Maid" offers "AyAyAyAy," a slow, emphatic song whose South American roots eventually disappear under rock 'n' roll guitar.
Two French language songs are attempting to follow in the footsteps of recent songs from "The Triplets of Belleville" and "The Chorus." "Loin de Paname" (from "Paris 36") is a slinky ballad, "Un Bouquet des Violettes" a mock opera tune, and both sound awfully pro-forma.
And finally, five songs with African connections are in competition. The two most high-profile ones, unfortunately, are the worst: "Invictus 9,000 Days" and the execrable "Colorblind," both from "Invictus," are vapid adult-contemporary songs with unbearably blunt and preachy lyrics.

The film "Skin" offers two far better songs from South African singer Miriam Stockley, particularly the spirited "Let Freedom Reign." The other entry, "Innocent Child," is a lush, solemn and not particularly memorable ballad with hints of the "Ave Maria."
Finally, the masterful Senegalese singer Youssou N'Dour has written a new title tune for the documentary "Youssou N'Dour: I Bring What I Love." If the song is slower, more understated and less vibrant than much of his material, it still has a social conscience without preaching, an accomplishment that seems well beyond anything from "Invictus."
*
So that's the field: 63 songs, silly and serious and everything in between, from dozens of genres.
You could say that the favorites are probably songs from "Nine" and "The Princess and the Frog," along with "The Weary Kind" and a song from "An Education" and one from "Where the Wild Things Are."
And I could say that I wish the Academy would look into "Here," and "Winter," and "Running Out of Empty," "Blanco," and "No Time for Love," and "Depression Era," and even "Dove of Peace."
But the fact is, this has always been a strange, unpredictable category, and it's going to come down to a bunch of voters judging music by looking at three-minute film clips. (I think MTV's victory is complete.)
The clips are being assembled right now, the judging will take place in mid-January, the nominees will be announced on Feb. 2 … and the complaining will begin immediately thereafter.
Count on it.