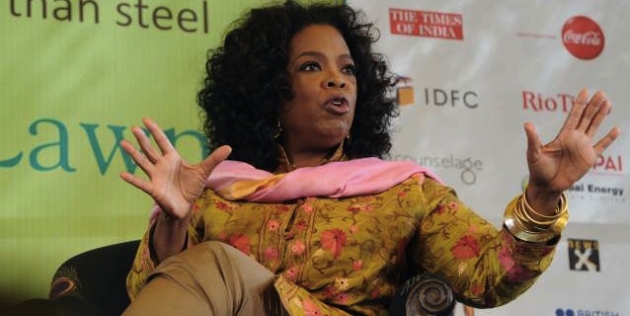 Is OWN turning around?
After a rocky start marked by low ratings, executive shakeups, and layoffs, Oprah Winfrey's network is getting some good news. Its latest quarter, from July to September, was its biggest in
ratings growth. And this week, the network announced it will air two shows next year from Tyler Perry, who has a special talent for tapping into once-overlooked audiences. The shows will be the first scripted programs for the network.
Also read: Oprah Winfrey Network Likely to Lose $143M This Year, SNL Kagan Says
Strikingly, OWN is hitting ratings highs without resorting to programming lows. Networks from Bravo to Oxygen have resorted to trashy reality shows about feuding "Bridezillas," "Bad Girls" and "Real Housewives" to juice ratings. OWN has pledged not to go that route and has so far kept its vow.
"We've been in the pivot, we're turning, and there's a lot of points of view about where in the turn you are," OWN co-president Erik Logan told TheWrap. "We certainly welcome the conversation about, 'Are you in the beginning part of the turn? Are you out of the turn?' I think that's a much better place to be than we were twelve months ago."
Or even six months ago. In April, Winfrey appeared before advertisers to say she could "see the summit" of her climb with OWN. But that metaphor came within weeks of the network laying off 30 employees, and SNL Kagan predicting it would lose $143 million this year.
Also read: Is OWN Killing Itself With Kindness?
The research firm is sticking to that number. But the analyst who provided it, Derek Baine, said in an interview that OWN does appear to be making progress.
"There's still a lot of work to be done, but I think they're definitely making a lot of improvements," he said. "Oprah herself is paying a lot more attention. I think you'll see steady improvement, but I think it will still take a couple of years, probably, to get to where they wanted to be as a network."
He notes that despite gains, OWN is still averaging fewer total-day viewers than advertisers initially expected.
OWN disputes the $143 million estimated loss, and Logan said the network expects to hit the cash-flow break-even point in the second half of next year.
Also read: OWN, Tyler Perry Announce Multi-Year Deal for Perry to Produce Shows
Co-owned by Winfrey and Discovery Communications, OWN debuted in January 2011. It replaced Discovery Health, but in its first year fell slightly short of its predecessor's ratings.
In the latest quarter, OWN has not only dramatically improved on its Nielsen ratings year-over-year, but topped Discovery Health's ratings for the same period in 2010. Since last year, it is up at least 55 percent in total viewers and its key demo, women 25-54, in total day and primetime. It is up at least 34 percent in each of those categories over the third quarter of 2010, when it was still Discovery Health. (See chart.)
Small changes in small audiences can register as huge percentages, but OWN is also up significantly in actual viewers: Its primetime audience grew from 203,000 to 314,000 viewers.
Out of 97 top cable networks, OWN is ranked No. 32 in its key demo, women 25-54 – "Not bad for a network that's 22 months old," Logan said. OWN is tied with similarly female-centric network WEtv and Oxygen. Winfrey was an investor in Oxygen, but later resigned from its board of directors, telling the Baltimore Sun it did not reflect her voice.
Perry presumably will. To the frequent bafflement of critics, the actor/writer/director has produced one box office success after another, as well three successful sitcoms on TBS. He has succeeded in large part by appealing to churchy African-American women — a group that overlaps nicely with Winfrey's audience, but has been largely ignored by Hollywood. OWN's primetime audience is about 34 percent African-American, and shows including "Welcome to Sweetie Pie's" skew African-American, Logan said.
Logan declined to discuss the terms of Perry's deal, but it continues a long period of investment at OWN.
Five months before its debut, Discovery agreed to increase its initial $100 million commitment by $89 million. In February, it pledged another $50 million, mostly to improve programming.
Executive shuffling also marked the network's early days. It went through a permanent and temporary CEO before Winfrey appointed herself "permanent" CEO and chief creative officer in July 2011. At the same time, Logan and Sheri Salata were named co-presidents.
The top ranks have remained stable since then, and ratings have slowly improved. But the March layoffs, coupled with the SNL Kagan report, seemed like a new red flag.
"That was a very challenging time for our network," Logan said. "We've made all the right decisions that I think have put the network in the position to enjoy the level of success it's having today."