Will Orson Welles' "Citizen Kane" Oscar finally be sold?
Four years after failing to be auctioned off, Welles' 1941 Best Screenplay Academy Award — the only one ever earned by Welles — is on the block again. It is currently owned by the Dax Foundation, a Los Angeles charity.
Also read: Elizabeth Taylor Auction-Mania — From Jewelry to 'Cleopatra' Wig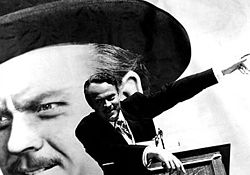 Bidding, through Nate D. Sanders Auctions, ends Dec. 20 at 5 p.m. PT. (Bids can be made at NateDSanders.com.)
Welles' Oscars has hardly stayed on a shelf through the years. For his unfinished 1974 film, "The Other Side of the Wind," the director used the Oscar as a prop for the movie's main character, played by John Huston. Later in life, the director gave the trophy — which he shared with "Kane" co-writer Herman J. Mankiewicz — to Gary Graver, a cinematographer with whom he collaborated late in his career.
Also read: The Skinny on Hollywood's Mysterious 'Skeleton Oscars'
Graver told the New York Times in 2003 that Welles had given him possession of the Oscar in lieu of cash for his work.
Beatrice Welles — the youngest of Welles' daughters and the sole heir of his estate — disagreed. She claimed her father had intended for Graver to keep the Oscar safe but that he hadn't transferred its ownership.
Also read: Billy Crystal's Best Oscar Lines
In 1994, Graver sold the Oscar to a company called Bay Holdings for $50,000. The company then offered it to Sotheby's in London. But Beatrice successfully sued Graver and Bay Holdings in California Superior Court and stopped the sale.
The Oscar was eventually turned over to her, and in 2001 she was granted the right to sell the Oscar after she successfully sued the Academy of Motion Pictures Arts and Sciences, which argued that it had imposed restrictions on how it where it could be sold, and that it had the right to buy it back.
The ruling was based on the fact that Welles never signed the academy's agreement not to sell the statuette, which was valued at $1 million during the proceedings.
In 2003, the Dax Foundation acquired the Oscar from Beatrice and in December 2007 attempted to auction it off through Sotheby's in New York, with proceeds set to go to the foundation. But it was withdrawn when bidding failed to meet the reserve price, which was not disclosed.
Also read: Billy Crystal's Oscars Gig: The Twitter-verse Reacts
According to its website: "The primary mission of the Dax Foundation is to identify and assist key individuals and groups who have a vision and commitment to improve the lives of people and animals around the world." At the same auction, Welles' working script of "Citizen Kane" sold for $97,000 to an anonymous bidder.
"Citizen Kane" was nominated in eight other Academy Award categories, including Outstanding Motion Picture and Best Director, but failed to win.