Even if "La La Land" wasn't expected to dominate Oscar Sunday next weekend, Summit Entertainment would still be very happy with their decision to get behind Damien Chazelle's musical. In an awards year dominated by low-to-mid budget films, "La La Land" had the highest return on investment among this year's Best Picture nominees, according to a survey by TheWrap.
Just like last year, we compared the worldwide box office totals of all the Best Picture noms and compared how much they brought in against their budget. Of course, this isn't an exact science, as various other figures like marketing and distribution costs also come into account, not to mention the cut taken by movie theaters.
Still, an analysis of the raw return on investment (ROI) shows some interesting results compared to last year's nominees. Unlike last year, there are no box office mega-hits like "The Martian," which made a whopping $620 million worldwide. In fact, if you ranked "La La Land," this year's top moneymaker, alongside the 2016 nominees, it would rank a distant fourth behind "Martian," "The Revenant," and "Mad Max: Fury Road."
Also Read: Oscar Nominations 2017: The Complete List
On the other hand, this year's batch had far lower budgets than their predecessors. While the 2016 nominees had an average budget of $50 million with three movies in the nine-digit range, this year's nominees had an average budget of $18 million, with the most expensive film being "Arrival" at $47 million.
That means plenty of profits for the seven studios that hope to add "Best Picture Winner" to some Blu-Ray covers in the near future. Here's a breakdown of all the contenders' prospects.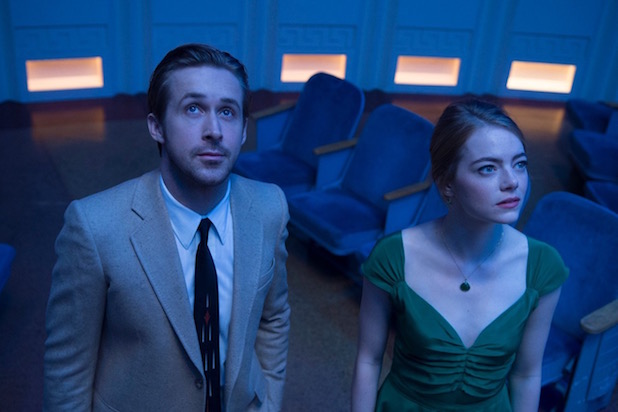 "La La Land": The future looks bright for the front-running romantic musical, which enjoyed a nice bump at the box office the week after its record Golden Globes sweep last month and has given Summit a 1,033 percent return on investment with a week to go until the Oscars. A late Valentine's Day release in China helped dramatically boost its international numbers with a $12 million opening. It could get another bump from a Best Picture win before heading off to Blu-Ray and digital release in April.
"Moonlight": A24's touching drama has been the art-house darling of the year, getting  328 percent ROI off its paltry $5 million budget. But if "Moonlight" manages to pull off the dark horse victory and win Best Picture, there won't be a theatrical boost from its Oscar win. That's because the movie is already available for download on Amazon and iTunes and will be released on Blu-Ray two days after the awards show.
Also Read: 'Moonlight' Wins Scripter Award as Year's Best Adapted Screenplay
"Manchester by the Sea": Instead of doing a same-day streaming release, Amazon treated their Sundance purchase like any other movie and nabbed a 452 percent ROI off a $8.5 million budget. The studio's biggest cash-in potential would be from a spike in streaming subscribers to Amazon Prime who would like to see Casey Affleck in what could very well be his Oscar-winning performance.
"Arrival": After the Oscar nominations were announced, Paramount re-released "Arrival" for a limited run to get more eyes on its sci-fi allegory and now has a 314 percent ROI. It was released on Blu-Ray this week.
"Hidden Figures": Fox's biopic is the populist entry in this year's Oscar race, jumping up to the No. 1 spot at the box office last month and grossing $164 million worldwide. A surprise victory at the Oscars could give it another bump before it hits its home release in April.
Also Read: Oscars: Why 'Hidden Figures' Deserves to Win Best Picture
"Hacksaw Ridge": It wouldn't be the Oscars without a war film, and Mel Gibson's return to Hollywood prominence has given Summit a solid 310 percent ROI off a $40 million budget. It will be released on Blu-Ray this Tuesday.
"Lion": Harvey Weinstein is banking on the debate surrounding Donald Trump's immigration policies to serve as a catalyst for a profitable post-Oscar season for "Lion" among liberal audiences. The awards marketing for the film includes glowing praise from political figures like Madeline Albright and Gloria Steinem. If it gets an Oscar win and subsequent impassioned political acceptance speech, "Lion" will have a short window to capitalize on it before its digital download release on March 7.
Also Read: 'Lion' Roars Over Competition for Top Cinematography Prize
"Hell Or High Water": It would seem strange that a tense, Western-style cat-and-mouse chase through Texas between the guys who played The Dude and Captain Kirk would be at the bottom of this ROI list. But here we are, with "Hell Or High Water" making a modest $27 million off a $12 million budget. The film was released in theaters in August and has been out on Blu-Ray since November.
"Fences": We have yet to see if Casey Affleck's sexual harassment allegations will sink his hopes of winning Best Actor. But if he falls, it could mean a third Oscar for Denzel Washington for playing the lead role in his passion project adaptation of August Wilson's classic play. Meanwhile, Viola Davis is the heavy favorite to win Best Supporting Actress for her work in this movie. A win for either actor might bring the #OscarsSoWhite crowd out to see the movie one more time before it comes out on Blu-Ray on March 14.
For the record: An earlier version of this story incorrectly stated that "Manchester by the Sea" is already streaming on Amazon Prime.