The deadline for submissions to the Academy's Best Foreign-Language Film category passed this week, with the number of total entrants hitting five dozen.
Among the 10 countries who have announced their choices at the 11th hour: Turkey, which submitted a Cannes prize winner; Singapore, which went with an animated film; and New Zealand, whose Samoan-language film "The Orator" is the country's first submission in this category.
Contrary to a report in Variety, TheWrap has learned that the Academy's foreign-language executive committee has accepted the Dominican Republic's entry, "La hija natural" ("Love Child").
The trade reported that the submission had been rejected because of the country's failure to submit the names of its selection committee members, but an Academy official with knowledge of the process said that "La hija natural" was accepted and will be on the list of official entries.
The total number of announced entries now sits at 60, just shy of last year's total of 65 entrants. But other countries have submitted films to the Academy but not announced them publicly, and the final total is likely to be very close to last year's number. (It's also likely that the Academy has disqualified at least one of the submissions that has been made.)
AMPAS is expected to reveal the full list of qualifying films early next week, and to start its screenings for voters on October 14.
In the meantime, here's TheWrap's weekly roundup of the latest entrants into the category. These films have also been added to our master list of submitted films.
Also read:Oscar's Foreign-Language Submissions: The Master List (So Far)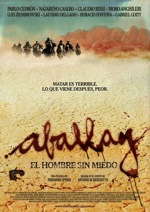 Argentina: "Aballay"
Director: Fernando Spiner
Agentina, which won the Oscar two years ago for "The Secret in Their Eyes," has opted not for an urban drama like that film (or last year's submission, "Carancho"), but for a violent Western also known as "Aballay, el hombre sin miedo" (Aballay, the Man Without Fear") from director Fernando Spiner.
The tale of a young boy who grows up to seek revenge on the gauchos who murdered his family, the film is reportedly both brutal and elliptical, focused on a stark landscape and a grim and amoral society ruled by force. It is based on a short story written by Antonio di Benedetto while in prison. Trailer (no subtitles)
Croatia: "72 Days"
Director: Danilo Serbedzija
The director's father, noted Croatian actor Rade Serbedzija, stars in this black comedy about a rural family who lives off a deceased grandfather's U.S. military pension, and spends much of the time feuding with their neighbors and with each other.
The film won two acting awards, as well as the audience award, at last year's Pula Film Festival in Croatia. Trailer (no subtitles)
Dominican Republic: "La hija natural" ("Love Child")
Director: Leticia Tonos
Tonos is one of an unusually large number of female directors with films in contention this year. Her drama follows a teenage girl who tracks down the father she's never known after her single mother is killed in an accident; he turns out to be a cranky old man who doesn't want to face the ghosts of his past. Trailer (with subtitles)
Egypt: "Lust" ("El Shouq")
Director: Khaled El Hagar
The director stirred up controversy in Egypt with his previous film, "Stolen Kisses," which came under fire for what some saw as "gratuitous kisses." His follow-up may not escape the moral police either, dealing as it does with a woman and her daughters living in an alley in Alexandria – and examining, the filmmaker says, the sexual repression in that environment.
The drama won the Golden Pyramid award for the best film in the international competition at last December's Cairo International Film Festival.
Georgia: "Chantrapas"
Director: Otar Iosseliani
The story of a filmmaker torn between state censorship (in his homeland of Georgia) and box-office pressures (in France, where he goes expecting freedom), Iosseliani's partly autobiographical satire has drawn mixed reviews in its limited showings. It did, however, win a Special Jury Award at the Mar del Plata Film Festival in Argentina. Trailer (subtitled)
Macedonia: "Punk's Not Dead"
Director: Vladimir Blazevski
The film shares its title with a 2007 documentary, but this isn't a doc, though it was filmed in a deliberately rough, verite style. Instead, it's a black comedy, described on its official website as existing "somewhere in the limbo space between road movie and drama."
The film deals with a punk band reuniting almost two decades after it broke up, and is also designed to examine the increasingly strong nationalistic elements in Macedonia. Trailer (no subtitles)
New Zealand: "The Orator"
Director: Tsui Tamasese
New Zealand may have been well-represented at the Oscars in the past ("Lord of the Rings," anyone?), but the country has never before competed in this category. Oscar winners Peter Jackson, Fran Walsh and Philippa Boyens and nominee Keisha Castle-Hughes were on the committee that chose this drama, which deals with a small man fighting for respect in a traditional Samoan community.
Tamasese's debut film, said judges who awarded the film a special prize at the Venice Film Festival, "expands the border of cinema with this mystical tale of brave individuals negotiating the politics of community in the Samoan countryside." English trailer (subtitled)
Singapore: "Tatsumi"
Director: Eric Khoo
A rare animated entry in this category, "Tatsumi" is based on an 800-page graphic memoir by the pioneering Japanese manga artist Yoshihiro Tatsumi. It intersperses scenes from Tatsumi's career with dramatizations of several of his short stories.
The animation is modeled after Tatsumi's drawings, and director Eric Khoo – who had previously made only live-action films, but who got his start as a comic artist – has said that he was attracted to the "dark and beautiful" aspects of the writer's work. Trailer (subtitled)
Slovenia: "Silent Sonata"
Director: Janez Burger
The film's official YouTube channel sets up the action: "A man stays alone with his children in a half-demolished house in the middle of a desolate field. His wife has just been killed by a grenade in a military conflict. He is expecting a new attack. Instead a wandering caravan of Circus Fantasticus stops by the house."
The allegorical film, which has no dialogue, nearly swept the awards handed out at the Slovenian Film Festival last year. Trailer (no dialogue)
Turkey: "Once Upon a Time in Anatolia"
Director: Nuri Bilge Ceylan
Made by the best-known director of the recent entries, Nuri Bilge Ceylan, "Once Upon a Time in Anatolia" has already made the festival rounds to some acclaim, screening at Toronto, the New York Film Festival and Cannes, where it shared the Grand Prize with "The Kid With a Bike."
Based on a true story and studded with quotations from Chekov, the film follows a day-long investigation into a murder on the Anatolian steppes. Time Out London called it "a mysterious and demanding work," with a two-and-a-half-hour running time and an unhurried pace in which the murder investigation frequently stops for long conversations about the minutae of daily life. Trailer (no dialogue)
Uruguay: "The Silent House"
Director: Gustavo Hernandez
A horror film might seem like a longshot to attract the attention of the foreign-language committee, but "The Silent House" is striking enough to have already served as the basis for an American remake, "Silent House," starring Elizabeth Olsen.
The film, which takes place as a woman tries to escape from a house in which she's hearing unexplained noises, was shot in a single, uninterrupted 78-minute take, for a budget of $6,000. Trailer (subtitled)