Last Updated: Wednesday, February 22, 2017, 12:15 p.m.
Before Jimmy Kimmel reveals whatever he came up with to top Jimmy Fallon's spectacular "La La Land" opening to the Golden Globes, there are a lot of bottles of chamapagne and Oscar nominee schmoozing to be done. It begins as soon as Oscar final voting closes on Tuesday, Feb. 21 at 5 p.m. PT.
But first, let's talk about who's not partying: UTA.
The agency that has been surging for the past few years collecting talent from rivals and growing a robust digital business canceled its party. Instead it is holding a public rally on the Friday leading in to Oscar weekend (details below). If it's a fraction of the scene at Sundance, it should go over big.
Also Read: UTA Cancels Oscar Party to Host Immigration Rally
Within a day of announcing the event with a $250,000 donation to the ACLU and International Rescue Committee for Refugees, the cause has raised an additional $15,000 from industry donors including $10,000 from UTA CEO Jeremy Zimmer and wife Marisa personally.
As for boisterous gatherings where we put down our signs and pick up magnums of bubble … read on for The Party Report's guide to the top Oscar invites for 2017.
Tuesday, Feb. 21
Charles Finch "The Art of Behind the Scenes"
KP Projects Gallery
6 p.m.
Charles Finch's dinners at the Eden Roc during Cannes are a staple on the social calendar. There, it's Mick Jagger, Paul Allen and Clive Owen mixing with socials.
Here in Los Angeles, it's a cocktail party to unveil a photo exhibit of iconic "on-set" photography from the golden age of cinema. It includes shots of Audrey Hepburn and Brigitte Bardot catching a smoke, and a more modern master with Quentin Tarantino dancing behind camera with Uma Thurman and John Travolta.
The night and exhibit (which remains open until Feb. 26) supports the Ghetto Film School.
Wednesday, Feb. 22
*New Event*
Bungalow 8
Blind Dragon (9201 Sunset Blvd.)
Amy Sacco brings the NYC legend and film festival favorite back to West Hollywood for one night only.
"AmeOeke" is the karaoke party for Sacco and friends. Mashup mistress Victoria "Harry" Harrison (aka "Dirty Harry" and "DJ Amazonica"), who is a fixture at the choice spots around London (Chiltern Firehouse, the Hospital Club, Grouchos), will be on the decks.
Alfre Woodard and Farfetch's Oscar's Sistahs Soirée
Beverly Wilshire
7 p.m.
Alfre Woodard and friends will honor Oscar nominees Ruth Negga, Viola Davis, Octavia Spencer, Naomie Harris, Spirit Award nominee Edwina Findley and NAACP nominee Aja Naomi King (from the long-forgotten coulda-been "Birth of A Nation".)
"Yes, we should be in contention for every part except the Queen of England!" Woodard says in her invite. "And we have a rollicking good time supporting each other."
Global Green Pre-Oscar Gala
TAO Los Angeles (6421 Selma Ave.)
7 p.m.
Global Green gives their Oscar week event a much-needed facelift. First, they've abandoned the musty cathedral of the Avalon and moved to a place nobody has seen yet, but many will soon: the new TAO Los Angeles on Selma in Hollywood. Unlike its Vegas and NYC cousins, this one is a restaurant only, but looks very cool.
Second, they are taking a leadership position on a hot issue. GG will honor the Standing Rock Sioux Tribal Council Chairman David Archambault II, along with other environmental leaders working to protect the planet. Oliver Stone, Jeff Bridges, Jane Fonda, Orlando Bloom, and Paula Abdul are expected.
OK Magazine's Pre-Oscar Party
Nightingale Plaza
7:30 p.m.
NYC based fashion-set DJ Chelsea Leyland will spin. A slew of the magazine's advertising clients (Hydroxycut, Le Vian, Sexyhair, Toffifay, etc) sponsor the event.
Thursday, Feb. 23
Cadillac
Chateau Marmont
8 p.m.
Get used to seeing the line of CT6's snaking up to the Chateau. Select nominees may as well leave their cell phone chargers in there as they will be back again a few days later to roll up to the Dolby as the Academy's official luxury auto partner. Andrew Lipman and Michael Patrick kick off their proverbial sophomore year as the brand's face to the entertainment community with another much-discussed bash.
Last year's first outing drew Christoph Waltz, Kelly Rowland, Allison Janney, Joanne Froggatt and a slew of industry power players.
Larry Gagosian Celebrates the Opening Of Joe Bradley's Installation: "Eric's Hair"
456 N. Camden Dr. (Beverly Hills)
6 p.m. – 8 p.m.
Gagosian's annual events draw from beyond the Oscar race. It's a cultured crowd of prime movers from art and society. The Maine born, NYC-based Bradley's exhibit of new paintings and sculptures will inhabit Gagosian's space until April 8. If you score an invite here…go.
*New Event*
Jeff Bridges, Jack Black, Rita Wilson, Jackson Browne, Moby, and More Perform at "Songs from the Cinema" Benefit
Fairfax Area Location
7 p.m.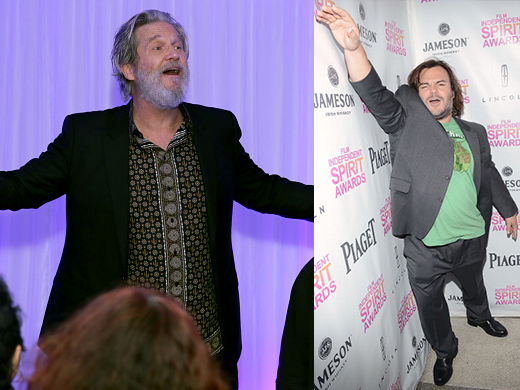 Paul Haggis is hosting this intimate dinner and concert, as Jackson Browne curates the lineup on stage.
Look out Hollywood Bowl, this crew jumpstarts the big screen music tribute season months earlier. Bovet 1822 and Haggis' Artists for Peace and Justice are producing this, and on paper it feels unlike anything else on the docket for Oscar week. In prior years, Haggis and Bovet teamed up to on the now-defunct Hollywood Domino event, where stars like John Hamm would play a modified version of the tile-based game. Now, Pascal Raffy, Maria Bello, and Nicholas Jarecki co-host with Haggis.
A few dinner tickets are available at $2,500 with a standing room only show pass available for a $250 suggested donation here.
Follow #SongsFromtheCinema for more.
Oscar Wilde Awards at J.J. Abrams' Bad Robot
Bad Robot
6 p.m.
The new master of the Star Wars universe emcees this annual event on the roof of their Santa Monica offices. Ruth Negga, Martin Short, Glen Hansard, Zachary Quinto, and and "Outlander" star Caitriona Balfe are amongst the honorees.
"The one thing that 'Outlander' and the Oscar Wilde Awards have in common is whiskey," cracks Trina Vargo, founder of the host U.S.-Ireland Alliance.
Friday, Feb. 24
UTA "United Voices" Rally
UTA HQ: 9336 Civic Center Drive, Beverly Hills (Open to the public)
3 p.m.-5 p.m.
The rally aims to "express the creative community's growing concern with anti-immigrant sentiment in the United States and its potential chilling effect on the global exchange of ideas and freedom of expression," UTA says.
The cause is both macro and micro: Academy Award-winning Iranian filmmaker and UTA client Asghar Farhadi, also a nominee this year, decided to forego a way around the Trump administration's travel ban to make it to the Dolby.
Film is Great
Fig & Olive, West Hollywood
5 p.m.
British Consul General Chris O'Connor toasts British nominees like Naomie Harris ("Moonlight"), Dev Patel ("Lion"), half-Brit Andrew Garfield ("Hacksaw Ridge"), and composer Micachu, who created the irregular score for "Jackie."
Brie Larson Hosts Women In Film's 10th Annual Pre-Oscars Cocktail Party
Nightingale Plaza
6 p.m.
The WIF President will rattle off a chilling set of statistics about gender inequality in Hollywood, before flipping the script to introduce some exceptions to the rule: outstanding female nominees from on and off camera. There are 46 women nominated this year, and all are invited. This event returns to the La Cienega corridor after a few years at Hyde on Sunset.
Screen Australia & Australians in Film
Four Seasons in Beverly Hills
6 p.m.
It's not just Nicole Kidman and director nominee Mel Gibson. In a surprise announcement, the majority English-speaking country that all of America loves (except the Republican administration), scored its first foreign language nomination. It's a love story of indigenous people on a volcanic island in Vanuatu, best known to Hollywood as the site of a former season of "Survivor."
WME Oscar Party
7:30pm-midnight
Private Residence
Saturday, Feb. 25
Spirit Awards
The Beach in Santa Monica (1550 Pacific Coast Highway Lot 1, 90401)
10:30 a.m. cocktails, 2 p.m. show
Nick Kroll and John Mulaney bring their act from Broadway to the Spirit Awards. Josh Welsh's "no reading off paper" rule for winners translates to a heightened level of festivities, lubricated by daytime drinking.
The result: One of the rare truly fun awards shows of the year, on par with the Golden Globes. Of all the awards bodies, Film Independent has the most "feel-good" vibe with a diverse membership supporting the artist-driven films and the group's year-round programs which help cultivate filmmakers beyond their marquee events that get press, like this and the L.A. Film Fest.
From the bustling sponsor tents to the bottles of booze on the tables, enjoy Hollywood's tailgate at the beach.
Sony Pictures Classics Nominees Dinner
STK Los Angeles at the W in Westwood
7:30 p.m.
SPC Co-Presidents Michael Barker and Tom Bernard's annual dinner with their Oscar nominees is an intimate affair. Less than 24 hours before they could be walking off with an Oscar, Isabelle Huppert and the teams behind "Land of Mine" (Foreign Language nominee), "Toni Erdmann" (hilarious Foreign Language nominee), and "The Red Turtle" (Animated Feature) will huddle at this event by the same team behind the Sundance and Tribeca Supper Suite film dinner parties. Tanqueray No. 10, Zacapa Rum, and Fleury Estate Wines sponsor.
MPTF's Night Before Party
Fox Studios
Jeffrey Katzenberg and the MPTF's A-list huddle raises a ton of cash for the fund's mission of "taking care of our own."
"On Oscar night, we celebrate the creative excellence of our industry while the Night Before demonstrates the deep generosity and compassion of our community," Katzenberg said in an announcement. Jon Shook and Vinny Dotolo of Jon & Vinny's fame will be cooking up the eats.
Oscar Sunday, February 26
25th Annual Elton John Aids Foundations Academy Awards Viewing Party
West Hollywood Park
4 p.m.
Days before the Patriots' heroic Super Bowl victory, owner Robert Kraft was asked on live TV who ranks as the most famous person in his cell phone. "Elton John," he blurted without hesitation.
The NFL champion owner is a regular at Sir Elton's head table on Oscar night, one of the many donors and supporters from film, tv, media, and sports who gather to raise money while cheering on favorites via a dedicated feed of the ABC telecast with its own commercials, cut-ins, and celebrity appearances.
Sir Elton, David Furnish and the EJAF have raised over $350 million over the last 25 years to combat stigma, prevent infections, and provide treatments, and nudge lazy governments to deploy resources to end AIDS.
If you can't be at the Oscars, this is the place to be. Actually, the Oscars does not come with a Gordon Ramsey-cooked multi-course dinner, a fun ballot contest with glamour prizes, and a performance by St. Paul and the Broken Bones (alums of Coachella, Lollapalooza, and Bonnaroo), so maybe this is even better.
BVLGARI, Neuro Drinks and Diana Jenkins are the sponsors, with co-sponsors Audi, MAC Viva Glam, and StyleHaul.
Governors Ball
Ray Dolby Ballroom
Beyond Wolfgang Puck's 24-karat-gold chocolate Oscars, there are multiple things you can put in your mouth only at the Oscars — besides a face full of Halle Berry.
French champagne house Piper-Heidsieck designed a red magnum wrapped in gold celluloid foil emblazoned with the "Oscars" logo that is only served at the Oscars and the Governors Ball. (Nominees got an early taste at the Nominees Luncheon earlier this month.)
For wine without bubbles,the Academy looked to one of its six-time winners: "Godfather" director Francis Ford Coppola.
"What seems logical to me, " Coppola said, "is that if anyone's going to provide wine to the Academy, it ought to be the Coppola family." FFC produced two special  "Director's Cut" wines with Oscar-specific labels slugged as "Cinema Premiere 89th Edition," in honor of the 89th edition of the show.
Considering the volatile nature of the business (remember Barkhad Abdi? Bérénice Bejo?), Piper and Francis Ford Coppola are the only two entities guaranteed a return trip to the Oscars next year. Both have multi-year deals with the Academy.
"Manchester by the Sea"/Amazon
Delilah (West Hollywood)

History could be made if Jeff Bezos's bunch becomes the first streaming service to win the top prize. It would also mark the longest campaign of Oscar season. Whispers of statues for Casey Affleck and the film started before Amazon's high profile purchase at Sundance 2016.
Vanity Fair
Wallis Annenberg Center in Beverly Hills
Vanity Fair does a great job of building mystique around their Oscar night tradition while simultaneously handing out all the juicy details via their social media feeds. What started with the mag's digital chief Mike Hogan (@Mike_Hogan) live-tweeting real-time observations from the Sunset Tower a few years ago has now evolved in to a full on video livestream from inside the party. Hogan and his "Little Gold Men" award analyst colleagues will have a studio on-site at the cloistered bash.
More to Come…
Details on "La La Land"  and the one event nobody reading this is invited to (Guy Oseary's bash) to come.
All events are private and by invitation only. Please send invites and updates to the party columnist Mikey Glazer here.