Damien Chazelle's "La La Land" may be the front-runner to win Best Picture at this Sunday's Academy Awards, but Barry Jenkins' "Moonlight" has actually racked up more recognition during the long road of awards ceremonies hosted by guilds, critics circles, and media groups.
In a study by TheWrap of more than 40 major pre-Oscar prizes, "Moonlight" emerged with 18 top film awards, including from the Golden Globes and the National Society of Film Critics, compared to 16 for "La La Land." (It also won the top prize at the Spirit Awards on Saturday, though "La La Land" was not eligible.)
"La La Land," which also earned a Golden Globe for Best Motion Picture – Musical or Comedy, is still considered the heavy favorite to find its name in the final envelope on Sunday. But if "Moonlight" pulls off the upset, it will be a big signal that the Academy is favoring serious, topical fare in the first Oscars of the Trump era — and an endorsement of critics who have tended to favor the coming-of-age drama.
Also Read: What We've Learned About the Oscars Race From the Guild Awards
Last year, the Oscars fell in line with most of the guild and critics awards on the acting categories, as Leonardo DiCaprio, Brie Larson, and Alicia Vikander got nearly unanimous acclaim en route to their Academy Award victories.
Only Best Supporting Actor winner Mark Rylance was a mild surprise, having gone neck-and-neck with Sylvester Stallone in the pre-Oscar awards tally.
This year is different. While the critics and guilds have anointed clear favorites, they don't exactly align with how awards prognosticators see things unfolding on Sunday night.
Also Read: Oscars: Guide to Hollywood's Top Viewing Parties (Updating)
The awards for Best Actress are the most spread out of all the major categories.  The only nominee who hasn't received multiple awards is Hollywood's favorite anti-Trump orator, Meryl Streep.
So far, the lion's share of the critics awards have gone to surprise Golden Globe winner Isabelle Huppert for her provocative performance in Paul Verhoeven's "Elle" and to Natalie Portman for her portrayal of a mourning Jackie Onassis in "Jackie."
But in the guild awards, it's Emma Stone who's riding high with Golden Globe, SAG, and BAFTA wins for her work in "La La Land." With "La La Land" expected to win in at least half of the 14 categories for which it's been nominated, Stone is considered likely to add to the film's record haul this Sunday.
Also Read: Which Oscar Contender Gave Its Studio the Biggest Bang for the Buck?
In the Best Actor category, Casey Affleck is the clear critics' darling, having won awards from 30 different organizations for his performance as Lee Chandler in "Manchester By The Sea" along with the Golden Globe and BAFTA Award.
Second on the list is Denzel Washington for the lead role in "Fences," but one of his award wins is often considered a major signpost for predicting the Oscar winner: the Screen Actors Guild award.
While Affleck's performance relied on a subtle depiction of trauma and depression, Washington had the loudest performance among this year's nominees as the gregarious Troy Maxson in "Fences," which is something that might appeal more to Academy voters.
Also Read: 'La La Land' Surpasses $300M Box Office Milestone As Oscars Draw Near
Mahershala Ali has dominated the guild and critics awards for supporting actor — collecting 28 prizes in all, including the SAG Award, for his  his performance in the opening act of "Moonlight."
Trailing as dark horses are 2009 Best Actor winner Jeff Bridges as a brilliant and politically incorrect Texas Ranger in "Hell or High Water" and this year's BAFTA winner Dev Patel for his portrayal of Saroo Brierly in "Lion."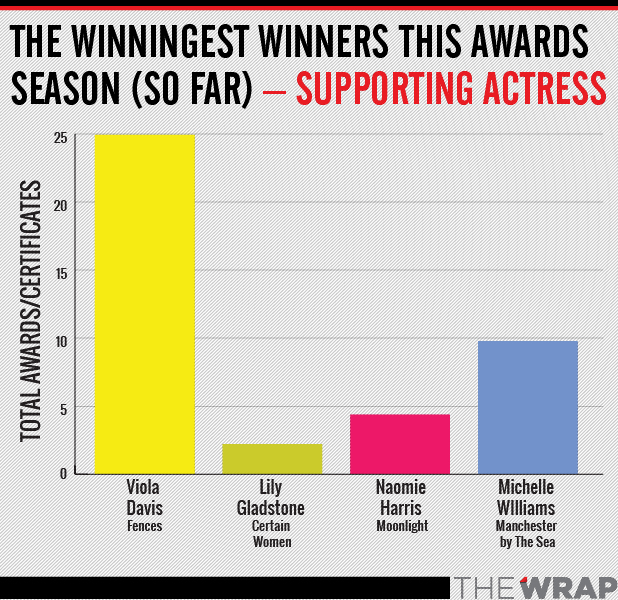 Viola Davis was a lock to win Best Supporting Actress from the moment the trailer for "Fences" came out. Like Stone, she has pulled off the Golden Globe/SAG/BAFTA trifecta along with 20 more wins in our tally.
Her status as heavy favorite also bodes well for Washington's hopes for another Oscar, as the Academy might give both "Fences" stars a golden statuette in recognition of their performance on the screen together.
Regardless, it's going to be a good night for #OscarsNotSoWhite.
Also Read: Oscar Gender Gap: Male Leads in Best Picture Nominees Have Twice as Much Screen Time
In the Best Director race, the award tally is almost evenly split between "La La Land" filmmaker Damien Chazelle and "Moonlight" filmmaker Barry Jenkins. But in this race, the Directors Guild Award is the one that matters most.
The director that wins at the DGAs has gone on to win at the Oscars 12 of the last 13 years. With that in mind, this year's DGA winner, Damien Chazelle, is now expected to continue that trend.