Ten best-picture nominees.
A new way of counting the final votes.
No clear favorite at this point.
Four potentially major films that have yet to be seen.
Isn't that a recipe for an unpredictable Oscar season? Then why are things looking so damn predictable?
When more than a dozen bloggers and pundits and prognosticators made their predictions in Movie City News' "Gurus of Gold" last week, eight films showed up on at least 12 of the 14 lists. Only 11 movies were deemed serious competitors for the 10 slots. And a different poll (the Envelope) with slightly different participants resulted in the same top nine, and only one difference in the top 12.
In what ought to be the most unpredictable Oscar race in years, have we really narrowed it down to that few films, that quickly?
With four months to go until the 82nd Academy Awards, can we really say with confidence that the Best Picture winner will be "Up in the Air" or "Precious" or "The Hurt Locker," the acting winners Jeff Bridges, Carey Mulligan, Christoph Waltz and Mo'Nique?
I hope not. I hope things come along to shock us all, to catch us pundits flat-footed, to throw the race into turmoil.
With four months to go until the big show, here's a look at a race that ought to be impossible to forecast … but looks as if it isn't.
BEST PICTURE
At this point, I'd say that "Up in the Air," "Precious" and "The Hurt Locker" are the three definite Best Picture nominees, and the three likeliest winners. But none has any sort of feeling of inevitability.
In the second tier I'd put "An Education," "Up" and "A Serious Man." That last one may be a tough sit for some people, but its fans are passionate – and with 10 slots up for grabs, a small but passionate fan base will be enough to get you a nomination. (It won't get you a win, but it'll get you a nom.)
And then we get to the big four, the movies that haven't been screened for the press (and in some cases haven't been screened for anybody). Rob Marshall's musical "Nine," Peter Jackson's "The Lovely Bones," Clint Eastwood's Nelson Mandela story "Invictus" and James Cameron's "Avatar." All are presumed in some circles to be strong contenders, possibly even frontrunners.
But if we've learned anything from the past few years, it's that the presumed frontrunner in October or November is more often than not roadkill by January.
I bet that at least one of the big four will deliver on the advance hopes and wind up as a major player. Maybe two of them. Maybe, just maybe, three of them. But certainly not all four – and at this point, I'd be willing to bet that two will fall by the wayside.
Based on what I'm hearing at the moment, I suspect that "The Lovely Bones" will work and "Invictus" will disappoint … though maybe it won't disappoint enough to knock Clint out of the race. Lots of people thought Eastwood's trailer was impressive enough to seal the deal; I thought it was awfully by-the-numbers, and got its emotional kick mostly from the song it uses from the South African a capella band Overtone.
Of Eastwood's last four movies ("Gran Torino," "The Changeling," "Letters From Iwo Jima" and "Flags of Our Fathers") all were presumed Oscar contenders but only one got into the Best Picture race.
As for the other two, I don't trust "Avatar," and I think the Academy will shy away from its "Dances With Wolves"-meets-"Pocahontas"-in-space vibe, and its CG-heavy look … but I can't bring myself to write off James Cameron. So, tentatively, he goes on the list.
Then there's "Nine." If it works, it could vault to the top of the list. Marshall turned the trick with "Chicago," after all. But I never, ever trust musicals in this category, and I'm not trusting this one until I see it.
Beyond those 11, "Inglourious Basterds" seems to have admirers but little affection. "A Serious Man" could sneak in, but I haven't seen it and must withhold judgment. "The Road" may be too bleak and "Bright Star" too cold.
And I'm waiting for something, anything, to make a run and shake everything up. "Brothers"? "It's Complicated"? "Sherlock Holmes"?? A sleeper like "District 9"???
Please, somebody come along to make some noise and rattle the pundits.
BEST DIRECTOR
Theoretically, this is the category where we find out which five of the Best Picture nominees are serious contenders. But the new way of counting final votes in the Best Pic race – which involves ranking rather than just picking a single favorite, and which will work to uncover consensus rather than passion – could throw that logic askew, just as it could easily lead to more splits between the director and Picture winners.
That might mean a tougher film will win for director than in the Best Pic category – say, "Up in the Air" wins Best Picture, but Kathryn Bigelow wins director for "The Hurt Locker."
As we wait for the math to play out, I'm putting Bigelow and Jason Reitman at the top of my list. If the directors branch finds Lee Daniels' direction of "Precious" to be audacious rather than (in the words of one Academy member I heard from) "silly," then he'll be there as well.
I'd like to think that Lone Scherfig will make it for "An Education," though I'm not completely convinced that voters will give a Hollywood outsider enough credit for the subtle, understated movie.
And I think the category will be filled out by whichever of the four unseen films ends up playing the best; if their films win Best Pic nominations, it'd be hard to leave Clint Eastwood, Rob Marshall, Peter Jackson or James Cameron out of this category.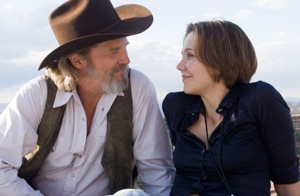 BEST ACTOR
A week ago, the category looked fairly settled: George Clooney would be getting a nomination for "Up in the Air," Colin Firth was another definite for "A Single Man," Morgan Freeman could hardly go wrong playing Nelson Mandela in "Invictus," and then there were the likes of the always formidable Daniel Day-Lewis ("Nine"), the out-of-nowhere Jeremy Renner ("The Hurt Locker"), Matt Damon ("The Informant!"), Viggo Mortensen ("The Road"), maybe even Michael Stuhlbarg ("A Serious Man") or Ben Foster ("The Messenger") or Hal Holbrook ("That Evening Sun").
Then Fox Searchlight screened "Crazy Heart," and suddenly Jeff Bridges seems like the third lock, and quite possibly a potential winner. (Firth is another … Clooney, not so much.)
Bridges' entry is bad news for the likes of Mortensen and Renner, though they may be rescued by some early murmurs that could spell trouble for Freeman. If, as some have suggested, he clearly plays a supporting role to Matt Damon in "Invictus," and if the movie isn't overwhelming enough to make that irrelevant, Freeman could slip out of this category and leave an open slot. (On the other hand, if he plays a supporting role to Damon and the movie is pretty great, then it certainly strengthens Damon's hand, either for this performance or for a film that otherwise seemed to be fading, "The Informant!")
At the moment, I'm guessing Clooney, Firth, Day-Lewis, Renner … and Bridges for the win.
BEST ACTRESS
Carey Mulligan in "An Education": a lock. Meryl Streep in "Julie & Julia": of course. Gabourey Sidibe in "Precious": People are now seeing the real Sidibe, which is what it'll take to get her a nod. Helen Mirren in "The Last Station": As long as voters see the movie, she's undeniable.
That doesn't leave much room in this category, does it? Which is bad news for Abbie Cornish ("Bright Star"), Saoirse Ronan ("The Lovely Bones"), Marion Cotillard ("Nine") and longer shots like Audrey Tatou and Michelle Monaghan.
I suspect Ronan is the one in that group who'll get through, though until "The Lovely Bones" and "Nine" screen, my guess is premature.
And in the end, I'm guessing that Meryl will have to sit there and smile once again as the prize goes to somebody else — somebody younger and newer, somebody enjoying her first nomination instead of her 16th.
My heart says that somebody will be Mulligan, though at this point I won't deny that the momentum seems to be with Sidibe.
BEST SUPPORTING ACTOR
Here's where "Inglourious Basterds" will have its moment of, um, gloury. Christoph Waltz, as the urbane "Jew Hunter," is in. Alfred Molina will join him for "An Education," and the monologue he delivers through a door at the end of that movie may be enough to make it a two-man race for the win.
And then you run into questions. Stanley Tucci: "The Lovely Bones" or "Julie & Julia"? Matt Damon: Is he really a supporting actor in "Invictus"? Christopher Plummer: Is he really supporting for "The Last Station"? Anthony Mackie: Is he the one to single out from the ensemble cast of "The Hurt Locker"?
If I had to guess, which I do, I'd say that Tucci makes it for "Julie" (lighter movies can fly in the supporting categories), Plummer gets a career-achievement vote, and the fact that he's in an Important Biopic overcomes qualms about the size of Damon's role.
But I'm not confident in that last prediction, with Mackie and Paul Schneider ("Bright Star") and Peter Sarsgaard ("An Education") waiting in the wings. And I hear great things about Christian McKay as Orson Welles in "Me and Orson Welles" ….
BEST SUPPORTING ACTRESS
I doubt that "Nine," with its hefty slate of supporting-actress contenders (Judi Dench, Penelope Cruz, Nicole Kidman, Kate Hudson … ) will deliver a nod for any of them. I don't think the good buzz engendered by "Crazy Heart" will be quite enough to land Maggie Gyllenhaal a nomination.
I do think "Up in the Air" will produce two deserving nominees, Anna Kedrick and Vera Farmiga, and that Julianne Moore will make the cut for "A Single Man," and that either Samantha Morton ("The Messenger") or Susan Sarandon ("The Lovely Bones") will land the final slot.
And I don't think that Mo'Nique has anything to worry about from any of them.
SUMMARY
With four months go to, that's my take. Now I hope that great movies, great performances and a few big flops will come along to shake my beliefs to the core.
Because unless you're "Slumdog Millionaire" or Jennifer Hudson, what's the fun in Oscar season if you know what's going to happen in November?