The closer it gets to Oscar night, the less certain I feel.
Sure, a lot of the races seem pretty set, especially in the acting categories. But elsewhere, starting with Best Picture, many sure things have been shaken by a race that turned ugly and informal polling that points all over the map.
That said, here's what I think will be in those envelopes when they're opened on Sunday at the Kodak Theater. Categories are listed in the order in which they appear on the Oscar ballot.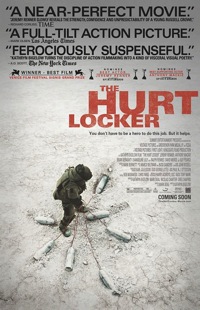 Best Picture of 2009: "The Hurt Locker"
No question, "Avatar" is a colossus, its impact on the industry so massive that some Academy voters wouldn't consider voting for anything else. But the remarkable string of guild victories for "The Hurt Locker" indicates a breadth of support that's impossible to ignore.
"Hurt Locker" certainly could have been damaged by the recent fuss over injudicious emails sent by a producer and the controversy over its accuracy. But the attacks all came in the final week of voting, and I doubt they cost the movie too many votes. Plus, it's just as likely that "Avatar" will be hurt by the preferential system of vote counting, which rewards consensus favorites over more divisive, "love 'em or hate 'em" films.
An "Avatar" win won't surprise me. An "Inglourious Basterds" win would, though it's possible. A different longshot would be a shock. But in the end, I think that the Academy will simply second what the producers, writers, editors, sound mixers, Brits and critics have already said: that "The Hurt Locker" is 2009's Best Picture.
Performance by an Actor in a Leading Role: Jeff Bridges, "Crazy Heart"
It's not the SAG, Golden Globe and Critics Choice Movie Awards wins that have me convinced; it's the palpable affection in the room for Bridges every time he takes home another prize. People love this guy, and his performance in Scott Cooper's understated, touching character study gives them an irresistible way to show that love.
Performance by an Actor in a Supporting Role: Christoph Waltz, "Inglourious Basterds"
Was there ever any doubt about this one? No, there wasn't.
Performance by an Actress in a Leading Role: Sandra Bullock, "The Blind Side"
Okay, I give up. I don't want to pick her. I think her performance, while strong and solid and pleasing, is the least awards-worthy of the five nominees. I would love to see an upset by Carey Mulligan or Gabourey Sidibe. And I still think there's a very good chance that Oscar voters, when they are finally faced with that ballot in front of them, will realize that it's an insult to Meryl Streep not to vote for her. But despite all that, I find it impossible to shake off the feeling that it's Bullock's year.
Performance by an Actress in a Supporting Role: Mo'Nique, "Precious"
See: Waltz, Christoph.
Animated Feature: "Up"
There's a reason "Up" got a Best Picture nomination and the other four nominees didn't: the Academy likes it best.
Art Direction: "Avatar"
Other movies designed sets, streets and spaces; "Avatar" designed an entire planet. The look is spectacular, and undeniable.
Cinematography: "The Hurt Locker"
"Avatar" is a major competitor here, perhaps even a favorite – but I suspect that it'll be hurt by the nagging feeling that much of the film was created in a computer rather than a camera. I think Barry Ackroyd's low-tech, hand-held work in "Hurt Locker" will prevail, although nostalgic voters could also go for "Inglourious Basterds" or, even more likely, the surprise ASC winner, "The White Ribbon."
Costume Design: "The Young Victoria"
It's not inconceivable that the phantasmagorica that is "The Imaginarium of Dr. Parnassus" could pull an upset, but it's very hard to bet against the period film with elaborately costumed royals. So I won't.
Directing: Kathryn Bigelow, "The Hurt Locker"
When your two top rivals, James Cameron and Quentin Tarantino, are both saying that you deserve to win, you've got it in the bag, right? I wouldn't go quite that far (the preferential system that'll work against "Avatar" in the Best Picture count isn't in use here, so Cameron remains formidable), but Bigelow is clearly in a very strong position. It can't hurt that her win would be an historic one for Oscar, which has never before honored a female director.
Film Editing: "The Hurt Locker"
Another "Avatar" v. "Locker" race. To my mind, what tips the scales here, and at the recent American Cinema Editors awards, is that editing is an absolute key to "Hurt Locker." The film continually shifts from big to small moments, piecing together its narrative from the work of several cameras shooting simultaneously. I expect voters to recognize that.
Makeup: "Star Trek"
Have enough voters seen "Il Divo?" Probably not. That leaves the film with stylish, courtly makeup ("The Young Victoria") and the one with aliens ("Star Trek"). I think the aliens take it, because it takes more work to make Eric Bana look like a Romulan than it does to make Emily Blunt look pretty.
Original Score: "Up"
My guess is that this is another category (the sixth, by my count) in which "Avatar" will finish second. When the most celebrated sequence in your film is wordless, as is the case with the opening of "Up," music must carry a heavy load; Michael Giacchino's deft, light touch will get him the nod over less traditional outings from Hans Zimmer and the "Hurt Locker" team of Marco Beltrami and Buck Sanders.
Original Song: "The Weary Kind (Theme from Crazy Heart)"
I would like to think that nothing else has a chance. The key song in a movie about music, Ryan Bingham's and T Bone Burnett's "Weary Kind" feels like Oscar winner "Falling Slowly," from "Once" – i.e., the heart of a movie for which voters feel real affection. It'd be a huge shock if the song doesn't win.
Sound Editing: "Avatar"
"Avatar" is the default first choice in many of the technical categories, and Sound Editing usually goes to one of the biggest, loudest nominees. James Cameron's film ought to continue that trend. (WARNING: Last year, I correctly predicted 22 out of the 24 awards – but I was wrong about both of the sound categories.)
Sound Mixing: "The Hurt Locker"
More often than not, voters split the sound awards between two different films; if they do so this year, "Hurt Locker" is the likely beneficiary, as its victory in the Cinema Audio Society's sound mixing category showed.
Visual Effects: "Avatar"
See: Waltz, Christoph, and 'Nique, Mo. The biggest lock of all.
Adapted Screenplay: "Up in the Air," Jason Reitman and Sheldon Turner
"Precious" may have an outside chance at an upset, but only an outside chance. They may not have written the script together, but Jason Reitman and Sheldon Turner have shared many a podium over the last few months, and the Oscars won't be an exception.
Original Screenplay: "The Hurt Locker," Mark Boal
It's a two-man race between Boal and Quentin Tarantino ("Inglourious Basterds"), and the affection for vet Tarantino (who won in this category for "Pulp Fiction") might be enough to give him the victory. But I think more voters like "Hurt Locker," and it helps that Kathryn Bigelow has always given much of the credit to writer/producer Boal.
Now we come to the five categories that aren't on the Oscar ballot; for these five, voters pick up separate ballots after seeing all the nominees, usually at special Academy screenings. Any time the voters are required to see all the nominees before they can vote, it throws conventional wisdom out the window. The winners will be the films that the Academy actually likes, not the ones that have heat or momentum that exists mostly in the minds of Oscar observers.
Documentary Feature: "The Cove"
A couple of months ago, I would have said "The Cove" was vulnerable to a challenge from "Food, Inc." But a string of guild wins – WGA, DGA, PGA, ACE – makes it clear that this film has strong support from the creative community, and it's the nominee that has come closest to capturing the moment the way past winners like "An Inconvenient Truth" and "Man on Wire" did. I don't see a dark horse like "Which Way Home" mounting a significant challenge.
Documentary Short Subject: "The Last Truck: Closing of a GM Plant"
"Music by Prudence" may be the most uplifting nominee, "Rabbit a la Berlin" the most artistic, "China's Unnatural Disaster" the most emotionally devastating (and a solid second choice to win). But I think the timeliness of "The Last Truck," the way it captures the human side of the economic crisis in the U.S., makes it an essential document of these times and a likely winner.
Foreign Language Film: "El Secreto de Sus Ojos," Argentina
Here's where the "they vote for what they like" rule really comes in. "The White Ribbon" and "Un Prophete" are the critical favorites, and "Ajami" and "The Milk of Sorrow" have strong partisans, but "El Secreto de Sus Ojos" is a strong, polished crime drama that also turns into a meditation on memory and loss, and a love story to boot. I hear it played very well at its biggest Academy screening, whereas "White Ribbon" left the audience confused.
Animated Short Film: "A Matter of Loaf and Death"
If all five films were from unknown filmmakers, Nick Park's Wallace & Gromit film "A Matter of Loaf and Death" would likely win easily. The one obstacle facing Park is that he's won three times in this category and once in the Animated Feature category; after Pixar won its first Oscar for an animated feature, it never again won in the shorts category. If voters feel the same way about Park and Aardman Animation Studios – that they're big boys who belong in the big category – then it could open the door for the most original, startling entry, the profane brand-name extravaganza "Logorama."
Live Action Short Film: "The New Tenants"
Part of me thinks that emotion will carry the day, and that the devastating Chernobyl story "The Door" will take this one. But "The New Tenants," a black comedy that picks up steam as it goes along, has the energy to stand out the way "Six Shooter" did a few years back. The Indian-set "Kavi" is a dark-horse possibility.
Final totals:
"The Hurt Locker" – 6 wins
"Avatar" – 3
'Crazy Heart," "Up" – 2
"Inglourious Basterds," "The Blind Side," "Precious," "The Young Victoria," "Star Trek," "Up in the Air" – 1