"Pain & Gain," director Michael Bay's action movie about bad-boy bodybuilders, is the favorite to hoist the domestic box office crown when it debuts this weekend.
Stars Mark Wahlberg and Dwayne "The Rock" Johnson will flex about $20 million worth of multiplex muscle over the three days, analysts say. That should be enough to beat out last weekend's No. 1 film, the Tom Cruise sci-fi epic "Oblivion," which looks on pace to finish second in the high-teen millions.
Also read: Indies Featuring Zac Efron, Matthew McConaughey Crowd the Early Summer Box Office
The week's only other wide opener, Lionsgate's mature-skewing ensemble comedy "Big Wedding," is expected to come in north of $10 million.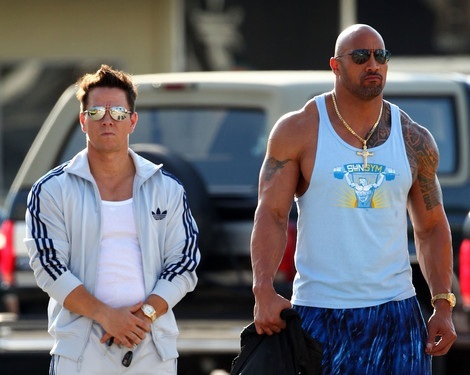 With a $26 million budget, Paramount's "Pain & Gain" is Bay's least expensive movie since 1995's similarly Miami-based "Bad Boys." But the studio has mounted a full-sized marketing campaign around the film from the director of the three "Transformer" movies, which have taken in more than $2.6 billion for Paramount and DreamWorks.
The screenplay, written by Christopher Markus and Stephen McFeely, is based on a 1999 series of Miami New Times articles surrounding the kidnapping and murder of several victims by an organized group of criminals that included a number of bodybuilders.
It's rated R for violence, and packs plenty of Bay's trademark fast cars and laughs. The critics are lukewarm; it has a 56 percent positive rating on Rotten Tomatoes.
A solid opening will be critical for "Pain & Gain," which targets the same 18-49 male target demographic that "Iron Man 3" does. That superhero movie opens on May 3 and is expected to be a blockbuster, which makes a strong second week for "Pain & Gain" unlikely.
Also read: 'Iron Man 3' Tracking for $160M U.S. Debut as It Rolls Out in 11 Foreign Countries
Paramount is hoping the film can deliver overseas, and will open it in most major territories in August. Bay's films, especially the "Transformers" franchise, have been popular with foreign audiences.
Anthony Mackie, Ed Harris, Tony Shalhoub, Rob Corddry, Rebel Wilson and Bar Paly co-star in the film, which produced by Bay, Donald De Line and Ian Bryce.
It will be in 2,950 theaters, significantly less than the roughly 3,700 Universal's "Oblivion" remains in this weekend.
Lionsgate is thinking long-term on "The Big Wedding," an R-rated comedy written, directed and produced by Justin Zackham ("The Bucket List") that is aimed squarely at adult audiences.
Robert De Niro and Diane Keaton star as a long-divorced couple who struggle to play the happy pair for the wedding of their adopted son. Susan Sarandon, Katherine Heigl, Amanda Seyfried, Robin Williams and Topher Grace co-star.
The target demographic for "The Big Wedding" is women over 25, and mature audiences tend not to rush out on opening weekend, so the studio is looking for solid word-of-mouth that will let "The Big Wedding" play steadily over the next few weeks.
Two Ton Films and Millennium Films produced the Lionsgate film, which had a production budget of roughly $30 million. it will screen in 2,633 theaters.