Three weeks before it's Thanksgiving weekend release, it was a "good evening" to unveil "Hitchcock" as the opening gala for AFI Fest 2012.
Leads Anthony Hopkins and Helen Mirren weren't at Grauman's Thursday night, but they were together: The two are working in London, shooting "Red 2." "We haven't worked together in our entire careers — and now two movies in a row," Mirren said in a taped introduction.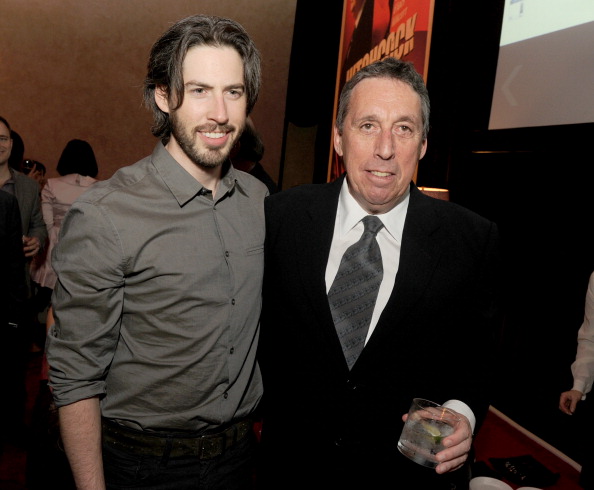 Michael Wincott and James D'Arcy (who plays Anthony Perkins) were the only lead talent on hand, representing for the cast that includes Scarlett Johansson, Jessica Biel and Toni Collette.
Left: Jason and ("Hitchcock" producer-dad) Ivan Reitman.
Surveying his work, director Sacha Gervasi sat all the way through the credit crawl of the first mass screening of his first narrative film, as guests walked through a puddle of spilled popcorn in the main aisle and headed for the after-party across the street at the Roosevelt Hotel.
"I think they liked it," Gervasi (top, inside his one-sheet) told TheWrap. "They seemed to laugh, they seemed to applaud." The audience did both for the surprisingly funny film.
Right: Fox Searchlight Production President Claudia Lewis and the film's composer, Danny Elfman.
The AFI audience gave two applause breaks during the screening: one following a pivotal Mirren monologue and the other during an appropriately "Hitchcock" scene at the end, where the real action is heard, imagined and enjoyed but not seen.
"A year ago I was sitting in the back of this theater watching 'Shame,'" Gervasi said. "If you had told me 'Hitchcock' was opening AFI, I wouldn't have believed you."
In another full circle, the film's epilogue (non-spoiler) mentions that Hitchcock never won an Oscar, but did win the AFI's Lifetime Achievement award in 1979."
Left: Cloris Leachman strolled the red carpet in slippers.
Fox Searchlight is planning a Nov. 18 premiere in New York, where Scarlett Johansson begins performances in a revival of "Cat on a Hot Tin Roof" on Broadway in December.
Two nights later, a celebrity-heavy premiere takes place at the Academy.
AFI Fest continues through Thursday, when Steven Spielberg's "Lincoln" is the closing night gala.
Right: Fox Searchlight co-presidents Steve Gilula and Nancy Utley, with Jim Gianopulos on AFI Fest Night 1.