In Deep
Mark Wahlberg and director Baltasar Kormakur (with Kormakur's wife at the Thompson Hotel this week.) are in deep.
The three, along with the Icelandic ambassador, a contingent from WME, and others from the film community toasted "The Deep," Iceland's official entry for the Academy Awards.
Kormakur and Wahlberg are riding a successful streak of collaborations following "Contraband" with the just-wrapped "2 Guns" and an HBO project "The Missionary" in development.
When Kormakur's "The Deep" opened in his native Iceland, it took 50% of the weekend's box office and has been screening non-stop in L.A. the past few weeks.
Ken Ziffren is Not Impressed
Chernin Entertainment president Katherine Pope (second from right) batted .750 in getting the attention of moderator Lacey Rose, Fox's Kevin Reilly, attorney Ken Ziffren (center), and UTA founder Peter Benedek at an HRTS Luncheon discussing the fluctuating business of network TV at the Century Plaza Hotel on Wednesday.
Charisma Collision at Cecconi's
"Hi, I'm John," said the always-chill John Hawkes as he waved to bubbly eight-year-old Quvenzhané Wallis on the patio at Cecconi's during Fox Searchlight's Holiday Party on Wednesday night. The "Beasts of the Southern Wild" breakout was the charisma champion, dominating the "dessert room," playing "Miss Mary Mack," and out-energizing both her mother and Searchlight staff.
Searchlight President Nancy Utley and "Hitchcock" director Sacha Gervasi (in his trademark all black) floated from circle to circle as Jeff Sanderson spent time with Fox Films Chairman Jim Gianopolus.
Merry Mavericks
Details threw the fun party of the week.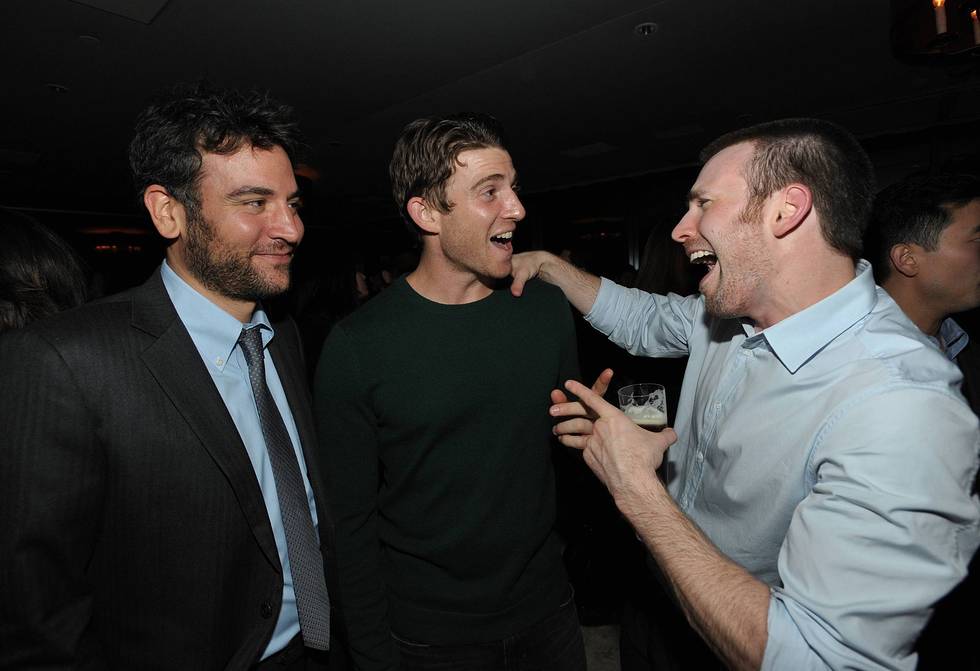 On paper and in title: it was an issue-release party for their Mavericks issue — guys who are shaking it up in Hollywood. In reality, it stood in as the unofficial Christmas party for "the scene" at Soho House on Thursday night.
(Josh Radnor, Bryan Greenberg and Chris Evans at Details.)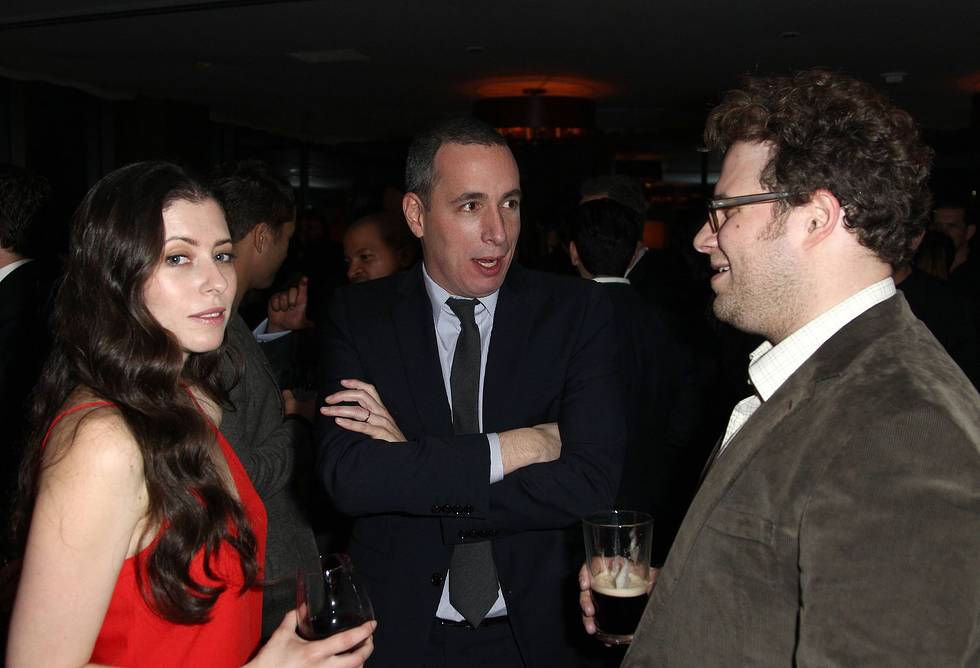 (Right: Lauren Miller, Details Editor-in-Chief Dan Peres and Seth Rogen.)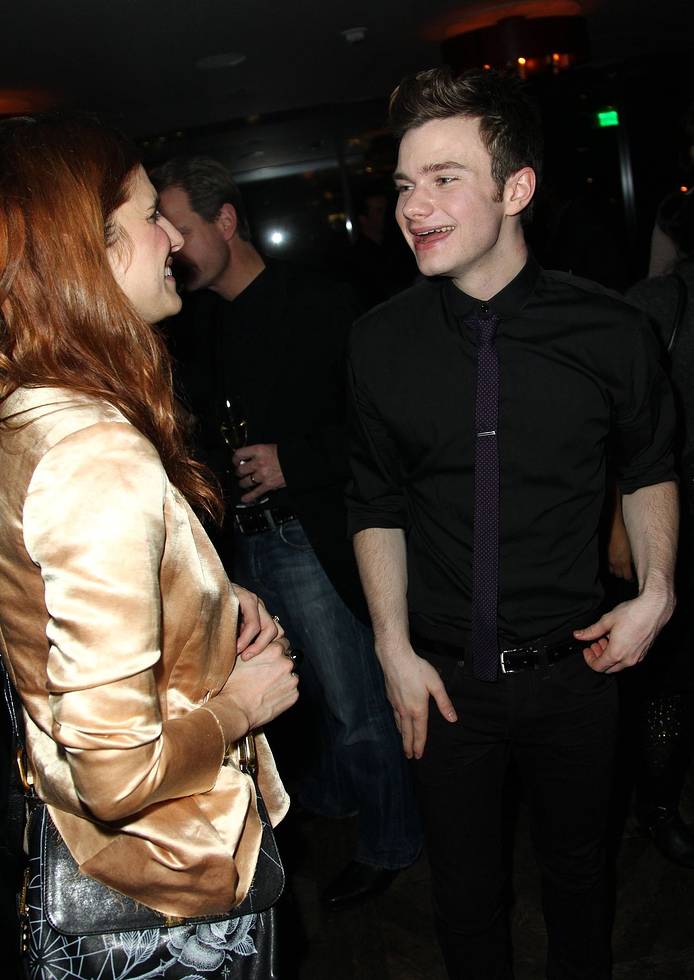 (Left: Lake Bell with Chris Colfer, who is reportedly impressive debut as a feature hyphenate (writer-actor) in "Struck by Lightning" arrives soon.)
(Right: Max Winkler with Andrew Rannells, who came close to quitting the business before this breakout year with "Girls" and "The New Normal.")
(Left: Maverick designees included "Game of Thrones'" main men D.B. Weiss and David Benioff, with wife Amanda Peet, on Soho's main floor. From the showrunners' corner, Dan Harmon was also on-scene and un-Details-esque in his party threads.)
John Krasinski, Stephen Moyer, Zach Quinto, Mark Salling, and the Thursday night party prerequisite David Spade all also rode the elevators.
(Right: A rare sanctioned view inside the Soho' House's no-cameras-or cellphones-allowed interior.)
Chrissie Miller (right) planted a flag in L.A. Several guests were trying to identify the unfamiliar NYC-based DJ that guests were loving as the Don Julio cocktails kept flowing. (Miller stayed in L.A. after Thanksgiving in a scheduling fluke and was spinning from a few iPhones and borrowed gear.)
Media mavericks Kevin Martinez, US Weekly's Rachel Teitelbaum, Ben and Jared Russo, Anna Feiner, Joyce Sevilla, Matt Donnelly and his running-mate/"Survivor" Corinne Kaplan, Jen Betts, stylist Lindsay Alabanese, and Conde Naste's Liz Keen were the bright localites atop 9200 Sunset.
A few rooms over at Soho House, new "American Idol" judge Keith Urban (second from right) recently topped an event to goose awards chances in music categories for his song "For You" from Relativity's "Act of Valor."
(Left: Relativity's Bob Bowen, BMI's Anne Cecere, Urban and Relativity's Jason Markey.)
A Second Slice, Please
The cast of "K-Town" — aka "The Asian Jersey Shore" — celebrated the Season 2 premiere in the same way they launched Season 1: a party at King of New York Pizza on Wilshire in Koreatown on Wednesday night.
As YouTube prepares to decide which of its original content channels to fund for a second round, this is a good sign for Ben Silverman/Electus' channel LOUD (home of "K-Town") and series producers Tony DiSanto and Liz Gateley ("The Hills," "Jersey Shore") as the first order pulled in over 6 million viewers. Halfway between the glam of Lauren Conrad and the feisty fists of Seaside Heights, it's a slick snack in eight minute bites and worth a second serving.
Details photos by Matt Sayles, John Shearer, and Todd Williamson for Invision/AP